Remember when 72-point block print was the coolest thing ever? Or when all those band tee designs gravitated to the side of the shirt, down near our hips. Remember when everyone wore those Glassjaw hoodies or when Glamour Kills swooped up the teenage kingdom? Thankfully, The Get Up Kids have fielded some of the blame.

Ah, those cool kids buying all those cool things. Let's explore 2009, shall we? What makes us look super cool and which makes us look like super douchebags? What makes us look like both?




The Worst Merch of 2009



The Clusterfuck Design - Nothing plain to see here! Relying heavily on the design aspect of the band tee, the Clusterfuck Design is equal parts impressive and over-the-top eye blinders. Sometimes the explosion of colors and layering works, but quite often, the Clusterfuck tends to upset the eyes and just looks plain dumb. Here are a few of this year's offenders:


Fuck Yeah Strong - Call me a prude here, but besides dead puppies and a limp penis, this is the last thing I want to see on a t-shirt. It's ballsy, yes, but I just can't get behind it. Oh, wait...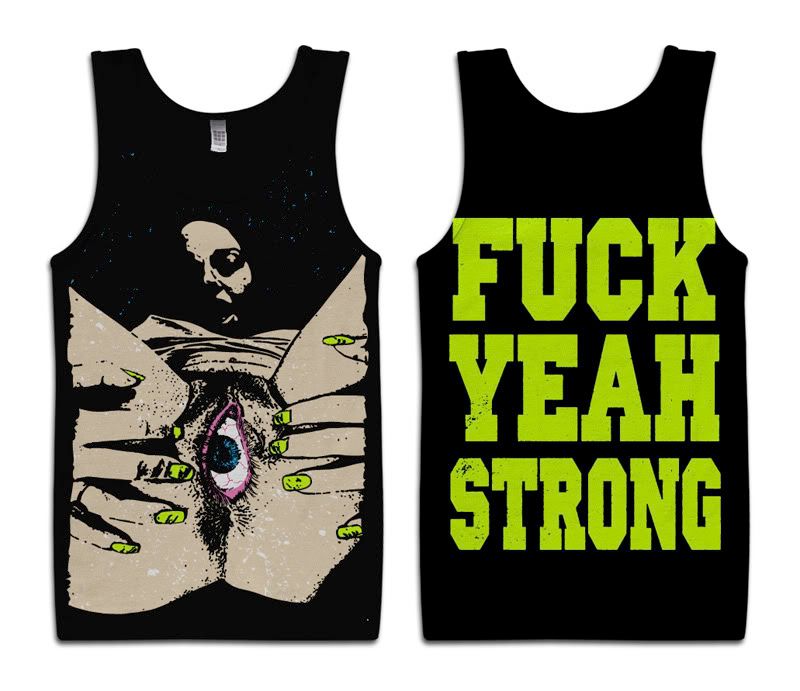 Babycakes - I'd like for bright colors to die. Part of my reasoning has to do with the fact that I can't possibly pull it off in real life, although I don't exactly dream about it, either. The other part is that it singlehandedly breeds the popularity of that new hot company (omg bbycks), and in turn, breeds a stampede of toolish pre-license teens wearing designs that borderline on kindergarten talent. Babycakes is, much to my eye-rolling, continuing this trend (and the color yellow) to the point of exhaustion, and they're actually starting a buzz! And if that wasn't enough, the company sold "I Partied On Warped Tour" t-shirts this summer. Why? Because we need more sluts diluting the afterparty, obviously.


Underoath Loves Fat Dinosaurs - Ok, but why do you love fat dinosaurs? This is an inside joke, I take it? So for those of us that aren't on the IN, the randomness of Fat Dinosaurs is mildly endearing, but it still begs the question: why would you wear this?


The Wuggie - A Weezer Snuggie. It's self-explanatory, and it also makes me wonder: why are Snuggies cool again? Because they seem pointless and moronic to me. Are we really too lazy to remove our arms from underneath the blanket? You might as well just staple the remote to your hand too.




Where's The Quality, 3OH!3? - For being one of the most popular bands of the year, 3OH!3 sure makes cheap looking shit.








The BEST Merch of 2009



Bridge Nine Records Hates Your Neon Shirt, and We Do Too - Cutting the crap and getting to the point. Thank you to Bridge Nine, the notoriously badass hardcore label that summed up their choice feelings about current styles onto one t-shirt on this year's Warped Tour. The best part: your cred shoots through the roof when you slip on this black number.




Jac Vanek Bracelets - They're not incredibly inventive at all. And they're probably pennies on the dollar to make. And yet, Jac Vanek made a killing at Warped Tour this summer selling each of these trendy puppies for ten whole dollars. And it's cool to wear more than one, so I hear? See what I'm saying? Exploit the youth and your profit can be enormous. Looks like this scene queen got it right.



All Time Low Nothing Personal Line - Cute quips from these pop-punk darlings aren't new to their repertoire - we already knew the All Time Low dudes are a goofy folk. But bring a new album titled Nothing Personal into the merch mix and there's just about a million places we could go with this. It was almost a stroke of genius. All Time Low gathered some universal thoughts and published them on a t-shirt. Cut your hair, you look ridiculous? If I had a nickel for every time that thought crossed my mind...

And then, to sweeten the pot, Glamour Kills made their own retort. The twitter reference was quite clever.




The Clusterfuck Design - Ah ha! It makes a comeback. See, the Clusterfuck Design (when done right) looks not only neat but skilled. A Day To Remember, New Found Glory and Set Your Goals have done it right. In fact, it usually goes hand in hand with good bands, in case you were looking for a rhyme to the reason. Except The Devil Wears Prada. For being pretty sucky, they racked up a sweet collection for sale at Warped Tour this year.


Thursday Is More Than A Stupid Scene Shirt
- While their Stupid Scene Shirt could be the best mockery in recent merch history, the serious side of their collection is actually quite good. The black & white numbers are
stunning and simple
. They still won't top the general awesomeness of what you see below, however, but across the board, Thursday prove to be merch pros of 2009.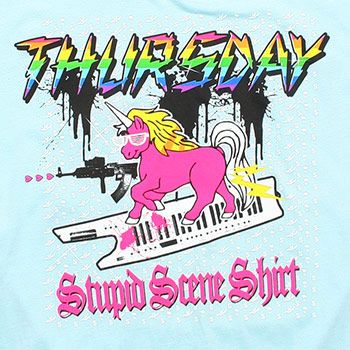 Fun is fun.
- Genuine, clean cut and still looking nice, fun. merch isn't ready to embrace the more severe section of a crayon box, and yet it's standing out from the crowd. It's the first time I've craved a t-shirt with just letters on it since before 2003.