| | | | |
| --- | --- | --- | --- |
| 's Blog | | | | |
Keagan2387's Blog

Day off
Not too sure what I should do today. Maybe relax? Or catch up on some homework. I still haven't wrote a speech for tomorrow. I hate being a procrastinator.
Tags:
Sunday
Coheed and Cambria - Neverender Review


Coheed and Cambria - Neverender: Children of The Fence Edition [CD/DVD]
Release Date: March 24th, 2009
Record Label: Columbia Records

There are very few bands on the music scene that can be described as epic. But one that comes to mind for a lot of people is Coheed and Cambria. With four studio albums, two live dvdís, and a plethora of graphic novels and comic books under their belt, Coheed has reinvented the musical wheel once again. The band has released a box set consisting of 4 cdís and 5 dvdís spanning their whole New York Neverender experience.

For those of you who are unfamiliar with the band, their music is centered around the story of Coheed and Cambria. A twisted tale of two lovers and how their galaxies future depends on the fate of the two. While I would love to catch the uninformed up, it would just take too long. All you need to know is that the story line is spread throughout the four albums. Though this time the band decided to take it one step further. Some bands have played a single album straight through live, which for some people can be a once in a lifetime experience. But Coheed played four shows in four nights dedicating each night to one album. Which is something to my knowledge that has never been done before.

The Neverender tour was shot in four different locations, New York, Los Angeles, Chicago, and London. The Neverender box set happens to be from the New York shows that took place at the Terminal 5 from October 22nd 2008 to the 25th.

The first show starts with the album that started it all, The Second Stage Turbine Blade. Say what you will about the band, but this album was huge to the genre. This album was one of the first albums to feature a singer with a falsetto that was abnormally higher than his peers. Whether you care for the album or not it opened up so many doors for other bands that have falsetto singers ( like label mates Chiodos and ex label mates Circa Survive). Thanks to the complete awesomeness of this idea Claudio decided to bring along Wes Styles to play the keys in some of the songs and incorporates interludes which adds so much to the atmosphere of the album. As for anyone that hasnít seen or heard Coheed live, you are in for a treat as they completely kill their studio recordings live. Itís all the small things (oh yeah) that make the live show so great, from the altered guitar licks to signature moves like Claudioís ďEverything EvilĒ gun salute. What also adds to a Coheed show is the crowd. Sure all bands have fans, some even like to label themselves or degrade themselves *cough* maggots and juggalos *cough*. But CoCaís fans are so different than others, and you can tell watching these dvdís. They live for this band and love the storyline so much that itís become a huge part of their life. The crowd is filled with Coheed faithful and itís obvious throughout all four of the shows.

Nights two and three will always be special to me for personal reasons. No matter who you are there is always an album that hits you and just clicks. Personally, two of those albums are In Keeping Secrets of Silent Earth: 3, and Good Apollo Iím Burning Star IV Volume One: From Fear Through The Eyes Of Madness. IKSOSE3 was my introduction into the music scene that I live for and I couldnít have asked for a better album to pull me in. From front to back this album is a classic, this is Coheed and Cambria at their prime. Every song on the album is packed with emotion and intensity that makes you want to dive head first into the story. There isnít one track off this album that I would throw away, itís just that good to me and opened my eyes to a whole new world of music. The band once again is flawless in their presentation of the album. The feeling that comes over me watching this brings back so many memories dating back to the very first time I discovered the record. The best part is that after however many years its been the music can still give me goose bumps and send chills down my spine. To me thatís how you know when a band has perfected their art. But probably what is the best part about the audio of the shows is that it isnít over dubbed at all. There arenít touch ups or anything, itís complete and raw music coming from some of the best. Or maybe itís just me and over dubs are essential to a good dvd, but I would rather get the live experience from watching a concert then get a rehashed studio album. Make sure to stick around even after the credits roll for a nice treat, because it gets good when it transitions back into color.

As for night three, there is another addition to the live set. Two female backup singers are added into the set to sing of come of Claudioís backing tracks. While I understand the move to add them to the show, it just seems like a little much at times and seems to clash with Claudio. But overall itís not a negative to the show at all, so itís not that bad. Again night three remains a personal favorite as Good Apollo: 1 helped me through a rough time in my life and gave me something to get lost in. Itís just an indescribable feeling to be able to watch this show and have those feelings brought back but with positive vibes instead of negative. I hope that others feel the same way because this is a fantastic album, not as good as IKSOSE3 but awesome in its own way. When it comes to night four, I donít really know how to explain everything that is going on. I would say that if you didnít dig Good Apollo, Iím Burning Star IV Volume: 2 No World For Tomorrow to definitely give the last night a shot. At first I really liked Good Apollo: 2 because of the classical rock elements it had, but as I listened to it more and more I realized it lacked what all the other Coheed albums had, emotion. It just seemed like one over produced record that had the capabilities to be monstrous but because of those expectations it fell flat on itís face. But live is a whole different story as the boys deliver the songs with heart and its totally noticeable. Thanks to Neverender I have found a new appreciation for the final chapter of the story which left a nasty taste in my mouth a few years back. Really there is nothing I can complain about with the four cdís and dvdís. The audio is great and the video is phenomenal. Anyone that has witnessed a Coheed show knows what they are all about when it comes to a live show. Tons of multi colored lights, strobe, smoke machines, video screens, and more. Itís even better on dvd with the multiple camera angles shot from just about every corner and crack they could place a camera. Again there is another treat for those who wait, and fans of the Jam band scene will pleased to know a legend of the genre comes on stage for a few tracks. Overall the production is top notch and does not disappoint at all, if anything it leaves you wanting more.

The final dvd in the set is a documentary of the band, which actually gives the whole history of the band. Starting with Claudio and his childhood friends starting bands as kids to the birth of Shabutie to the formation of Coheed and Cambria. Everything you could ever want to know about the band is on this disc. Claudio even touches on how the story of Coheed and Cambria is a lot more then it appears and discusses his personal issues that became parts of the story. Like the other 4 dvdís the documentary is split up between the time periods of the four albums. When youíre watching you canít help but feel for the guys and know that they have given their all into what they do and how they worked for everything they have gotten. To give an idea of how itís presented, think of a behind the music, but without the VH1 junk. Some bonus features on the disc are short features from all of the other Neverender stops, the opening acts for each night consisting of Mic, The Davenport Cabinet, Richard Christy, and Claudio. The rest is just a bunch of web clips that were recorded in preparation for Neverender. Overall itís the perfect piece to top off media section of the box set and will not disappoint at all.

Also within the package is a 48 page hardcover book with pictures taken by fanís and sent to the band. There is also a metal dragonfly that is pretty sweet if you are into little trinkets like that. All together the package will be regarded as a prized possession for most (myself included). Say what you will about Coheed and Cambria, hate them or love them, they are one of the few bands that proudly represent this generation of music. If youíre young or old, a diehard fan or just discovering them, there is something for everyone when it comes to Coheed. This collection is essential for any long time fan, so if you were on the fence, it's time to come on over. Coheed and Cambria have advanced from being just a band into something thatís completely unexplainable. Other bands should take notice because with Neverender Coheed has taken the music game to a whole 'nother world.


Final Verdict 10/10
Tags: Coheed and Cambria, Neverender, Review, Epic
I love it
When you run into people that have impacted your life at an earlier point in your life. I ran into my freshman year history teacher at work yesterday and it brought back so many emotions. The man basically inspired me to follow what I believe in, and to be happy with yourself. May sound corny but I haven't seen the man in 4 years and it was just nice to finally meet up with someone I have looked up to since we met.
Tags: Run In's, Old Memories, Nostalgia
Inside CoCa's Neverender.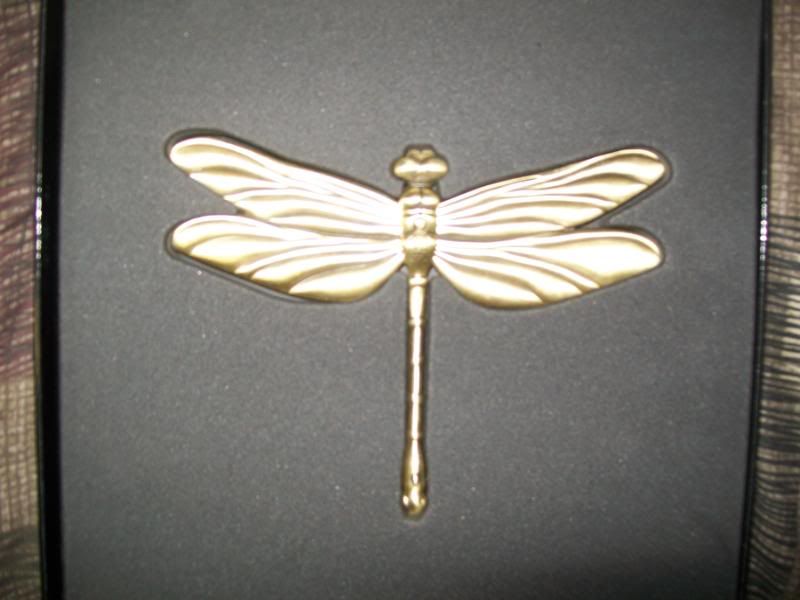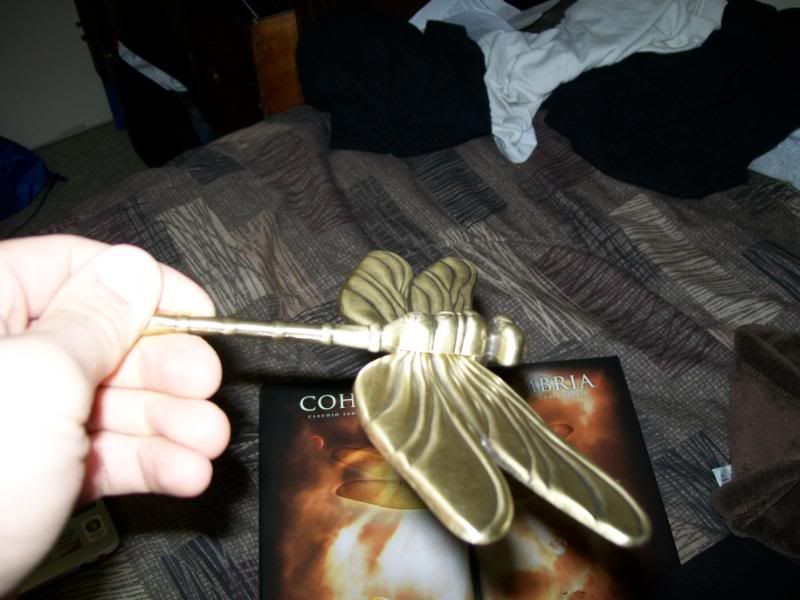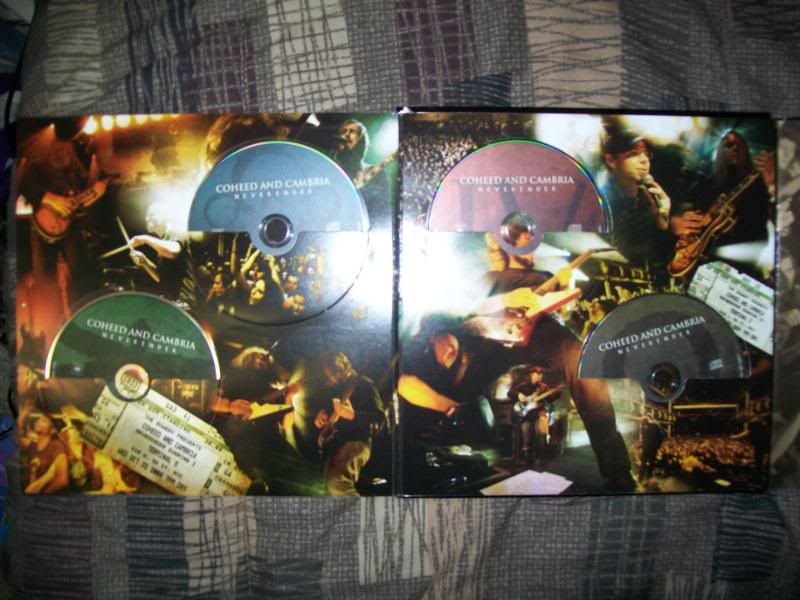 Tags: Coheed and Cambria, Neverender, Pics