A blog about art and shit.

We're all puppets, we're all marionettes.
Just something I cooked up in math class with my ipod on full blast. This Armistice is probably my favorite TREOS song.

"We're all puppets. We're all marionettes."



Yes, they are conjoined twins joined at two separate locations. Why? Who knows! All I know is that they're cute! My multiliners are running out of ink. The guy's pants were a bitch to fill in because my 0.3 is basically dead.

Anyways, I think everyone should go out and buy Not Without A Fight tomorrow. So worth it. I would get the vinyl if the shipping wasn't so disgustingly expensive. Argh.
Tags: ink drawings, treos
This city is afraid of me.
Ahhh going to see Watchmen tomorrow night. Stoked as hell. And since I've been practicing 1-2 minute speed sketching lately, I thought I'd sketch out some Watchmen characters.

...And this is the only one that turned out decently. So here ya go.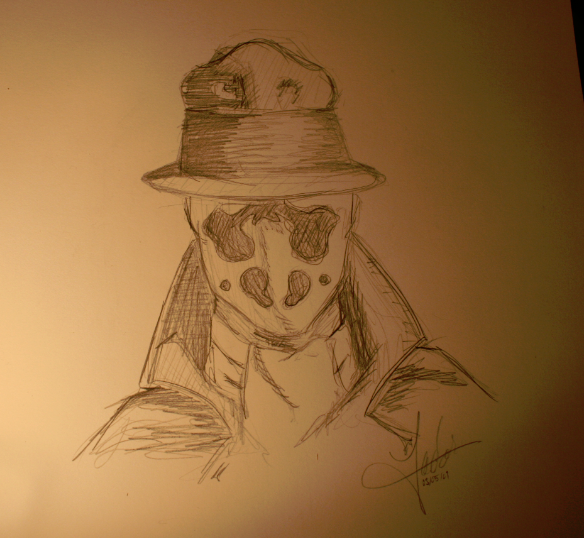 Tags: sketch, watchmen, awesome, excitement
Format Hoodie!
I made this for my friend's 17th birthday. I just picked up a plain white hoodie from the store and a bundle of discounted (halloween!) fabric from the fabric store, sewed on a bunch of buttons, and voila!


The front...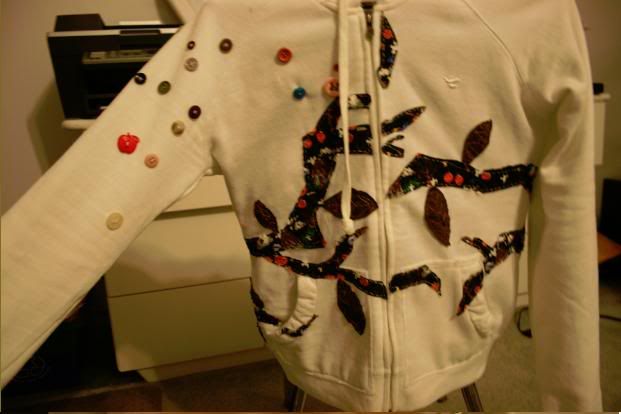 ...the back...



...and a glimpse of the inside of the hood which took me forever to sew!



All done by hand since I have no freakin' clue how to work my sewing machine (and obviously too lazy to learn.) I think it's kinda cute. *shrug*
Tags: crafty, the format, sewing, hoodie, gift
self-portrait...kind of.
I drew this for my animation/cartooning class. Our first assignment was to create a self portrait borrowing the style from a popular cartoon. I chose powerpuff girls. hahaha This photo was taken before I colored the window and bed. I handed it in already though, so this is the most recent picture I have.




Outlined with Copic multiliners, colored with an acrylic wash. I filled in my cat with a sharpie out of laziness. Shame on me.
Tags:
painting
Work in progress
Flowerface?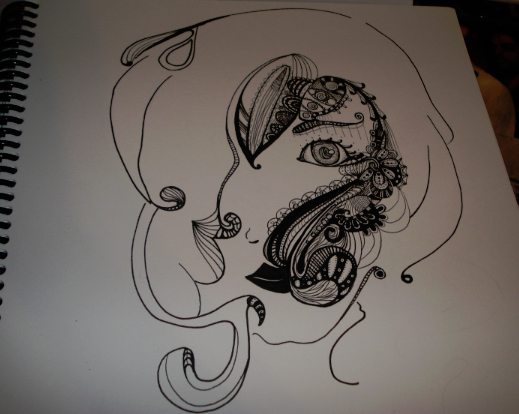 This is just the outlines and the one little part I got to detail...



And this is a closeup of the part that I finished so far because you couldn't see the pointillism* in the eye in the previous photo and I think it's a super cool detail.

I cooked this baby up in homeroom on friday, somewhat inspired by a curly hairstyle I came across while flipping through Noi.se (it's a magazine.)

In addition to this, I'm slowly rekindling my love for sewing! Yay, sewing! I'm currently making a custom hoodie for my friend's 17th birthday (it's in two weeks! Hurrah!). It's going to have a patchwork owl on the front and "The Format" on the back, since they were her favorite band. It's pretty cute so far, I suppose.

* this is probably my all time favorite technique in ink, paint, graphite, whatever. Pointillism rules.
Tags:
ink drawings
One day I slowly floated away.
I've been drawing!

I love Eisley!


Nothing special, but at least it's something.



Now here's some old stuff.

I painted this a while ago... in October last year, I think. It's a crappy phone picture, but it's the only one I have of it since I decided to give it to Will Noon when they came through my town. I'm lame, laugh if you want. (: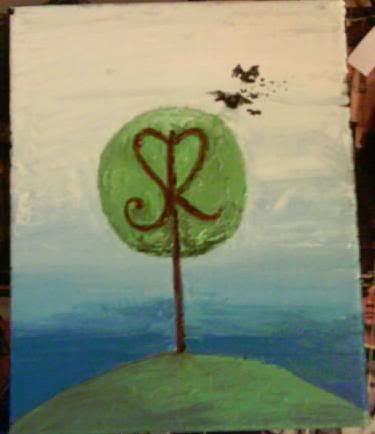 This doodle came about when I was creating characters for a circus troupe drawing that never actually happened. I'm actually kind of sad I never got around to sketching out the entire troupe. Anyways, these were my favorite because they were adorable as hell.



///edit///

I just rediscovered this ep. Go listen to it (:


Tags: ink drawings, painting, doodle, pencil crayon
I'm a slave to the wires
I realized I haven't posted anything in a while. This is because I haven't done anything in a while. I fail.

So, just for the sake of posting something, here are some 2 minute scribbles done on the Graffiti facebook application.



(RIP, DFA <3)

I had a really, really detailed rendition of Juturna - Circa Survive, but I accidentally hit the back button on the side of my mouse... so it disappeared into oblivion. D:
Tags:
doodle
Just looking for shelter
Keith needs to get his butt up here. Toronto loves Good Old War too, okay? Sheesh! I really, really wish they were coming up here with Gaslight Anthem.

I took my new camera out before work today. Keep in mind I know nothing about photography. hahaha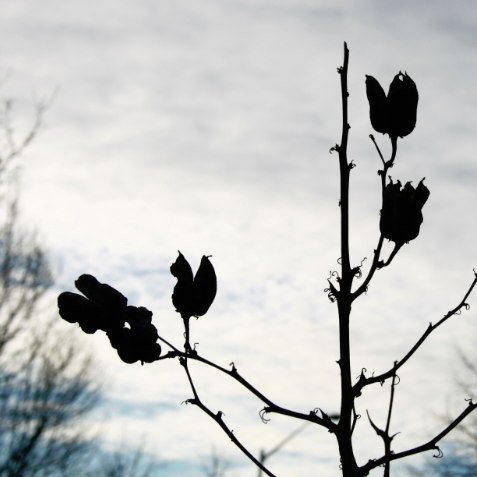 Peace out!
Tags:
photography
No, not without a fight.
I have not stopped listening to the new New Found Glory album from the second I got it. Do I feel bad that I have it right now? Not really. I fully intend to buy it on the day it comes out. I love how my head subconsciously starts bobbing during Listen to Your Friends. Good shit.

Also, I thought the Two Tongues album was pretty decent. The first half is awesome, but the last few tracks are kind of useless. I also love Sherri's vocal appearance in the Interlude.

So, I actually have a drawing to post! It's been a few days. This one took about two math classes and an english class to actually draw. And then like 15 minutes at home to scribble some color in there.




The story about the big black and white swirly thing is that I really, really, really, really fucking hate drawing hands. I am absolute garbage at it. So instead of drawing the hand and the other arm, I decided she's going to be getting swept away by a huge clusterfuck of randomness. Yes! hahah I suck.

How weird is it that Michael Cera was cast as Scott Pilgrim? So. freaking. weird.
Tags: ink drawings, pencil crayon
New camera.


I named him Jake. He's a Canon EOS Rebel XTi. I got him at the unbeatable price of $180 (Canadian dollars) and he was brand spankin' new. It was an offer I could not pass up. Now I need to learn how to take good photographs. lol.
Columbus - Andrew Dost


I just got this baby in the mail. Andrew Dost is an amazing musician and on this project he's backed by a plethora of guest vocalists from Nate Ruess to Joel Thiele to Molly Morris. It's basically just a fun musical based (very, very loosely) on Columbus' adventures. Everyone should go check it out at www.myspace.com/andrewdost
Tags:
reccomendation
30 second sketch.
No erasing. Pencil down after 30 seconds. 123go!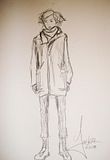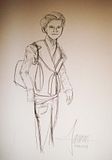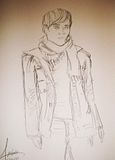 aaannnddd I don't think I posted the finished product of this, so here it is. Fine liner + prismacolor pencil crayon on a sheet of 14"x17" piece of 110lb paper, colored entirely with my left hand (just for fun, hahaha.)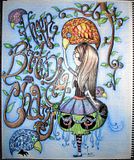 Yay!
Tags: 30 second sketch, pencil crayons