| | | | |
| --- | --- | --- | --- |
| 's Blog | | | | |
A blog about art and shit.

Ski mask? Check.
From what I can tell, there aren't many ska fans on this website. But I saw Streetlight Manifesto last night and it was such a great show. It just reaffirmed why I fell in love with ska in the first place. And they played It's A Wonderful Life by BOTAR, which was a nice surprise. I'll hopefully be seeing them again on Warped tour. I'm looking forward to it.

Expect to see a lot of drawings/doodles involving trumpets/saxophones/trombones this week. I'm on a huge ska kick. Mad Caddies? Heck yes!

And if all goes well I'll be seeing The Planet Smashers on valentine's day with The One Night Band. It will be good times.
Kevin Devine
The resemblance is uncanny, right?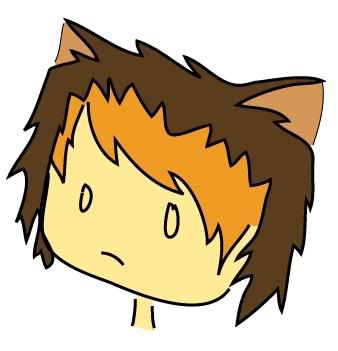 I was bored in graphic design class. The ears look too cat-like, but in my defense, I wasn't looking at the actual picture at the time. The face though, especially the eyes. Spot on.

I just wasted 30 seconds of your life. Sorry.
Tags: doodle, illustrator, kevin devine
Interventions and Letting Go (Paintings)
I can't believe I haven't posted these yet because... well, this is a music site. lol. Anyways, I painted a bunch of album covers and gave them away for Christmas two years ago. I only thought to snap pictures of two of them for some reason.

"Interventions and Lullabies" - The Format



"On Letting Go" - Circa Survive



Yup. I've been thinking of doing my own rendition of the art from As Tall As Lions' self-titled but I'm really lazy so that probably won't happen for a while.
Tags:
paintings
Failing, Flailing.
My friend's birthday was on Monday so I drew this for her. I love my pencil crayons, but I can't help but wish I was better at using them. Ah well.




This is just the drawing half of it. There will eventually be text to the left of her, it's just taking me a freakin' long time because I absolutely suck. *smashes head against desk* lol

edit: The lettering! I think "Birthday" looks kinda bad ass, but I'm kinda scared it'll be too hard to read once I color it. Siiigh.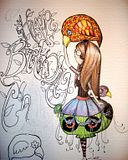 Tags:
pencil crayon
Dustin Kensrue


Friggin' awesome. I'm pretty upset this tour isn't even stopping in NYC, let alone anywhere close enough to drive. Instead I get to have exams all of next week. Time to go study how to find lines of intersection of planes or something.
Tags: Dustin Kensrue, Counting Crows, awesome, youtube
Walking By
Your grand dad left home for the circus
He was young just like me,
with hope to explore
He married a girl in Virginia
She could swing the trapeze,
they could sleep on the floor

Your mother was born in December,
on the one sunny day that winter gave up
With warm summer eyes that flickered like fireflies,
and she stared at the world

So why do you leave these stories unfinished,
my Cheshire cat doorstop with tears in your eyes?
And why do you look when you've already found it?
And what did you find that would leave you walking by?

She was raised in a New England village
Then she moved to LA with her firefly stare,
and you loved sunset strip when it sparkled
You grew up and you sparkled, but why don't you care?

And why do you leave these stories unfinished,
my Cheshire cat doorstop with tears in your eyes?
And why do you look when you've already found me?
And what did you find that would leave you walking by?

And these nights I get high just from breathing
When I lie here with you I'm sure that I'm real
like that firework over the freeway
I could stay here all day but that's not how you feel

So why do you leave these questions unanswered?
The circus awaits and you're already gone
My Cheshire cat doorstop with fear in your smile,
what makes it so easy for you to be walking by?
And what did I do that you can't seem to want me?
And why do we lie here and whisper goodbyes?
Where can I go that your pictures won't haunt me?
What makes it so easy for you to be walking by?
Walking by

--



I got the Audioboxer EP for my 14th birthday from my cousin. I will never forget the first time I heard this song.

And there's this: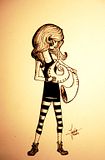 Scribbled in my sketchbook at the back of a classroom. I'm probably going to Asian-fail (under 80%) all my exams next week. Sigh. Advanced Functions... I don't know why I even took it.
Tags:
ink drawings
Whew.
I've had a busy weekend. Between studying my ass off for my art history exam coming up on monday, getting scolded by Max Bemis via pm (how awesome is it that his username is TiffyWiffy? ha.), driving to buffalo with my family to spend a bunch of money that I don't have, and staying up watching old movies featuring the Olsen twins back when they were around 10 years old, not much drawing has been taking place, which makes me sad.

So instead of posting a drawing, I'm going to post a photo of a project I have to do for art class. Basically, we had to take a famous person and make their head into a mug. I have never touched clay before in my life. It's supposed to be Ben Gibbard...and I am aware this looks nothing like him. hahah and he has no eyes yet because I'm scared to paint them and make this piece of shit even uglier. Gaah.




I'm failing our pottery unit. Fuck.
Tags: pottery, I'm sorry Ben, failure, lol max bemis
A Wilhelm Scream
I haven't listened to this band since Ruiner first came out. They're coming to town with Streetlight Manifesto in a couple of weeks, so I thought I would start refreshing my memory. I still love it as much as I did back then. I have no idea why I stopped listening to this band.

I just realized I had this tab open for two hours. Woops.
Trial #1
This is the first thing I've drawn with the new Uni-ball pens I got on the weekend...




The good thing about them is that they're waterproof. But it kind of sucks how the flow of ink isn't always even so it makes the curves look like ass sometimes. Ah well.

I'm really fucking stoked to hear the new Ace Enders album. Shit. The Secret Wars was so good. I'm kind of bummed "Why Do You Run?" Didn't make it onto the tracklist. It was probably my favorite song on The Secret Wars. Oh well, I bet there will be even better songs on the album anyway.

Random, but paying for fancy calendars is dumb! You know what the best kind of calendar is? The free kind. As in, you take a marker and you draw a grid on a piece of paper. ooOOoOoo. lol. This is why I don't really say much in my blogs. Because I'm really dumb. 8D

Goodbye, internet.
Tags: watercolor, ink drawing, ramble
She has trouble acting normal when she's nervous.
Step out the front door like a ghost into the fog
where no one notices the contrast of white on white.
And in between the moon and you the angels get a better view
of the crumbling difference between wrong and right.
I walk in the air between the rain
through myself and back again
Where? I don't know
Maria says she's dying
through the door I hear her crying
Why? I don't know.
Tags: lyrics, counting crows
Forget What You Know
Forget What You Know is by far my favorite Midtown album. I lost my copy last year, which sucks. There are two reasons why I didn't just buy another copy. 1) I'm poor and 2) It's really freakin' hard to find in Canada. Sigh.

I bought two new waterproof/fadeproof pens with metal tips. I've been having problems with felt-tipped pens, so hopefully these will be better. I've never purchased pens from this company before (Uni-ball) so if they end up sucking, I'll be pissed. They were $3.20 each. I have no drawings to post since all I've been doing lately is sketching and sketching and sketching ideas for pieces for the art show. I don't want to spoil the surprise; you'll see 'em all when they're done ;)

I just bought tickets to see Streetlight Manifesto and The Swellers on January 30th. My exams end the day before, so it will be an end-of-semester celebration, I suppose. It's been more than a year and a half since I last saw Streetlight... it should be fun. I also got tickets for The Gaslight Anthem in March. The date worked out perfectly, I'm so glad. They released one of my favorite albums of 2008.

Oh wait, I lied about having nothing to post. My bad, my bad. I drew something in math class on friday! Inspired by "Landlocked Blues" by Bright Eyes. One of my favorite Conor Oberst songs, ever. This, and Nothing Gets Crossed Out. Maybe I'll draw something for that in the near future... Anyway, here's Landlocked Blues (:





If you walk away, I'll walk away.
First, tell me which road you will take.
I don't want to risk our paths crossing some day.
So you walk that way, I'll walk this way.

Alright, I'm out. Thanks for taking the time to check this out. Have a good one! (:
Tags: ink drawings, Bright Eyes
Every word is nonsense, but I understand.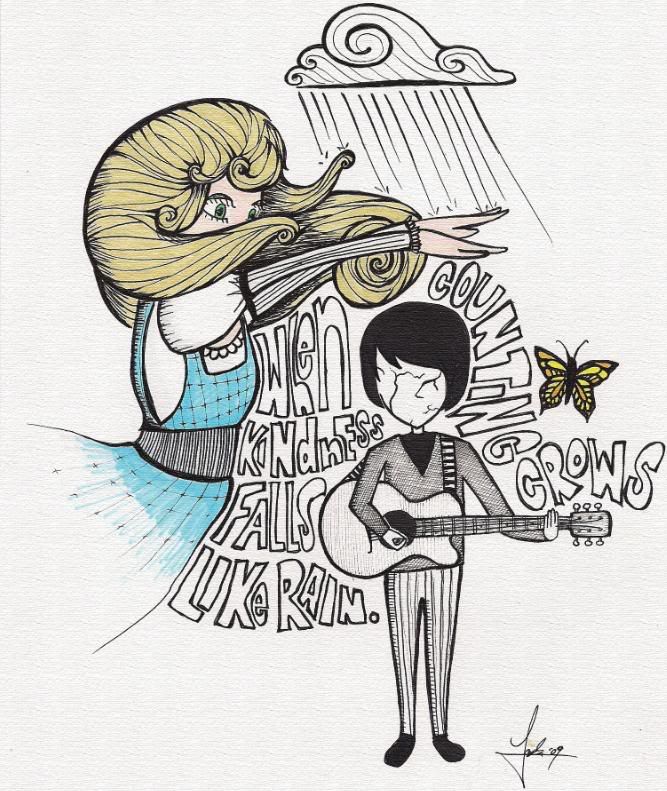 Lettering = not my thing.
I love how her hair turned out.
I have a very limited color selection of prismacolor markers, so I only colored her. And the butterfly.
Counting Crows rule. This is their best song...imo.
I used my pilot pen instead of my Copics and you can tell where the ink started bleeding a little on the back of her dress. Damn.

I want to do something Bright Eyes/Conor Oberst themed. Perhaps even Cursive. Jeez, I haven't listened to Cursive in months...
Tags: ink drawings, counting crows
Silence evolves.
Who else saw the Rufio news post and broke out their entire discography? Hopefully not only me. haha. I'm stoked as hell. 2009 will be so much better than 2008, release-wise. I cannot wait for...

Two Tongues
Say Anything
Saves The Day
Thursday
Rufio
Manchester Orchestra
The Matches
Kevin Devine
Brand New
Glassjaw
As Tall As Lions
Cursive
Jimmy Eat World
Sherwood
Eisley
Motion City Soundtrack
Fun
I Am The Avalanche
The Graduate
Four Year Strong
Mute Math
New Found Glory

It will be an amazing year.

I have nothing to post in this blog. I didn't draw at all today (besides a crap doodle of my friend in a penguin costume that I fashioned in the midst of a Religion class...but that will never, ever be unleashed upon the internet. I wouldn't do that to you guys.)

What I WILL share with you though are my three favorite artists. (it would be cool if you checked out their websites or bought their crap! DOO IT.) Ready?

Mike Parsons


This is my absolute favorite local artist. He was my first inspiration to create something with just india ink and a bunch of imagination. I first came across his art when I was walking on Queen Street in downtown Toronto and he had his work laid out on a blanket on the sidewalk and he had a chair underneath a small canopy. He had the most badass looking shades on (see above) and he was slouched over a canvas on his lap. It was possibly the coolest thing I had ever seen. After meeting him, I basically went to the art store and bought my first set of india ink brush pens. From 2006-2007, I was so into drawing cityscapes and industrial things. I owe it all to him.

and

Bryan Collins


Bryan Collins is a nice dude! His use of color astounds me. He can color in pencil crayon like a pro. He may be an old guy (haha just kidding) but he has the imagination of a toddler. What a crazy.

and last but not least, Sherri Dupree!



Yes, she is Sherri from the band Eisley, but she is my most recent... inspiration. My dream is to be as intricate and beautiful with my lines and curves as she is. She is the reason I've recently gotten into Copic multiliners and very fine felt-tipped pens. They are just so versatile! Sherri's imagination is crazy as well. And the composition rules. She takes photos, too.

Yep, that's about it. They all rule a lot harder than I do. haha.
Tags:
inspiration
"String me along like a beautiful love song."
Okay, so I haven't actually heard "Water's Edge" by 1997. But someone asked me to draw something based on/inspired by that lyric. And since I'm nice and will basically draw anything for anyone (if I'm bored enough...), I did it!




I drew it in math class, so it took roughly an hour and 10 minutes? That's pretty good, I think. lol.

So, I'm teaming up with a group of other amateur artists to put on an art show this summer. We will be doing all the organizing and planning. It's pretty exciting stuff. Our theme is "Everything Starts Where It Ends" (not really the song, but the concept itself). It's bound to be loads of fun and it will be a good opportunity to show our work. It could totally rule or be a complete flop. I will keep you posted. ha.

I never have much to say on here.

What should I draw next?
Tags:
ink drawings