Blue Skies, Broken Hearts...

I'm crushing hard on Cassadee Pope...
of Hey Monday...

shameless I know. I should be embarrassed. Thats why I'm posting it here on the internet so no-one will ever know. Genius.

[myspace]43397301">Hey Monday "Homecoming"
[/myspace]
New Found Glory - Not Without A Fight
has to be my recommendation this week. If you're like me and grew up on NFG this will be a welcome summer anthem addition to your collection.
It's somewhat of a return to the sound of self titled and Sticks and Stones and in a scene completely saturated with pop punk soundalikes its refreshing to hear the godfathers do it the right way.

Jordan Pundik's nasal whine has never sounded so good. It was produced by Mark Hoppus (Blink 182..duh) and he's produced some of my favorite records recently. Peep that shit if you're looking for a great summer cd to crank in the car. Especially if listening to "My Friends Over You" still makes you nostalgic.


Tags: nfg, new found glory, listen to my friends, reccomendation
I got a new tattoo....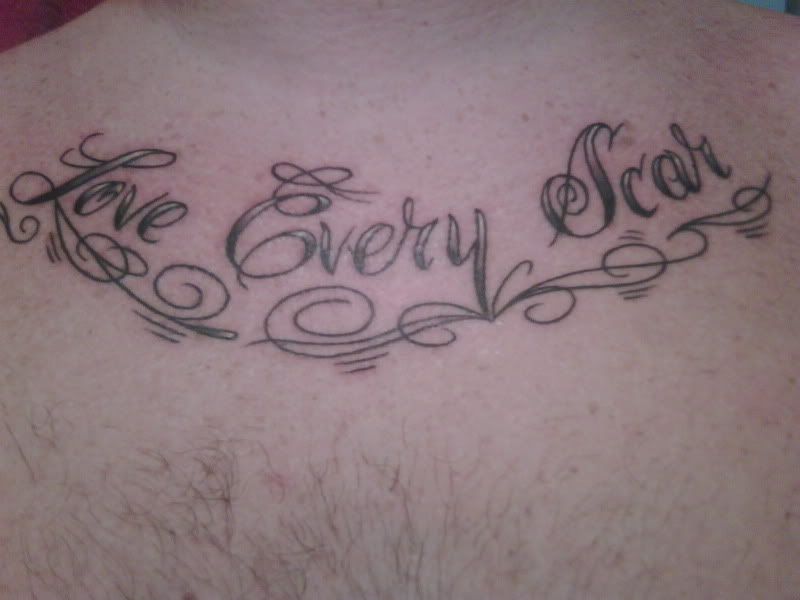 It from the Versus The World song of the same name.

Lyrics below:

I fell in love every scar on her wrists
And sad eyes told a story of every
Great thing that she'd missed
She doesnt call here anymore
She didn't even say goodbye
Just a kiss blown to
The wind we didn't catch in time

This can't be right the night has just begun
And I already feel like I'm dead
I know I shouldn't hate myself
I should be blaming this on you instead
Instead I'll rewind these weeks in my mind
And I don't think I'll find any comfort
In this coffin built for two

Love every scar a trophy that proves
How humen we are love every scar
There's one for you, wherever you are

It's hard to believe that smile held a girl
That was hurt so badly it's hard to believe
That those hands that held our hearts
Hold the blade that cut you
And turned you into the girl it hurt to talk about
Cut you and turned you into the girl
We couldn't live without
And I realise this feeling gets stronger
if we wait any longer
I wish you had only let us in
Tags: band tattoo, tattoo, versus the world, love every scar
Lily Allen has my heart...
If you haven't yet, I severely suggest you peep the new Lily Allen album because I think it is killer.

It's something I haven't heard before and a pretty big departure from her last record. I also can't figure out if I have a crush on her or not. I'm guessing yes.
[myspace]47705298[/myspace]

On an unrelated sports note, how much of a dick do you have to be to turn down a ONE YEAR contract for $25 Million dollars. To hit a baseball?

$25 Million a year? thats fucking absurd.

Manny Ramirez is a dick.
would you like some cheese?
While trawling the interwebs I found this:

Its the cheesiest love songs Ever! and while I would include a couple of others, its pretty accurate.

There has also been a lot of talk in the forums of AP about horrible band tattoos. I want to shake the hand of this man. He's my hero.





Seriously.

And while having a discussion about what Rock The Casbah by the Clash was at work, we WIKI'd it and i discovered more than I ever knew.

"In the Combat Rock version of the song, a watch alarm can be heard in the background starting the 1:54 mark. It is purported that since the song was entirely composed and performed by Topper Headon and Joe Strummer. Paul Simonon, having nothing else to contribute, simply recorded the alarm going off from his Dukes of Hazzard watch." More
a promise...
I promise to keep this updated. Promise.

My song of the week is going to go to Deathcab For Cutie for "Your New Twin Mattress
lyrics here

Also, I don't know if anyone else has seen it but Pete Wentz is looking more and more rough around the edges. Apparently in becoming a father he has stopped shaving.
Example a



It actually kind of works for him. But that may just be my facial hair envy.

And your blast from the past today comes from the Starting Line. "The Best of Me" which I still love to this day. I've probably loved the record this came from the day it came out 7 whole years ago. It was just one of those moments when the stars aligned and everything sounded just right. Enjoy.




Oh, and for the Captain Obvious fact of the day:

I think Sarah from Real World Brooklyn is hot. I kinda have a teenage crush. Shes cute, has short dark hair and tattoo. Of course I do.




Duh....