That blog with boring shit about music

It is Staring Back
"I caved in and decided that it is time. There's a chance that it might help me, I hope it does."

I opened the small box and put the bottle on the table. The other thing that came in the box was a birthday check. I couldn't be less interested in the check.

OVAL BLUE TABLET:
Side 1: G 4900
Side 2: 50 MG

"Are you worried?"

"I have an anxiety problem, of course I'm worried."

"Why?"

"Because I think it'll change me."

"Ryan, relax. If it doesn't work, you don't have to take it anymore."

"I'm not worried about it not working. I'm worried about it working well."

"Ryan, if it works well, you have a chance at being happier."

"But what if it changes something so slightly that I don't notice? And then everyone else notices and it hurts them and I don't mean it and-"

"Ryan, relax. It is going to be fine."

The bottle still sat motionless next to me. I'm sitting in my chair staring at the television and I can feel it burning a hole in the side of my head. It is staring back.

"I want to enjoy life a little more. A little less anxiety."

"Well this MIGHT help. There's also a chance it could make things worse, but if you notice that happening just stop taking it."

"Well hey, maybe the first day I take this is the first day of the rest of my life. But then again, if it goes wrong that could still be true."

That'll be tomorrow morning at 10AM.

Here goes nothing.

Ryan
Happiness
The concept of wanting happiness makes it hard to recognize happiness. I will always question it even when I have it.
The Most Interesting Album of 2012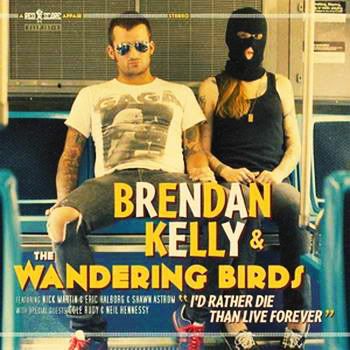 This is seriously the most interesting album I've heard in years. It runs the gamut of rock genres with assorted depraved lyrics. Brendan Kelly's voice is at it's best when it is getting weird, and this album is his voice's coming out party.

Buy it and enjoy it. "Suffer the Children, Come unto me" is the catchiest song you've heard all damn year.

Ryan
Choices
"If I don't make it to work tomorrow, I made a rash choice and I'm probably in jail."

"Ryan, think it over before you do something crazy."

"I'll think about it long and hard. The person who did this certainly has earned what may come to them."
PUNK
Still waiting for the "Punk goes Punk" compilation where bands that pretend to be punk cover classic punk rock songs and realize that they have no talent and quit.


Ryan
god damn it so hard
No era of music is better than the other era. They're all extremely different.


SHUTUP SHUTUP SHUTUP
Creeping in
Ugh, the reason I hate facebook is you see all the people that you know graduating from college and yet, you're still in your first year of college. It's creeping in. That uneasy feeling you get, seeing people become more qualified to live a better life. I want to badly to just graduate tomorrow. I made so many choices at the 18 year old fork in the road and I'm paying the price for that.

This is what I signed up for. A few years to go. For fucks sake. It'll get better. Don't over think it.
Sun Hotels
I made a blog entry earlier about The Menzingers Demo reel for their most recent album On The Impossible Past and I have honestly been obsessed with their original demo for "Sun Hotel":





The lyrics and structure are completely different from the album version:





I'm not necessarily saying it is better, I just feel it's completely different subject matter. The demo version feels more personal and heartfelt (It IS acoustic, after all). Perhaps the band felt it was too personal to put on the record? Or maybe the original version of the song didn't fit in with the concept for the album.

If anyone ever catches those guys on tour, I'd love to get an answer.

Ryan
22 minutes in, an eternity to go.
It felt like a month ago, twenty two minutes would be some kind of impossibility. Running twenty two minutes straight? You have to be shitting me. Cue today, where I'm heaving like a champ. The end of "Mountaineer" (No Trigger) had signaled the end of my run. Two miles in twenty two minutes. In real life, that's extremely slow. In my head though, I'm freaking king of the asphalt.

I began my trek back to the house. I always was about a quarter mile from the house when I finished, so I had time to cool off. That is usually the time when I think about the next step of the day. It's my focus time. Well, as much as one can focus while Red City Radio is blaring in my ears.

Unfortunately it was a day off. No plans. My worst nightmare.

I'm alone without my phone, and I'm stuck with my thoughts. The internal inquisition begins:

"Why are you doing this?"

"Working out isn't YOUR thing, Ryan. You haven't written a thing in weeks and you're being pathetic."

I don't know why I work out now, I feel like my stereotypical answer is that I wanted to look better for girls. Girls like a fit guy, right?

"Ah, balderdash! You don't enjoy the company of shallow girls." My thoughts told me. They were right. A shallow girl will never enjoy my presence in any mental capacity. "Shallow girls are pretty and you can fawn over them if you like, but they'll only disappoint you."

Disappoint me, why?

"Ryan, you've gone down this road. You've gotten into the room with some 'Hottie' and you do the deed and get bored. Then you limp in to the relationship for the sake of trying and you ruin everything because you're fucking bored and so self involved that you just end up looking like a sociopath. That's usually when they break up with you."

Ah, true. You little shitbag, you know me all too well. What about the good ones that are beautiful?

"They can do better."

Fuck you, voice in my head. Stop being right.

"You're not out here jogging to bolster your loins with more conquests."

Why am I here, then? For my health?

"No, Ryan, you stupid bastard."

Oh, yeah. I forgot. I jog to get my thoughts away from me for awhile. There is a singular goal in jogging and hot damn if it isn't to clear my head.

"Good man, I knew you'd get it!"

You're lucky you are my mind and you belong to me. Or I would take you out with a drill or something.

Ryan