| | | | |
| --- | --- | --- | --- |
| 's Blog | | | | |
Bobby's Journal

It Seems As If This Summer Is Going to Suck
So it's been a week since I was in Manhattan, Kansas. And I really want to go back. So this past weekend I had an interview at Robek's which did not go well since I told them I was only staying for the summer. I get home and my mom gets pissed off at my that I still don't have a job and tells me that this is my last weekend tohang out with friends until I get a job. So yeah that sucks since I know I will not be able to hang out with my friends when I do get a job. It's so weird going from three days of freedom to being in prison.

I love my school (Kansas State if you're wondering). I love the people I met andI abolsutely love the spirit of the town. August can not come any sooner.



Oh Brand New's Devil and God is pretty frekin' good.
Tags: summer sucks, kansas state
Journalizing
Yes that's a made up word from my old English teacher. WHere's something I wrote in that class out of bordem


As an 18 year old male I've liked my fair share of girls and the follwoing is a list of what would encompass the perfect girl in my eyes.
She
-will be between 5'7'' -5'9''
-either a swimmer or unner (endurance duh!)
-long dark hair about chest length
-this might sounbd weird but a long thin nose. ( i cant explain it but its just a turn on for me)
-brown eyes (for van morriosons brown eyed girl)
OR
-green eyes for nfg's "hold my hand" and say anything's "shiska"
- absizedcup
-have as much respect and love for NFG&TSL as I do
- love the following tv shows: the oc,m seinfeld, entourage, the office
-think gene simmons is the shizzz
-have somwhat of respect for the following movies: fight club, beerfest, knocked up and the notebook
- think chuck klosterman is a great writer
-think prince is great at combining many genres in an awesome way
-would rather read a newspaper, magazine, or something like that over a boring novel
-haveaniceass
-laugh at my lame jokes
-someone who thinks intellectually about stupid things
-lets me make fun of them
-enjoys fruit
-has verizon "in texting/calling"
-have respect for herself
-gets all of my pop culture refrences
Tags: me, lame, girls, boobies,
I Can't Wait
So tomorrow is my lasr day of high school ever!!!
I'm so freakin' happy to get out of this shithole. Yeah, I'll miss my friends and the comffor tbut I won't miss the fakeness found in high school, the disrespect for everyone, the fake spirit, the dumbasses in all my classes, the teachers who assign the stupidest assignments, and most of all I won't miss all the lying that goes on.


I'll end up writing a blog about missing stuff but that'll be later.


So yeah here's what tomorrow looks like.

2) listen to presentations on health related issues
3) course evaluation and return books
4)play pasoidos and sign yearbooks
5) ok i hate this guy. really we have to talk about Dawn on our last day of high school ever? anyways fuck you and what you did at the end of the year
6) pass out that last newspaper. maybe go into the italian clas and throw it in someones face
Tags: high school sucks, last day, helle sucks balls
"What a waste of a day, such a waste of time"
We're pacing around waiting for the show to begin. We decided to dress up as if we were in the early 2000s; long dickie shorts and bright colored band tees. Tonight's show is in Coral Springs, FL and the choice for which song to open up with was a tough decision. After countless little arguments we settle on opening the night with the first two songs off of their 2008 EP The Tip of the Iceberg.
My name is Bobby and I'm the lead singer in the New Found Glory tribute band Blanco Meow. Unlike the real band we have had no band member changes *knocks on wood*. We don't look anything like the real band seeing as how I'm Mexican, our drummer is black and most notably is how our bassist is quite small, unlike the 190 lbs. of pimp that plays for NFG.
As soon as the music starts the crowd begins to move. I look out and before I even sing the first word, there's already 3 kids crowd surfing. We move through the first two songs quickly and go into a sped up version to the intro of "Understatement." The bass is what leads us back to the normal tempo of the song right before the lyrics kick in. During the breakdown of the song I command the crowd to geta bif circle pit going for the rest of the song and into the next one. With the crowd's reaction I decided to yell half of the lyrics to "Something I Call Personality." The song ends and I announce to the crowd that we're Blanco Meow, the best BFG tribute band in the world and I thank everyone for coming.
"Cyrus" begins to play the drums for the next song as i Say" this next song is off their 2000 self-titled cd and it's called 'Better off Dead'" We roll through the song adding a little keyboard in the last chorus as the next song is "Failure's Not Flattering."
We play a few song off of Coming Home like "On My Mind," Love & Pain," and "Coming Home." During the chorus of "Coming Home" all I can hear is the crowd singing along.
At the end of the song the bands just starts jamming something completely random. But this ends up leading perfectly into "Oxygen." this night I'm really feeling this song and I sing it with everything I have.
I Take a deep breath and walk over to get a big drink of water.
"These next two songs are off of Nothing Gold Can Stay so enjoy.
We first get into "Passing Time" but we change it a little bit and make the bass sound a little heavier as we also make the guitars more powerful. We speed up the breakdown which creates some movement in the crowd. We then go into a faster version "Never Sometimes." During the breakdown we decide to throw in some ISHC flavor & make it a little hard forcing me to change the vocals.
The opening notes to "Hit or Miss" gets the crowd even more excited thab the last two songs. I don't even have to really sing the song as the crowd takes over my job. We take a pause letting me talk to the crowd.
"How many of you like cover songs?"
About 3/4's of the crowd goes crazy.
"Is anyone in this crowd a huge Fall Out Boy fan and sound somewhat like Patrick?
A few people goes nuts as I mention Fall Out Boy. After a minute or so some kid begins to make his way through the crowd. I tell the security to let this kid up.
"Alright lets go. This next song is off the CD for all those die hard New Found Glory fans. The songs called 'King of Wishful Thinking.'"
We get through the song & the vocals coming from this fan catches me off guard. The next song we head into is "Sucker" which was a good way to get the crowd back into our set. We roll through the next two songs ("Hold My Hand" and "Glory of Love") smoothly to the end of the set. Like most headlining bands we do an encore.
We head out to a longer piano intro of "Broken Sound." The crowd sings along to the opening verse as we play the rest of the song and I sing the song.
I take a pause and introduce the next song as the best song of 1998. The crowd just easts up "Kiss Me."
"Alright this is going to be our last song and a half. So if you haven't moved around yet I suggest you do. I wanna see you tear this place up."
We immediatley go into "Intro" with the whole band around two mic's. I sing the line "though you swear that you are true/ I'd still pick my friends over you." which has the crowd in my hands
I've been a part of my fair share of crazy crowds but nothing like this. I swear I thought the venue was going to be gone after this crowd got through with it. I command the crowd to finish the song as I couldn't ask for a better way to end our last show performing as New Found Glory.
Tags: new found glory, tribute bands, blanco meow
A heartbreak
I wrote a clumn about the starting line breaking up.

it may or may not get printed, either way im posting it here. so expect that yo.



and i still need a prom date.

if you know how i can get in contact with her


then let me know.
Tags: the starting line, willa holland, prom, heartbreak
It Was a Nice Way to End It
So I would have done this yesterday but I was WAY too tired to do anything that was a lot of work.

Yesterday was my last high school race ever. I've been running cross country and track since my freshman year and have made life long friends through it. In track I used to do the 110 and 330 hurdles but stopped after sophomore year since we had gone through three coaches in 2 years with only one actually helping out. So going into my junior year I decided to switch over to distance hoping to do good in the mile. I didn't and ended up specializing in the 2 mile. I ran a fast time the week before league (11:10) and then the following week I ran an 11:26. And after that race I was soo close to quitting track. Well XC season came and went and I wasn't really happy with how I did so I decided to do track, because if I didn't I knew I would regret it.

My goal that I had set with my sometimes coach (my real coach couldn't give a shit about anyone else except our #1 guy) was to break 10:50 and place top 5. In this blog I'm gonna break down my thoughts before during and after the race in segments.

Warm-Up: The meet was WAY ahead of schedule which was kind of freaking me out since I ate half a 12 inch sub from Subway thinking I would have more time to digest it. I get into the meat of my warm-up when I begin to get a side cramp. At first I freaked because I can not keep my form when I have a cramp. But I get over it by telling myself that it would be gone by the time my race started.

1st Lap: I line up fifth from the inside (seeded by submitted times) and get out pretty good. I position myself behind my friend who is hanging in third. We come in and 72 seconds. Pretty good.

2nd Lap: The number one guys starts to pull away fast from the rest fo us but I still hold my pace thinking about not letting my left arm drop. Came in fast than 230 which was kinda fast.

3rd Lap: i Begin to pull away from my teammate and fall into third place. i come in around the 200 mark and then some Otay guy (#1 school) comes up behind me and steals my third place.

4th Lap: I start to slow down a little here but I still have a pretty good first mile as i come in at 5:15. It was pretty fast when I first though of it since my PR for the mile is 5:08 but I get over it.

5th Lap: Again I slow down a little here and in my head I' was thinking about this girl and whether or not she was looking at me race but I needed to stay focused on the race. I come in feeling good about where I am and soon begin thinking about moving up since the three Otay guys are WAY ahead.

6th Lap: At the beginning of this lap I start to fall a little bit behind as it sets in that I won't be getting the win. As I come around on the home stretch my coach yells me telling me that I'm two seconds behind what I need to be and to pick it up. With the straightaway and the crowd I open up my stride a little.

7th Lap: The last two laps I would ever run in high school. Thats what I told myself the whole week leading up to that. I pick it up slowly and begin to think how I will do. I come in at 9:30 and feel a sense of possibility that I might break 10:40. So I think about all those hard workouts I had and how much it will pay off.

8th Lap: I try my hardest to go all out but it's very hard to actually get the will to go. I come in on the back stretch and lengthen my stride. I begin to hurt a little and hold it back until the 150 mark. At that point I'm in sprinter mode and trying to get under 1040 as I see the seconds get closer to it. I'm about 50 yards away and relaize it's not going to happen which causes me to slow down a little bit. About 10 meters away i see that I can make the 1045 and spoeed up into the finish line.

Post Race: I get out of the chute and barf up my sandwich I had earlier. It wasn't fun but it was a good way to end my high school career.
Tags: running, 2 mile, high school, girls
Paper 1 Recap
Oh shit, I wonder if IB is going to come after me since I'm talking about the test.

Well anyways it went by pretty good. I did my commentary on a piece from C.S. Lewis' Voyage to Venus and it was easy to do in the time I had.


Tomorrow is my last high school race ever, so I'm excited for it.
Tags: runing, tests, IB,
Why Say F*** When You Can Say Freak
IB English HL exam tomorrow.

715 in the morning. A Whole hour before I typically go to school, so not looking forward to taking this test inside of the freakin' gym. I hate that place for testing, it's the worst.


Anyways tomorrows exam is 'Paper 1' and I have no idea what I'm going to be getting, all I know is that the scorers of the test are going to be in for a treat after they read what I write. (Just see my Fountainhead essay if you want to know what i'm talking about)
Tags: ib, exams, ap testing, may,
Not Everything I Write Is About You
Yes, I'm quoting myself.


Quote:

I've been wandering around here for a few weeks. At first I was actually tryin got head somewhere , but now it just seems like I'm lost. Honestly I've been lost but never like this, and it's kinda scaring the shit out of me. It's so hard to see more than 15 feet ahead of me because of all these tress around me.
You might be wondering why I've been walking around for the past three weeks. Well back at home I had nothing going for me. Well I did, I just wasn't happy with what I was getting. I had a decent job creating the score for the show, I had an apartment with a collection of art that was becoming respectable, and most importantly (to you not to me)was the girlfriend that I had that loved me. I know everyone wants to be loved and I was one of those lucky guys, the thing is though is I was not really giving any love back. It's not like she was clingy, trust me she was great, I just couldn't find it in myself to love her and it bothered me too much. I guess you could say this is why I ran away from the reality of the above thought.


That is what I wrote in my journal today for my English class and read aloud. After I read it my teacher gave me a look of confusion as he always does when I read my "odd" journals.
Everything was good until after lunch when one of my friends asked me if the journal I read today was about my ex. She was right near me, so I whispered my friend no while giving a look of hatred for asking that. Honestly, do you really think anything I'm going to write about girls is about her? Um no it wasn't. I wrote that based off of my interpretation of Person L's "Storms" I was obviously writing a little short story about it and adding some characterization to it. So that is why it started out like that. I wasn't even finished yet I just need to read it to get the points I need in the class.
That wasn't the only incident with the journal. i had my best friend's girlfriend ( who is also a good friend of mine) tell me to be nicer to my ex.
She said that because she's "been noticing that I've been more mean to her recently."
I asked her "what specifically are you talking about?"
"The journal you read today, duh. That was pretty messed up of you to read it today," she replied.
"really, you thought it was about her?" I said with a sense of anger " It was something I didn't finish but I wanted to read today so yeah."


Fuck man. People need to grow up. That shit pissed me off so much today.
Tags: girls, bitches, people who suck, storms, person l, kenneth vasoli
Warren Live @ UCSD
Well I missed New Found Glory @ Cal State Fullerton because I didn't know about it earlier and my dad wasn't comfortable with me heading up there. So my friend heard from his brother that Saosin was going to play a free show at UCSD as a part of Warren Live. My friends mom drove us up there and dropped us off at his brother's dorm and then we walked over to Warren College.

We could hear the music from far away while the opening band was playing. We got to the stage and saw it was a local band by the name of Bedford Grove. It was nothing too special but not teerible. The next band up was William Tell, the piano-based songs sounded good but everything else seemed pretty generic. His set ended with a cover of The Steve Miller's Band "Midnight Toker" or whatever it's really called. He didn't know the words and neither did the crowd, i myself have only heard it like 4 or 5 times.

Saosin took a while to set up and it was well worth it. Now I'm not the biggest fan of Saosin, or even a casual listener at that. I've heard their full-length maybe 3 times and a few of their older songs a handful of times. I went to the show to have fun listening to some live music. They took the stage and immediately a pit formed which was at first just a bunch of college kids pushing each other. My shoe became untied early on so I crowd surfed my outta there.
There was a lot of shit flying in the pit and one of them was a sombrero. i saw it and decided to throw it up on the stage. i do but it misses the stage and goes where security is standing. Cove sees this and gets security to hand it to him. he puts it on and wears it pretty much the rest of the set. Each time they brought up another college the crowd began booing and Cove pretty much knew that UCSD is where it was at for the night. He told the crowd that he loves playing San Diego because it feels like a home crowd for him and it is always a good place to play.
During each pause of the set a few people from the pit were yelling to play song to get a circle pit going. I don't know what song it was they played but we had one going. It was good size, and Cove had us going around the circle before the song started. Within 30 seconds of the song starting I hit the floor and get a leg straight to my face. it was cool and I got up and kept on going. About halfway through the song two guys get into a fight and start wrestling each other. they do this until the end of the song and each time I go around I see more people trying to break these two guys apart.
Saosin ended with "Voices" and we left the crowd forgetting they would be playing an encore. The crowd yells for one. And Cove comes out saying "U-C!" and then the crowd replies with "S-D!!!" He says it a few more times and then he say "let's get a beat going " they do and we saw it for about 10-15 seconds. The wrap an awesome hour plus set and I'm glad to say I went. It was good coming back to live music.
Tags: Saosin, UCSD
Senioritis
It has finally hit me. At the beginning of this semester my English teacher handed the class a copy of The Fountainhead. he told us to have it read by April 3rd and that we would be doing an essay alongside with the reading of the novel. Like everyone else I put it off for the longest time. I didn't start the book until the weekend before Bamboozle Left hoping I would be able to go. I didn't go (which sucked and causes another story).
So I read the entire book, which I thought was amazing. I finished it while everyone else was back on page 200. I went to the Ayn Rand Institute website and found the prompt for the essay and decided I wanted to write about Howard Roark since I liked his character. I didn't do anything with it right after I read it. The next week in class we read two critical essays on the book and everyone only talked about the first 250 pages. I didn't want to be a bitch and ruin the novel for everyone so I decided to keep everything to myself and save it for my essay.
The first draft was set for Monday (4/14) and we were told it would be a writer's workshop. I wasted away my weekend doing things WAY better than an English essay. It was Sunday night at 930 and I still had nothing. I decided to write shit down and then replace it later on. Well I never did, so this is what i ended up turning in: http://www.absolutepunk.net/showthread.php?t=311621 (It's the last post)
I felt ok about turning it in. It gets to the group who will read my essay and the first person to read it, begins to crack up in a very quiet room, and he eventually turns red. The teacher walks over and sees what is going on. The kid is on the last page of my essay where I start off my last paragraph with the sentence "I guess I should conclude this piece of shit." The teacher then walks over to his computer and as he is walking he says to the entire class "I'm going to be making an indentation to Bobby's grade to reflect the effort he gave to this assignment." I check my grade. I received a 12 out of 20 on an assignment that everyone gets full credit on. I was pissed.
Instead of fixing up my essay I plan on taking out some of the original and adding in some quotes about the book which will prove how ballsy Roark is. I honestly don't give a shit what he is going to say about it. I just need to graduate to get into K-State and I'm good with getting a 'C' in his class. I WILL be posting what he says after it gets turned in, so let's see how that goes.
Tags: the fountainhead, ayn rand, the starting line; senioritis
College Update
So yesterday I spent my morning reading Ayn Rand's The Fountainhead (which is amazing). I then drove with my friend to a track invite to cheer on our friend. He raced got a good time for this early in the season and missing a week of training.

Came home, got the mail and I saw that I had a big envelope from Kansas State. I was accepted to their Pre-Journalism and Mass Communications Program. I was finally accepted to a college. I'm still waiting to hear from Northridge and Fullerton. Northridge has and always be my number one choice, so hopefully I get in.

However if it ends up between Fullerton and K-State, I think I might choose K-State. So hopeully I find out this week what happens.

I just hope this guy stays one more year if i go to K-State.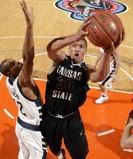 Colleges
Why can't CSU's be like UC's and send out acceptances at a certain time.

It's KILLING me to hear back from Northridge.

Fuck my life.