| | | | |
| --- | --- | --- | --- |
| 's Blog | | | | |
acratertocoffin's Blog

Songs You Should Really Hear

"Detroit" by Fireworks

For my money, one of the best pop punk songs in years. Fireworks take the gang vocals that they have become known for and make one ridiculously catchy punk song. I love this song.





"I Am The Arsonist" by Silverstein

This is easily one of the biggest surprises of the year for me. I've never really been a fan of Silverstein, because they always seemed to be playing generic posthardcore that wasn't terribly interesting. A Shipwreck In The Sand changed my mind about this band, and while there's a bunch of songs that illustrate this point, "I Am The Arsonist" seems to say it the best. I mean really, this doesn't sound like a typical Silverstein song and it's because you can see that, for lack of a better term, they grew some balls and they make one brutal song.





"Artax" by Confide

I will probably end up defending Confide until the day I die. You may recognize this band as the guys who recently covered "Such Great Heights" and they all look creepily alike. Let me be the first to assure you that it was not always this way. Confide originally started as a pretty awesome deathcore band who released 2 EP's before the original screamer left and they turned into a more post-hardcore sound with Shout The Truth, which is still an awesome record. New vocalist Ross started to do this clean shouting along with his screams, which was great. The problems did not start until they ditched their drummer and guitarist and picked up Josh Paul and the horrible Joel Piper. When you listen to the rerelease of Shout The Truth, you'll hear some really fucking terrible autotuned vocals. That's Joel. The rerelease is the exact same record as the original, except all of the clean shouting is overdubbed with Joel's autotuned. Now they sound like a terrible Underoath clone and it's one of the more disheartening things to happen to a once great band.
The point of all of this is that at one point deathcore Confide made "Artax" and I guarantee it will rock your balls off.





"Sweetest Air" by This Time Next Year

This song can join the ranks of "The Best of Me" and "My Friends Over You" as one of the great songs put out by a genre. This is one of the best pop punk songs ever released. No exaggeration whatsoever.





"Sweating at 6 AM" by All or Nothing

I'm liking this whole honest pop punk thing. Birmingham, UK based pop punk band and they're really freaking good, and this song shows that off really well. I love this song.





"Station" by Russian Circles

The best post rock buildup I've ever heard. Although they're more post metal really. I saw these guys in Cleveland and there was a pit when this song hits the 4 minute mark. You'll notice it. My friends and I believe that sex to this song would be majestic, because of the constant beat that is throughout the song. But when it hits a certain part, the only thing that you can really do is just punch your sexual partner repeatedly in the face. You'll know what I'm talking about. Trust me.





"88" by Sum 41

Yes. You read that right. If you've listened to Chuck and you know what I'm talking about then skip to the next one, but seriously, I was listening to this once with some friends and at the end of the song my friend just goes, "That was so good I'm going to throw up." The first two minutes of the song is just, classic Sum 41. Then the next part of the song hits, which consists of a breakdown (really) and three different solos clearly influenced by early Metallica and Slayer. This song is too awesome to articulate it. Try to not headbang to this. Go on. Try.





"'Is This My Fate,' He Asked Them" by Story of the Year

We're getting surprises all over the place. This is the only song that I really care for by SOTY, but holy balls it's a doozy. This is SOTY's true potential, and it's pretty fantastic.





"Bout to get Fruit Punched, Homie" by The Wonder Years

Not the best song on this record, but it's a fantastic introduction to one of the most fun bands around right now. They sing about zombies, pirates, ninjas, astronauts, the Kool-Aid Man, and Captain Crunch (all different songs), and reference Scrubs and New Found Glory. Those are all good things! The Wonder Years don't try to reinvent the wheel, but their music honest is above all else. When they use a synth in a song, you can picture them in high school listening to Motion City Soundtrack for the first time, and when they blend pop punk and hardcore, you know it's because they freaking love NFG. And if you can't relate to that, then I don't know what I can do for you.





"Bite The Dust" by Casey Jones

This song is so fucking gnarly.
http://www.last.fm/music/Casey+Jones...Dust?autostart




"Hands In The Sky" by Straylight Run

Hands down the best thing that Straylight Run has ever done (which is really saying something). The slow build with haunting vocals is just perfect and then the end is so dynamic and powerful. They close every show with this, and you can really understand why.





"Yeah I Fight Sharks For Charity" by Jack The Giant Killer

Australian metalcore. They almost broke up after only releasing 3 songs, and changed their style to a more mature sound. I like the immature sound more. This song is so damn fun and the "fuck" breakdown is priceless.





"Non Objective Portrait of Karma" by Circle Takes The Square

This is my all time favorite song. CTTS also happens to be my all time favorite band. As The Roots Undo also happens to be my all time favorite record. Three minute long build where you feel like your're dying (in a good way), and some ridiculously awesome real screamo. This can totally open up into me talking about real screamo like Ampere, Pg. 99, and early Envy but we're just going to stop now. Again, this is my all time favorite song. You should check it out.

Tags: fireworks, silverstein, this time next year, the wonder years
Favorite Pop Punk Songs
This is on my iPod as my favorite pop punk songs (in no order). I'm bored, this took me 5 seconds to copy and paste. For me personally, I think it sums things up pretty well.

Sweetest Air - This Time Next Year
From Mountain Movers, To Lazy Losers - Fireworks
Shameless - Say Anything
Total Immortal - AFI
Fat Lip - Sum 41
Sending Postcards From A Plane - Fall Out Boy
You Should've Killed Me When You Had The Chance - A Day To Remember
I Can't See Myself - Valencia
Taste the Red Hands - Dead Poetic
The Quiet Things That No One Ever Knows - Brand New
Walking on Glass - The Movielife
Slow Down - The Academy Is...
The Future Freaks Me Out - Motion City Soundtrack
You Know How I Do - Taking Back Sunday
88 - Sum 41
Only One - Yellowcard
Hit Or Miss - New Found Glory
Detroit - Fireworks
What It Is to Burn - Finch
Leaving - The Starting Line
When Its Too Late For P.F. Flyers - Forgive Durden
Something I Call Personality - New Found Glory
Jude Law And A Semester Abroad - Brand New
Duality - Bayside
Temper Temper - Envy On The Coast
Remember To Feel Real - Armor For Sleep
You're So Last Summer - Taking Back Sunday
When We Stand on Each Other We Block Out The Sun - Fireworks
Cute Without The E (cut From The Team) - Taking Back Sunday
Belt - Say Anything
"Tell That Mick He Just Made My List of Things to Do Today" - Fall Out Boy
The Plot To Bomb The Panhandle - A Day To Remember
Montauk - Bayside
Handle This - Sum 41
Halfway Decent - Audio Karate
The Jack Slap Cheer - The Matches
A Shot In The Dark - A Day To Remember
Above Me - Rufio
Mutiny! - Set Your Goals
Dog-Eared Page - The Matches
My Friends Over You - New Found Glory
Dreaming a Reality - Senses Fail
Demolition Lovers - My Chemical Romance
Understatement - New Found Glory
Where Did You Go? - Valencia
Bloody Romance - Senses Fail
Seventy Times 7 - Brand New
Echoes - Set Your Goals
Headfirst for Halos - My Chemical Romance
In This Diary - The Ataris
Sick Little Suicide - The Matches
The Leaving Song part 2 - AFI
San Dimas High School Football Rules - The Ataris
Capital H - Motion City Soundtrack
Dancing Through Sunday - AFI
Forget My Name - New Found Glory
Best Of Me - The Starting Line
Right Now - SR-71
The Subtitles That Make Mass Muderers Out Of Otherwise Decent People - Boys Night Out
Stay Out - Hit The Lights
Devotion and Desire - Bayside
Don't Call It A Come Back - Motion City Soundtrack
Back Breaker - Hit The Lights
Single White Female - The Movielife
Don't Let Her Pull You Down - New Found Glory
Letters to You - Finch
Hand Grenade - The Movielife
Bite to Break Skin - Senses Fail
Audio Blood - The Matches
Nintendo 89 - Audio Karate
Your Boyfriend Sucks - The Ataris
Alex in Wonderland - This Time Next Year
EDIT: Reckless Abandon - Blink 182
Just Rock and Roll - Midtown
Call It Off - Broadway Calls
Bout To Get Fruit Punched, Homie - The Wonder Years
Buzz Aldrin: The Poster Boy For Second Place - The Wonder Years
Tags: favorite songs, pop punk
Buffalo Warped Tour
So after weeks of bitching about a shitty lineup and days of mind numbing planning, Buffalo Warped Tour 09 has come and gone.

And it was pretty good.

Perhaps it was because I did not have to pay $40. Maybe because everyone really delivered with their sets. I don't know. But I had a swell time.

Tons of free shit this year. It's great for the morale of the tour to give something back to kids who paid $40 to get into the place.

Started with Underoath who as always put on an amazing live set.

Underoath. Photos by Keith Barker



Had to run over to see the end of Senses Fail.

Senses Fail. Photos by Keith Barker



Then had to interview POS, TAT, and Less Than Jake. All of the interviews will be up at the end of summer. We don't have the technology at home.

But then we were treated to a personal highlight of the day. The woman in charge of press informs us that some of the bands were painting drums that were going to be sold for charity, and that if we avoided catering, we could take some pictures.

So we did.

http://www.flickr.com/photos/40529190@N07/show/

That's Bayside, Justin Sane of Anti Flag, and Aaron Gillespie of Underoath.

So we interviewed Justin while he painted a drum. Nicest guy in the world. He remembered us from a phone interviewed we did over a year ago. Sick.

There was a woman walking around going, "Who needs paint?" and Justin goes, "I do! I do!" It was like summer camp.

So we leave and attempt to see Chiodos but the scheduling was all fucked so we managed to catch some of Bad Religion.

Bad Religion. Photos by Keith Barker



After which we walked around and caught a glimpse at the long line of the ugliest and dumbest people on the planet in front of the Brokencyde tent. I wish I could have taken of picture of these morons. It's everything you would expect it to be and more. It was priceless.

Eventually we get a text from tour lady who informs us that A Day To Remember are doing interviews (they weren't on the original list). So we hightailed it back to interview the whole band. This was followed by interviews from Alexisonfire and Flogging Molly.

We managed to catch the very end of POS (who was playing in the crowd). And it was pretty righteous.

Which meant we had a bit until A Day To Remember, so we walked a bit and I find the Bayside guys sitting for an autograph line that was maybe a third of the one for Brokencyde. Fuck that.

Then ADTR!

A Day To Remember. Photos by Keith Barker



The vocalist wasn't really able to scream (sick?) but it was a pretty fantastic show regardless. We followed that which catching the very end of Hit the Lights, who once again, I was not impressed with live. I love the band, but I think they're just one of those bands who don't really get it live (Others like this include Enter Shikari and Sky Eats Airplane).

Then was Bayside afer spending $5 on vitamin water.

Bayside. Photos by Keith Barker



Fun fact about the drinking water at Darien Lake: it's sulfer water. Meaning it's not bad for you, but it tastes rotten eggs. The key to drinking such water is simple. First buy a flavored drink for the ridiculous price, drink it, and refill that bottle. The lasting flavor hides the rotten egg smell. Then just hold your breath while you drink it. Took me 3 Warped Tours to figure out that gem.

Saosin. Photos by Keith Barker



Finished out my day watching Flogging Molly, who suggested I go check out Gallows at the other end of the park. And I'm not the biggest fan of their music. But I heard they were bitching live, so I went. Upon first getting there, I see that Keith Buckley of Every Time I Die is standing right next to me. And most of the bands for the day (that were worth watching) were watching them.

Gallows have this vocalist, this little British red headed bastard, that is just amazing. Their crowd wasn't big, but the guy takes his mic AND his stand, and goes into the pit. Dude pretty much becomes the pit. There's dancing, moshing, head stomping, and the like. But the vocalist is right in the middle of it, often causes much of the violence. He was going after a dude in the crowd who just left. Apparetly he's known to fight people in the crowd while they play. But he pretty much rules this pit and makes a 700 ft circle pit that almost every person in the crowd run in. Then he makes the other guys in the band put their mics AND mic stands into the crowd so that everyone could sing. And they played "London Is The Reaso" but they said New York is the Reason instead". It was fucking incredible.

I'm describing it because I didn't have the camera and didn't get pictures.

But I think this should describe it well.




But I have to honestly think that that sounds like a pretty solid Warped Tour. Definitely not my favorite, but definitely not my least favorite. I hope other people were able to get a good experience from it this year too.
Tags: gallows, underoath, saosin, a day to remember, bayside, warped tour, buffalo
Comic Movie Review: X-Men
*X-Men* (2000)
Bryan Singer


****SPOILERS LIKE CRAZY****

IGN recently rated Magneto as their #1 greatest comic book villain of all time. The single greatest comic book villain of all time is a Holocaust victim. Damn. That's fucked up.

The tension in this opening scene is awesome. One of the worst atrocities mankind has ever committed is the cause for the greatest comic villain of all time.

The piano is so haunting when they introduce Rogue.

There are so many uncomfortable scenes in this movie. Holocaust, dudes put into a coma for trying to get to first base, dude has claws through his skin.

God damn it the parallels to civil rights are ridiculous.

Malcolm X and Martin Luther King. Magneto and Charles Xavier.

I do not understand the hate for this movie.

"Hugh Jackman is Wolverine! How dare he!"

Yeesh, when that middle claw comes out. Heeby jeebies.

Little side note because not much happens until Sabertooth. I saw this when I was 13 and immediately afterward I bought X Men Mutant Academy for ps1 and played it for hours. It was amazing.

And now Anna Paquin is on True Blood. Speaking of which, I have a friend who was very very close to getting on that show (or possibly another one. She did an episode with Christopher Walken and he hugged her and we smelled her sweater that she was wearing after), but she didn't and life is worse.

Tyler Mane was a pretty bad ass Sabertooth. More bad ass than Liv Shrieber anyway. He can't really act for shit though.

Although fun fact, Sabertooth was never in the Brotherhood of Mutants in the comics. He's always used as a patsy for Magneto, but in the comics they almost never work together.

And here comes Halle Berry who reminds us that Oscars don't really make sense sometimes.

Toad is Ray Park. AKA Darth Maul.

There's so many needles in this movie. This is me still being uncomfortable.

Patrick Stewart was really the absolute perfect casting choice for Xavier. I honestly do not know who could be better.

Kitty Pride was played by two different actors before Ellen Page got it.

"What do they call you? Wheels?"

God Halle Berry sucks.

Hi Jubilee!

Hi actor who played Pyro before Aaron Stanford.

Ok I find a fault here. Going from a very realistic and reasonable look at the world to jumping into the Xavier Institute and going all (pun intended) comical with it. The jet, costumes, and nicknames is all a bit much.

I love the music for when Mystique shows up.

She's totally nude.

Their evil machine looks like semen flying everywhere.

"Come on! You afraid you might like it?" Cute

Jean sees X-Men Origins: Wolverine in Logan's mind and it's too awful to bear.

Cyclops is such a fucker.

To be fair you don't sneak up on a guy with claws in his hands and scare him awake while he's clearly having a nightmare, Rogue. Come on!

Yeesh moment #2. Totally stabbed.

This is kind of like a perverse mutant sex that they just had. Sorry if I offended any mutants in the audience.

The lighting in the Xavier/Logan convo...not so much.

Gooey Face Man! Head Like A Fish Man! Head Stuck In A Cage Man!

Ian McKellen rules.

Hi Stan Lee!!! It's like Waldo!

God I hope Scott and Prof X have endless witter banter about their powers.

Oh no! The blue goo is black!

I love every second of Magneto at this train station.

To be fair Cyclops you are wearing some weird shades.

And now Cyclops can't fight. I never understand why he's the leader.

"That remarkable metal doesn't run through your entire body does it?"

"You? My dear boy. Whoever said I wanted you?"

God! So good!

More needles! In the back of the head!

Aaand two cars are in the air.

Aaand now they're not.

Annnd now everyone's guns are facing the cops.

He's cocked like 40 guns.

And wow was that a stock shotgun effect.

Halle Berry has like 30 lines in this movie and they're all painful.

She wins the Oscar after this and then goes on to be even worse in X2, X3, and of course Catwoman.

Xavier should have figured out Magneto's plan without Cyclops and Wolverine pitching in that random thought. It was prettty obvious by then.

Senator Kelly is fucking gross.

"Senator Kelly is dead." Terrible.

Xavier! Watch out for the black goo!

Toad just squished that man.

Wow Bryan Singer loves red lighting.

What a cool map thing.

"What would you prefer? Yellow spandex?" Cute.

Imagine being a night janitor and seeing 5 grown men and women in black spandex sneaking around.

"Keep your eye open." Cute

Darth Maul just spit goo in her mouth!

He knows how to use that pole.

Wolverine is always fighting a girl. Mystique, Lady Deathstrike, Phoenix to an extent.

"You're a dick." Cute

Giant metal statue is probably not the smartest place to have a final battle with Magneto.

Totally just stabbed himself in the heart.

They never really say that Sabertooth has the same healing ability as Wolverine. They just show that it takes a lot of stabs.

Wow really bad CGI when he catches himself on the spike with his claw.

"Hey bub"

There is no reason for Sabertooth to be dead from that. Which is why he's probably not.

The semen! Run!!

Aww everything worked out for everybody!

I'm pumped for X2 now.


While not exactly perfect, X-Men manages to do a remarkable thing by staying faithful to the comics. Fucking weird I know. Nobody (important) is revamped or randomly killed offscreen or brought back as a mute Baraka. It stays faithful, introduces characters (without overdoing it), and tells a decent story. This is not very hard.
I personally feel that it definitely lacks thought provoking debate in favor for costumes and nicknames, but it is a comic book movie afterall and it does need to be fun.
8/10

Tags: x-men, wolverine, marvel, comics, review
Comic Movie Review: Batman Begins
So because I've become something of a hermit this summer with the near majority of my friends working nights and weekends, I decided that I can best keep myself busy by watching movies from Netflix or my own personal collection. Specifically I've been delving into my comic book movies and wanting to revisit favorites like X2, Sin City, Spiderman, or even the parts of me that didn't hate Daredevil.

What this basically comes down to is that I wanted to just keep a running review track of these movies as I watch them and then give an opinion at the end of it.

**Spoilers like crazy**




*Batman Begins* (2005)
Christopher Nolan

So is Rachael's mom a maid or something? Would that be why she used to always be at the mansion? Or was she just good buds with the Wayne's?

I love how the prisoners from rural Asia have learned to speak English.

Aw Liam Neeson. I really prefer the comic book version over this version, but I love how Nolan made Ra's into a believable, real life villain, rather than an immortal eco-terrorist.

I'm pretty sure this is the only Batman movie (except possibly Returns) that has so much screen time sans Batman.

I know it's definitely the first to have scenes outside of Gotham.

Neeson's character is Henri Ducard, a very small character in Batman comic mythos who first appears in a 1989 arc called "Blind Justice". That attention to detail is probably why this movie is so awesome.

I do feel that this is a waste of Ken Watanabe, but I do appreciate the effort to hide the twist by having an established actor play the false Ra's.

Rachael's mom is the maid. See? We're learning already.

So seeing the kid Bruce reminds me that Christian Bale's first real role was when he was like 13 in Empire of the Sun (which has a really bad role for Ben Stiller) where he plays the biggest whiney bitch in the world for the first 30 minutes.

The actor who plays Joe Chill sure does play a lot of assholes. And Thomas Wayne should not have spooked the crack addict like that. He's jittery.

Hi Gary Oldman. Fun fact: 20 minutes ago I just finished watching Rosencrantz & Guildenstern Are Dead, starring the Gare Bear and Tim Roth also known as the Abomination.

In a perfect life, Micael Caine is my butler and Morgan Freeman is God.

I love that they focus on his out of Gotham training that he went through in Asia. Those episodes were always the best in Batman: The Animated Series.

In later viewings when the ninja falls from the ceiling, it's really obvious that he's there. But it totally got me when I first saw this.

Aw bitchy 20 something Bruce Wayne.

And here comes the point of the Rachael's mom thing. She must be a hell of a lawyer to go from the daughter of a maid to a DA.

And that brings us to the reason to not looking forward to this movie. Katie Holmes you talentless bitch.

God she's awful.

I mean the script definitely doesn't to her character any favors, but she comes off as such a self righteous cunt. I actually wish she came back for the Dark Knight so I could watch her blow up.

Two slaps? I wish that was accidental and they kept it in, but I'm probably wrong.

Even though the 1940's comics and The Dark Knight Returns have him using guns, I love the devotion to keeping Batman away from firearms and it really bothers me when some writers think that their story deserves him to break his rule "one time only". Justice League Unlimited sort of alluded to that, but that was Deadman possessing him so it doesn't really count.

Oh Tom Wilkinson. I love you, but it's a little awkward to hear your English accent being hidden by your odd American one. Bale does it better.

Ooops! The cops do speak english. I guess every one is willing to learn two languages except America.

So I feel like I've been extremely remiss by not mentioning the quick cuts/split second shots. The average length of a shot in this film is about two and a half seconds. Try and count them and you'll go insane really fast. But the point is that it's a Nolan trademark that either hits or misses.

Very weird laugh there fake Ra's.

And Bruce Wayne crucifies himself on the edge of a mountain.

I really have to think that Bruce Wayne would've taken a damn shower before getting on that plane.

Oh silly Alfred comment. Next to Heath Ledge as the Joker and Aaron Eckhart as Two Face, silly Afred jokes were one of the reasons I was so ridiculously excited for the Dark Knight.

Cillian Murphy is a bad ass in this movie. Nolan had him take off his glasses all the time so he could get shots of his eyes. Keep an eye out for them. Breathtaking.

So Rachael dated her boss in Begins and her boss in TDK. I think we know how she raised the ranks...ahem...anyways.

Bats are fucking scary, I don't care who you are.

Boom baby! Check out those baby blues.

Bruce Wayne is so god damn suave. He's like the Paris Hilton of the comic world to the average Gothamite. Imagine Paris Hilton as a superhero. THAT's why it works.

Shop talk. They kind of make Lucius Fox into the Q of Batman in the Nolanverse.

That is a big ass cave. There's probably a plot hole or something unlikely about a huge cave being underneath an American mansion, but I don't really care.

Mark Boon Junior fantastic in everything. I'm pretty sure he plays a dirty cop in most of the movies that he's in.

Took me 3 times seeing this movie to see that he uses a stapler right there.

"Does it come in black?"

Alfred must have a hell of a devotion to Bruce Wayne for going along with this whole Batman thing, and I'm glad that it's brought up later on, if only briefly.

Great camerica trick with the guy disappearing into the container crate.

This whole first Batman scene at the shipyard pretty much sums up why Nolan is amazing with this. You don't see this in the Burton/Schumacher movies. Batman is supposed to be scary as hell to people when they first see him. That's why it works.

"I'm Batman!"

God you are horrible Katie.

Bale's Batman voice in the beginning of this movie isn't as cartoonish as it eventually gets. It's clearly different, but he's not whisper/roaring everything.

Commissioner Loeb is such as asshole.

Katie Holmes's face looks like you took a bike helmet and took a real person's face and strectched it over it.

When the assistant guy goes to the boss guy of Wayne Ent and talks to him about the microwave emmitter is pretty much the only scene in either movie that I all out hate. It's just spouting plot points because the concept is far too unrealistic to just show up in normal conversation.

"What choice do I have? When you're too busy swimming?"
She's at the same party, living in the same social circles. I fail to see how she is any better. Plus Wayne actually is a good person on the inside. She cheats on Harvey Dent without hesitation. God I hate her character.

The original idea was to not have the Scarecrow mask. They had to convince Nolan to do it. I think that it's a bit out there, but it's one of those necessities for having a superhero movie to have crazy shit.

Everyone always freaks out that that is Barbara Gordan (eventually Batgirl, then a cripple, then Oracle).

Here we go...Oh boy here we go.

WHERE WERE THE OTHER DRUGS GOING?!
SWEAR TO ME!

Oh Christ that is terrifying.

So which city workers aren't corrupt? That traffic cop just had that silenced pistol on him.

This kid looks just like Gordan's kid in TDK. People were saying that he might be Robin, but unless he's Jason Todd I don't see it.

Very few fighting puns in these movies. But Cillian Murphy makes superhero wordplay acceptable.
"You need to lighten up."

I would honestly love to know how the hell Alfred got Batman into that limo. How the hell did he get him from that roof?

So much L cutting in this editing.

"You enjoy your party Bruce, some of us have work to do." Fuck you.

"Tell them that joke you know." Oh, don't you worry about a thing Bruce, he's got a million of em.

"Didn't you get the memo?" That is just a dumb line.

"I do what I do to keep thugs like Falcone behind bars, not in therapy." That is a terrible line. Amplified by a billion because of who said it.

"Perhaps you should have some. Clear your head." So sweet.

Blue eyes even with the mask on.

"He's here. The Batman." Reason I saw this movie.

The amount of brown in this movie is a bit much.

The summoning bats thing is originally from Frank Miller's Year One, but I still think it's dumb.

The Batmobile is so kick ass in this movie. But I don't need like 8 different characters saying funny things about how sweet it is.

Katie Holmes is infinitely less annoying when she's drugged up (aren't they all? eh? eh? ah!)

"RACHAEL!"

And here is Alfred saying why he didn't have Bruce committed. It's a throwaway joke, but it needs to be brought up.

"Those are Bruce Wayne's guests out there sir!"

Who decided to start singing Happy Birthday without knowing the birthday boy was at home?

No one questions Alfred throwing Rachael into the back of the car. Alfred is the Fonz of the help.

See the idea of Liam Neeson dying 20 minutes into the movie is so believable (and has happened before), which is why him coming back to life is so shocking.

Big party scenes like this one and TDK one always have me looking at the extras who are trying to blend in but are dying to be noticed.

And Mr. Zsasz is loose. In the comics that is a horrifying thought (he kills ALOT of people and keeps tally marks all over his body to keep track).

Oh god the bitch is awake.

"Master Wayne! Master Wayne!" He redeems himself with the next line, but man that one is rough.

When I first saw the cops on horseback I thought, "Well have no fear folks, the riders on horseback on here." And then Scarecrow uses them and it's awesome.

Sweet mask Ra's.

So everybody is tripping balls.

There was a dude just eating another dude. Blink and you'll miss it.

And wow I just saw the horses walking away from the unconscious policemen. I've never noticed that.

Don't taze him bro. (horrible horrible joke I know)

Yeah seeing the Batman would be horrifying if you're tripping balls.

Ra's is always calling his henchmen "gentlemen". He's such a respectful terrorist.

The final fight is pretty much the only "bad" fight scene in this series. You can't see shit because the cuts are too quick.

People say that he kills Ra's here by not saving him. That's up for debate, and I'm not going to try it now. If we're going comic wise, he always has a Lazarus Pit.

A movie where Liam Neeson dies? Go on!

Katie Holmes's last scene in a Batman movie. I want cake. Or balloons. Definitely sprinkles on something.

And the final scene that pretty much writes TDK for you.

"Leaves a calling card." Went from 6 to 12 when I first saw that.


Opinion: This at the time was my favorite superhero film. It definitely has it's flaws, but it resurrected Batman as a movie franchise and cemented my love for the character, while also using a realistic universe where these things could conceivably happen, giving superhero movies some much needed credibility that put them beyond being a genre for children. This would then lead the way for Nolan's masterpiece: The Dark Knight.

Rating: 9/10

Could be anything next time, but thank you for reading if you did and please leave your thoughts.
Tags: batman begins, comic, movie, superhero, movie review, batman
mewithoutyou in Pittsburgh
Dear Pittsburgh,

Fucking move.

kthnx


I don't usually do writeups of shows, mainly because we go to too many. But I drove 5 hours yesterday to go see mewithoutyou, The Deer Hunter, and Kay Kay and His Weathered Underground, and by golly I have things to say about it.

The venue was Mr. Smalls in Millvale, PA, which is like walking distance from the city and is a pretty tight little suburb. I use that word with two meanings. 1 being that it's a pretty sweet place to live in. 2 being that everyone is packed on top of each other and it's impossible to move around without feeling on someone, or when you go down Butler St and discover that the road goes straight down because of weird PA architecture.

Regardless though, the venue itself was a church that had been converted into a theatre, recording studio and skatepark. Yes. Awesome.

Kay Kay and His Weathered Underground opened and it was pretty remarkable and immediately worth the price of admission ($15).

Check this shit out.


Then we had the fantastic Casey and his Deer Hunters. These guys really can make an atmosphere. And WOW Casey's range. He's one of the more talented vocalists out there and I really wish more people knew about him.

But, and here is a running theme of this show: nobody moved. Nobody was moving, even and little bit, for anyone. And I understand that no one moves for the opener, but the crowd sounded like it was there for the Deer Hunter. But again, it's not the headliner so I wasn't expecting a lot.

But when mewithoutyou takes the stage (and fucking own it, I might add), no one moves. mewithoutYou is music to move to. You have to. It makes you. And here I see kids who are up in the front, waited in line for an hour, have not moved to check out the bathroom or merch table, and are standing there with their arms crossed. What the hell did you pay 15 bucks for people? I can get you a chair if you want. Or better yet, I'll take you to see Nickelback in an arena show and you can sit in the stands and politely applaud when they're through and complain when someone stands in front of you, but there you can shell out 50 bucks to have a horrible musical experience and then afterwards you can head home and sodomize yourself with a rusty tent pole.

A bit extreme? Totally. But you're taking a primo spot in the crowd away from someone who is dancing and having an awesome time and they have to stand in the back and awkwardly dance around the people who have a justifiable reason to not be moving and purposefully are in the back to just enjoy the show and atmosphere.

Anyways, mewithoutyou owned life and really won we over to their new stuff (to the point where I bought it on vinyl) and really deserve a lot more credit and accolades than they're getting. They let the kids spraypaint their bus prior to the show, since they're getting new paint anyway. But I see Aaron sitting on the sidewalk spraypainting his hubcap and talking to every kid that walks by. And then he a maniac on stage.

So to sum it up: Amazing show. Shitty crowd. Fuck Pittsburgh.
Tags: mewithoutyou, the deer hunter, gatsby's american dream
Warped Tour again this year
Wow. Long time no update I see. Well to be honest we haven't really had anything worth updating about in a while. Our last interview was with Rob Halford and the last interview we posted was with Thrice.
Don't think we haven't been active though. As far as movies go we just watch Quarantine and Dead Alive this week and we saw Drag Me to Hell the week it came out. And as far as music goes we attended Bamboozle, the NFG tour, Russian Circles, and Kevin Devine in the past month or so.

But that is unimportant compared to the news that myself and my good friend Keith are once again going to Warped Tour this year and conducting numerous interviews FO FREE! Because honestly, we wouldn't go if we had to pay.

What this should mean is that we will have interviews with A Day to Remember, Alexisonfire, Chiodos, Hit the Lights, POS, Saosin, Scary Kids Scaring Kids, Senses Fail, and Underoath.

Christ the lineup is awful this year.

But if you're just seeing this blog for the first time then I implore you to check out the other posting that we had earlier last year and check out the podcast site to hear all of our interviews.

http://nightofthelivingfred.mypodcast.com/

All the best!



Photo courtesy of Keith Barker
Tags: warped tour, a day to remember, saosin, underoath, pos, chiodos, alexisonfire
Teeth Review
We're on fall break which means that I'm stuck in Rochester for 4 days with hours on end of nothing to do because no one else is on break. So I'm going to make my internet presence known.

TEETH (2007)



PLOT: High school student Dawn works hard at suppressing her budding sexuality by being the local chastity groupís most active participant. Her task is mad...(read more...) e even more difficult by her bad boy stepbrother Bradís increasingly provocative behavior at home. A stranger to her own body, innocent Dawn discovers she has a toothed vagina when she becomes the object of violence. As she struggles to comprehend her anatomical uniqueness, Dawn experiences both the pitfalls and the power of being a living example of the vagina dentata myth.

EXPECTATIONS: A girl with teeth in her vagina. If you saw the preview trailer that took the internet by storm a year ago then you knew exactly what to expect: weiners getting bitten off.

Best Bit (haha) (SPOILER):

The climax of this film shows Dawn seducing her stepbrother into having sex with her, for the sole purpose him biting off his penis with the teeth in her vagina. And then the said penis is eaten by a dog.



Opinion: What surprised me most about Teeth was the discussion that we were left with afterwards. The main criticism that this movie has seen is that it depicts all of the males as perverts, assholes, and rapists. To which I respond to that with: name one horror movie where there isn't the stereotypical bimbo who falls out of her shirt or has sex with people for no reason other than to change the setting of the next murder. Women have been objectified in horror movies for years, and this film is one of the few times that the men get a little "fuck you" back, and frankly we deserve it. The idea of gender roles is completely flipped upside down by this film and it's a welcome change.
Oh and penises and fingers get bit off by the teeth in this girl's vagina. There is plenty of really screwed up gore in this film with penis heads and stumps spouting blood like a supersoaker.
So for those fans of good horror with not the best acting, but great gore, and very good undertones and social commentary, check out Teeth and scream at the television like we did. Seriously, I haven't screamed like that since the end of Sleepaway Camp.
Tags:
teeth
Thrash and Burn Tour Success!
So we're back from the Thrash and Burn tour. My good friend George came with because he loves Parkway Drive, Misery Signals, and Arsonists Get All the Girls (who doesn't?) and he's good people to be around.

We interviewed John Henry of Darkest Hour as well as Stuart Ross and Ryan Morgan of Misery Signals. All really solid dudes who were ridiculously nice and fun to be around. Once again though we can't edit them because we're not at the radio station. They'll be up when school starts.

We missed AGATG and After the Burial which sucked, but we caught Abigail Williams and Arsis...which sucked even more. Seriously, you could not hear what AW were playing over the horrible blast beats. And Arsis, shit each song was over 9 minutes of boring as hell "death metal". Listen to Dismember.

Stick to Your Guns were pretty neat, except for the songs that they sung in. Nothing wrong with that as a rule, but the songs genuinely sucked if they sung in them. Winds of Plague were really sludgy and really dull. Nothing really bad, just kind of there.

Misery Signals were off the chain as well as Parkway Drive. The crowd just exploded for them and they both put on some really great sets. I don't know, but Rochester just loves Parkway Drive. Half of the crowd was on stage with them for most of their set, and "Romance Is Dead" live is always a treat.

We left then because Suicide Silence are fucking awful in so many ways and as much as we love Darkest Hour, it was really not worth sitting through one of the worst bands on the planet.

A thought though, literally one half of the crowd were wearing The Devil Wears Prada shirts. Like I need another reason to hate them. I already have 8. But seriously, I know we're at a hardcore show, a metalcore show at that, but try to not look like a tool and listen to something good. Bravo to the one kid with a Converge shirt.

I'm eating Airheads and about to get really high and watch Justice League: New Frontier.

All the best.
Tags: misery signals, darkest hour
Dark Knight Review (No Spoilers)


The follow-up to the action hit Batman Begins, The Dark Knight reunites director Christopher Nolan and star Christian Bale, who reprises the role of Bruce Wayne/Batman. With the help of Lieutenant Jim Gordon and the committed new District Attorney, Harvey Dent, Batman sets out to destroy organized crime in Gotham City for good. The triumvirate initially proves to be effective, but they soon find themselves prey to a rising criminal mastermind known as The Joker, who thrusts Gotham into anarchy and forces The Dark Knight ever closer to crossing the fine line between hero and vigilante. Academy Award nominee Heath Ledger portrays arch-villain The Joker, and Aaron Eckhart plays District Attorney Harvey Dent. Maggie Gyllenhaal joins the cast in the role of Rachel Dawes. Returning from Batman Begins are Gary Oldman as Lieutenant Jim Gordon; Oscar winner Michael Caine as Alfred; and Oscar winner Morgan Freeman as Lucius Fox.

I feel I should start this by saying, "Believe the god damn hype." Nolan has made the best superhero film, and Batman film hands down. You know nothing about how deep, intense, shocking, awe-inspiring, and beautiful this movie is.

What hasn't already been said about Ledger's performance I sure as hell couldn't think of something. The best performance in a comic book film. No one comes even close. He is a completely soulless "mad dog" as Harvey Dent calls him who has been let loose on Gotham. There is no empathy for this man. You laugh at some of what he says, but it makes you go "What the hell is wrong with me", afterwards. Remember in Batman: The Animated Series episodes with the Joker when he would be 5 steps ahead of everyone, and when you find out what he's been planning the whole time it makes you go, "Ah fuck"? Well think of that, but all the time. He is always ahead of everyone, yet he draws in the audience in every scene he steals. It is impossible to remember that the man underneath this cackling maniac is a deep voiced Australian man who was in 10 Thing I Hate About You. Ledger is the Joker. It would be a crime to not give a nomination of Supporting Actor to Ledger.

But to only give credit to Ledger would be a disservice to the ridiculous amount of talent that this film holds.

Christian Bale takes the screen with his three characters (Batman, Bruce Wayne: Playboy, and Bruce Wayne: Person) and flows through each of them perfectly. He is the hero that Gotham deserves, a battered, tortured hero, who has found his limits. Bale brings the audience into the ethical and moral questions that must be posed when it comes to his role as a hero. He does so expertly.

Maggie Gyllenhaal is a huge step forward from Katie Holmes as Rachel Dawes. She is much more real and down to earth with the character, making her more interesting and likable, whereas Holmes portrayed the character as holier than thou, unsympathetic, and plain unlikable.

Morgan Freeman and Michael Caine come back with their usual of being really good. Gary Oldman surprised me by bringing A LOT out of Jim Gordan that was not there in Batman Begins. It will be interesting where Nolan takes the character from this film.

And finally is Aaron Eckhart as Harvey Dent. I wrote on a message board a month ago that when Dent falls (not a spoiler really, in other news water is wet) it is going to rip the hearts out of everyone in the theater. Eckhart brilliantly plays Dent, showing a side that I have never seen from him in his other films.

When Two Face is in the car with Maroni and he flips the coin for Maroni's life and then goes to flip it again I thought, "Oh god please don't repeat Batman Forever." And then it was for the driver's and it made that scene really awesome.



In the same vein we also have some fantastic and beautiful cinematography and a fresh and bright screenplay that brings out the best of everyone.

It's very hard to talk specifics without giving tons of spoilers, but to give an excellent example of what Nolan has created: As the first third of the film that establishes our characters, their current situations, and setting up the basic structure of the plot, things go about in a very Batman Begins style with very quick editing, steady pacing, constant music, and jump cutting. This is almost to show a Batman that has grown accustomed to a Gotham that is steady, albeit slowly escalating. But

once the Joker is arrested

everything changed drastically. The cuts are much longer, the music is many times non existent, the pacing is much more drawn out, and the edits are fewer. This is a Gotham that no one has chartered before, and things are about to get extremely hairy.

I feel that I have to end by saying that all of the preview footage: the 12 clips, 20 tv spots, 3 trailers, HBO special, interviews, and a partridge in a pear tree, barely cover a fourth of this film. Even the scenes that you might have seen with the footage are not what you expect, and I have to applaud the marketing people for really going out of their way to catch us by surprise.

I'll be seeing this again tomorrow probably. I have been waiting for 2 years for this film and it blew away all of my very high expectations. See this movie for the love of God.

I cannot do this right now with any objectivity. I am total geek at this point.

Rating: 10/10
Tags: the dark knight, review
Hellboy II Review


The Golden Army begins when an ancient truce existing between humankind and the invisible realm of the fantastic is broken; Hell on earth is ready to erupt. Hellboy 2 tells the tale of a ruthless leader who treads the world above and the one below, defies his bloodline and awakens an unstoppable army of creatures. Its up to the planets toughest, roughest superhero to battle the merciless dictator and his marauders. He may be red, he may be horned, he may be misunderstood, but when you need the job done right, its time to call in Hellboy (Ron Perlman), and the B.P.R.D.

The Bureau for Paranormal Research and Defense (BPRD) will travel between the surface world and the unseen magical one, where creatures of fantasy become corporeal, along with his expanding team pyrokinetic girlfriend Liz Sherman (Selma Blair), aquatic empath Abe (Doug Jones), and protoplasmic mystic Johann Krauss (James Dodd), the newest member of the BPRD. Hellboy, a creature of two worlds who is accepted by neither, must choose between the life he knows and an unknown destiny that beckons him.

A slip-up results in the F.B.I. being forced to reveal the existence of BPRD to the general public. Brash old Hellboy doesn't play well with the public, which only increases the instability of his already-turning-rough relationship with Liz. However, fellow paranormal Johann (who is a sort of ectoplasmic spirit held within a very special containment suit) is far better with the public -- and with Liz, apparently. But in the end they've all got to come together to fight Prince Nuada(Luke Goss), who, with his army of ghouls, faerie, and the like, is attempting to resurrect a golden army once controlled by his father.

Credit: IMDB (waflynn)

Opinion: I feel that I should start this off by saying that I have never seen the first Hellboy, although I fully intend to, but not because of this film.
Let's start with with positives shall we? All of the action scenes are very well done. It's nothing we haven't seen before, but the choreography, timing, CGI, and placement of the action scenes are all very well done. The tooth fairies scene in particular was one of my favorite scenes of the film.
The other aspect that people will be talking about is the costume design and visual effects. Hellboy II comes through in spades with visual effects that live up to Guillermo Del Torro's reputation for the bizarre.
The cast is where things start to go a bit off kilter. Not all of it mind you, but parts. About half of the cast is great. Rob Perlman is standard fan fare as Hellboy and doesn't disappoint. Jeffrey Tambor steals every scene he is in. His awkward stammering is one of the necessary comic relief devices that were necessary for a film that had far too many (more on that later).
But my favorite character in the film was easily Doug Jones as Abe Sapien. I wish there was a film primarily about him, since I find him to be much more compelling that the Hellboy/Liz fiasco that dominates the film.
Which is where things go downhill and fast. Selma Blair is sleepwalking through this. I swear there must be cue cards off screen because there is nothing genuine in anything she says. Seth MacFarlane's German voice for Johann will have a lot of people talking, but I have no idea why. It's the same voice as the fish in American Dad. His character is supposed to be an unlikable dick but his voice is so naturally comedic that nothing he says is taken seriously (which is another thing we'll get to later). But the reason to fast forward when this comes on DVD is Anna Walton as Princess Nuala. My...God. It's painful to think about, and not in the cliched way that pompous reviewers blast a moderately good performance but focus on a couple of flaws and then exaggerate them with dramatics. I'm one hundred percent serious when I say that Anna Walton's performances is the worst thing that I have seen on screen all year (not counting Bio-Dome for health reasons). She's a wooden puppet with a shrill, ridiculous voice that cuts in and out of her own and her characters. It's almost funny to watch her fail so bad.
Speaking of failing badly, let's talk about the pacing. Again, I have not seen the first, but I had to ask my friend afterwards if the first one had a ludicrous amount of excess stuff going on at once, with none of it having a purpose. The introduction of the BPRD in particular is all over the place, which would be great if that was the intended effect, but I kind of got the hint that things are weird when I saw the blue guy in the tank listening to Vivaldi, I don't need 8 more CGI pans of other weird things that flow so oddly that I lost everything that Abe and Tom say to each other in the beginning, which was apparently pretty darn important.
Or the one hundred different plot directions that are thrown at us. Hellboy isn't liked by people, which should throw that in there, but only have it brought up 4 different times and have it not mean anything at all.

Let's have Hellboy get stabbed, let's go to Scotland to fight the Prince, and find some extremely random appearance by the Angel of Death who literally rasps gibberish that somehow means that Hellboy would doom humanity if he lives, thus giving Liz a choice of either Red or the world. This would have been great had it been posed to us in the beginning of the film, but instead it is completely thrown away as an afterthought.


What would also normally be pretty darn important for a film is tone, of which this movie has none. It comes off as a convoluted mess that tries to be an engaging action film, a sci-fi thriller, and a comedy and fails badly when all three counteract each other. There's some great laughs between Abe and Red, but they make me go, "Who cares?" whenever something of consequence happens to either of them. The fight between Red and the big plant monster is awesome, but then Nuada shows up and tries to convince Red not to kill it when there is no real conflict of whether or not to kill it. The drama, romance, and thrills are all very half-assed compared to the comedy, which does not make for a great action film.

Rating: 5.5/10
The whole time I spent watching this film I was saying to myself, "God damn I wish I was watching the Dark Knight." As a superhero film in an age where the genre is transcending the stereotypical brainless popcorn fest (Iron Man, Incredible Hulk, Batman Begins, X-Men, X2, The Dark Knight), Hellboy doesn't and takes a couple of steps backwards. The film throws whatever to the wall including genres and hopes something will stick. Now, I did find the film to be quite fun as the action and effects are great, but there was far too many flaws for me to fully enjoy it as a story.
Tags: hellboy, hellboy II
Wanted review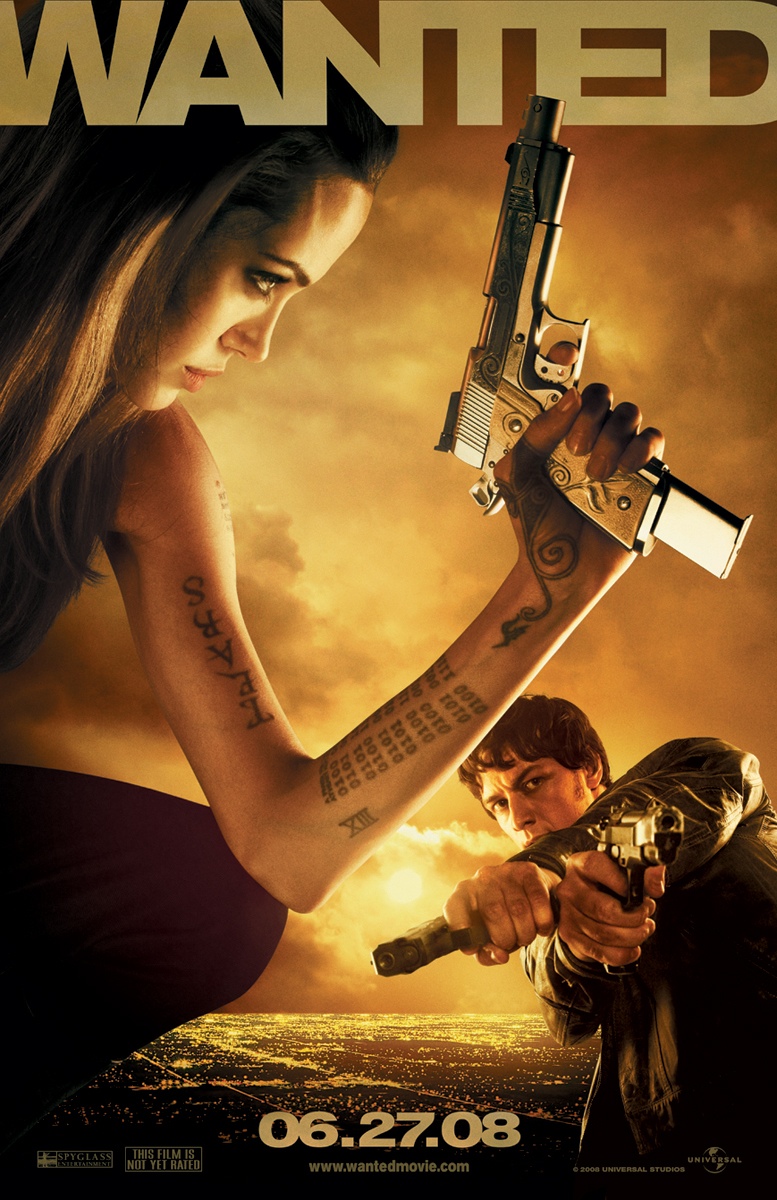 So we saw this last night for the sheer hell of it, and while I don't feel strongly one way or the other for it, I figured two cents had to be paid.

"A young man finds out his long lost father is an assassin. And when his father is murdered, the son is recruited into his father's old organization and trained by a man named Sloan to follow in his father's footsteps."
- credit IMDB

Note: IMDB has really lowered their standards for submissions.

Another note: There's an X-Files movie coming out?

Anyway this has been getting fairly positive reviews from around the net, nothing spectacular mind you, but decent to good reviews.
What most people will talk about after this film is the action scenes, which are plenty, and are definitely different. There's a lot of the slow-motion, close up, CGI stuff that we've all grown used to from the Matrix, and similar films (of which many comparisons will be made to this). A problem that is noticeable is that the film relies extremely heavily on the shots described above. I can think of at least 8 different shots that use this technique rather than some sort of variety, which would make those CGI shots much more interesting. Not that those shots are cool to look at, because they are, but this desperate need to look cool hurts this film in more ways than one. The voice-over in particular hurts from this need to be cool. The rip offs of Fight Club hurts.
The script itself is what will cause many to flinch. I understand that there is a source material in the comic book, but I have read hundreds of comic books, and even they can write something with originality, and without cursing 5 times a minute. In particular the Janice character who is just obscenely vulgar to the point where I can't feel sympathetic for Wesley, which is you know, the point.
Speaking of Wesley, James McAvoy is adequate in the role, but it is laughable at how much the character was obviously written for Shia LaBouf, and how little confidence McAvoy has in his abilities that he has to act exactly like LaBouf.
Jolie is ridiculously hot as usual and there is a nice shot of her butt...oh and her performance is alright as well. She doesn't really have to show a lot of acting chops here, so she doesn't.
Freeman seems somewhat wasted in this movie, much like he was in Lucky Number Slevin (another similar film that comparisons will be drawn), but he pretty much exists in this movie for the voice over in the trailer.
Please don't think I hated this movie, because I didn't. It's just a lot easier to find faults than to praise it. It is a a really fresh, interesting action movie with some really neat scenes. I honestly had a fun time, and I hope that this isn't a fluke and we see more good action movies like this.

Rating: 7/10
Tags: wanted, angelina jolie, review,
Batman: Gotham Knight Review


The latest in DC's line of direct-to-DVD films, Batman: Gotham Knight serves as a a glance into what happens between the events of Batman Begins and the highly anticipated The Dark Knight. Batman: Gotham Knight shows six short stories, with six different writers, directors, and animation crews, all done in the style of Japanese anime.

Have I Got a Story For You
Oscar nominated screenwriter Josh Olson (A History of Violence) tells the story of how chance encounters with Batman by a group of youngsters leave each kid with a very different impression of the Dark Knight. Much like the Batman: The Animated Series episode "Legends of the Dark Knight" and Batman #423.

Opinion: BGK starts off in an interesting manner with a story that most fans of Batman have heard before. Three different kids tell three vastly different encounters with Batman. These include Batman as a paranormal specter of sorts, a creature much like the Man-Bat, and a robot. While I can respect the Olsen's idea, it is very easy to tell that the man has not written a Batman story before. Things seem far too upbeat and unnatural for this to be Gotham City and for this to be a Batman story. The animation and direction is very well done, and most of the voice actors do well, but things just don't fit as well as they could. This was not the best start to this set of short stories since it is so painfully out of place.

Segment Rating: C-

Crossfire
Written by Greg Rucka from a story by Jordan Goldberg, Crossfire brings the character of Crispus Allen to the Nolan universe and shows Batman in his most bad ass way. A gang shootout between the Russians and Sal Maroni's gang catches Detective Allen and Ramirez in the crossfire (heh) only to be saved by the Dark Knight.

Opinion: Gotham City is shown in one of its purest forms, as a dark, seedy, underworld where the only hope its people have lies in a very scary vigilante. We also find out about what has happened to the Narrows since its destruction in Batman Begins and it works very well. The animation and directing here is dark, muscular, destructive, and cool. Greg Rucka shows us why he's been writing comics for years with a simple, yet extremely effective script that plays on the different character's strengths. Kevin Conroy in particular here is very short and to the point, but it's euphoric to hear that man's voice again.

Segment Rating: A-

Field Test
Writer Jordan Goldberg showcases the incredible high-tech arsenal Batman commands and reveals that there are some things even Batman won't do in his pursuit for justice.

Opinion: A very practical story that shows Batman almost like James Bond with Lucius Fox acting as Q. While this is one of the more upbeat stories, it is unlike "Have I Got a Story For You" in that you can tell that it is a Batman story based in Gotham. The only real complain that I have about this story is the actual gadget itself, it's too unrealistic even in superhero terms, although I do love Batman's reasoning for not using it. I'm also a big fan of the use of Batman as a mediator of the mob even when he can't take it down completely, much like he was in the No Man's Land storyline. The animation is once again drastically different, with every male character having that "emo" hairstyle and the Batman cowl being a bit ridiculously large, but the plot and script is able make you look past those flaws. Kevin Conroy once again shows us why he has played Batman/Bruce Wayne more than any other actor combined. He simply points the slightest inflection into his voice and it is genuinely like Wayne and Batman are two different people. Kevin Michael Richardson, who plays the Joker in The Batman, also does an admirable job as Lucius Fox as that rare someone that Batman can trust.

Segment Rating: B

In Darkness Dwells
Written by David Goyer (Batman Begins) from a story by Jordan Goldberg, Batman ventures into the Gotham sewers to face Killer Croc a deformed thug who seems even more monstrous after The Scarecrow returns with his fear toxin.

Opinion: This is definitely the darkest story and I freaking love it for it. The animation is slightly crude, but then so is the subject matter. The only thing that I wish is the there was a follow up to Croc and Scarecrow because they're so awesome in this short vignette.

Segment Rating: A-

Working Through Pain
Award-winning comics writer Brian Azzarello explores an early chapter in Bruce Wayne's training, showing how a mysterious and exotic Indian woman named Cassandra introduced Batman to techniques that would help him to conquer the physical and spiritual consequences of his actions.

Opinion: Remember those awesome episodes in Batman: The Animated Series where he fights the samurai (Day of the Samurai, Night of the Samurai)? This is a lot like those. We see Bruce Wayne on a quest to reach the peak of human physical and mental perfection as he tries to master his control over pain. I love the study of Bruce Wayne as a spiritual warrior and this story just plays that so well.

Segment Rating: A-

Deadshot
Alan Burnett--one of the most acclaimed writers on the Emmy Award-winning, Batman: The Animated Series--ties together threads, as Batman must thwart the assassin Deadshot whose love of guns and disregard for human life lets him cross lines that even a Dark Knight won't traverse.

Opinion: This is the reason you should buy this DVD. Deadshot's introduction is just absolutely beautiful that I've replayed it about ten times since I've seen it. We also see Batman as more of a detective and a brilliant tactical fighter, who knows that he has to be five steps ahead of his opponents at all times. I wish this final segment was a whole separate episode or movie, but then I love Deadshot as a villain. This is also a new take on Deadshot as a wealthy socialite who kills for a living. You may remember him in Justice Leage as a sleazy double crossing bastard played by Michael Rosenbaum who does a very accurate Kevin Spacey impersonation, or as the suicidal near perfect assassin who wears a bright uniform in the hopes that someone will finally end his pain. This film's interpretation is a much more two dimensional character but that works for him
as he is portrayed as cold, callous, brutal, and without mercy.

Segment Rating: A

Final Opinion: I've been anticipating this release almost as much as I have been for The Dark Knight. I will say that BGK upholds expectations that admittedly are a bit high for Bruce Timm, but then he has earned those expectations. While by no means is this perfect; it is a beautiful experiment in the world of Batman and a fine addition to the DC Animated Universe.

Final Rating: A-
Tags: batman, the dark knight, gotham knight, deadshot, scarecrow, killer croc
the worst of music
I dislike a lot. So much in fact it becomes a running joke to see what thing in normal conversation will tick me off (yes, people say tick me off still). But one of those things that pushes my buttons and has become something of a theme in my last few entries (which are oddly numerous) is particular bands. As an aside, if someone can find a sufficient and intelligent reason for liking a piece of shit, I have no quarrel with that. But if someone takes that piece of shit, compares it to what I enjoy, and comes to the conclusion that they "like good music", which in itself is a baseless argument as music is totally subjective, then you just piss me off. If you admit to liking Good Charlotte because it's "mindless catchy pop" then all the more power to you, and I respect you for accepting the band for what it is. But if you like Good Charlotte because it's "good music" or it's "punk rock", then you lack all of those things that make you a capable human being (those being logic and reasoning).
But to serve as a guide for those that give a shit (all six of you) I decided to go ahead and jot down a couple of examples of those musical endeavors whose existence makes me wake up angry. I'm going to forgo some of the obvious ones (Creed, Nickelback, Korn, Disturbed, Papa Roach, new Avenged Sevenfold, Panic! At The Disco and NUMEROUS others) because it would be a waste of time and space. Eventually, I'm going to write down a list of those bands that I particularly enjoy and why, but because criticizing is much easier than praising, on with the hate! (Photos and quotes courtesy of last.fm)

Bring Me The Horizon


Brainless, scene-rific, metalcore, aimed for the Hot Topic crowd that lacks any and all sense of cohesive purpose behind their "music". Nevermind that they're named after a line from Pirates of the Caribbean (immediately acknowledging their shallowness) but their own lead singer said himself, "We're fucking horrible. Girls only like me because of my hair." The screaming is on "Davey Havok Level", which means it's terrible. Scenester band like you read about, and one of the reason for the continuing bastardization of music.

Drop Dead, Gorgeous


God, I could pretty much copy and paste my reason for hating Bring Me The Horizon for this carbon copy (and yes, a lot of these bands are scene-rific). Here's a list of song titles: Dress For Friend Requests, Fashion Your Seatbelts, and Bullets Are Scene. If Hot Topic ever personified a group of human beings, it's this, and it makes me sick.


Alesana


Take everything you hate about every "goth" band (which isn't a genre by the by) and add songs about suicide. I don't know how someone can wake up in the morning and go, "Yeah, Alesana sounds like the thing to listen to", without laughing.

Escape The Fate


I thought these guys were Papa Roach when I saw one of their music videos, because they sound exactly like Papa Roach (which is the worst thing you can do). But put song titles like Friends and Alibis
, and Makeup on there and it's "post hardcore".

Also, for funzies, here's the typical Escape the Fate fan, unedited:

"hah!yew guess r the hawtest band that ever egsisted!max green n ronnie radke r like SOOOOOOOOOOOOOOOOOOOOOOOO hawt. lol.sorry.n the first son i heard was not good enough,then..situations,chariot,fri ends andalibis" - xxxXmaxXxxx
...and it's dead serious too.


From First to Last


The pseudo-emo poster boys for a while. Their "ballad" "Emily" is only 2 chords. The most talentless vocalist on the planet, the asshole in the middle, is now in an even shittier solo act that is trying so hard to be Blaqk Audio (incidentally, who would want to?) but fails so bad that it sounds like a drunk four year old kicking a synth while incoherently shouting something about a lost girl. But the band itself managed to strangle several of my friends into saying that this is the best band in the world....really.

Hawthorne Heights


I know what you're thinking, "Hey, their guitarist died, you can't make fun of them now." Fucking hell I can. Do I pity Casey's family and friends? Yes, yes I do. But I personally cannot respect an individual in death that I did not respect in life. THIS BAND HANDS OUT RAZORBLADES TO THEIR FANS AT THEIR SHOWS. Fuck that, and fuck these wastes of air who under Victory Records illegal marketing strategies managed to squirm their way to the top of the charts with terrible singing, even worse screaming, hackneyed lyrics, and three guitarists when it's power chords for God's sake!
Now HH managed to wriggle out a little respect when they left Victory and had their feud with them, but then lost it completely when they went crawling back to them, desperate for money and the need to be relevant again.

Greeley Estates


Greeley Estates sound like every single "post hardcore" band you've ever heard. There is absolutely nothing special, interesting, or good in this band. Their claim to fame? They're drive to be the best of the nothing special, interesting or good. I'm not kidding. They know they sound like everyone else, and they're okay with it. Why?

Blessthefall


Pop post hardcore. Absolutely terrible singing and offensive screaming with poppy "breakdowns". Their songs are all the same damn thing as well, and I think their hair speaks for itself.


A Skylit Drive


Ten years from now, every single one of these bands is going to look back and think, "Man, I looked like a douchebag." Now, despite the fact that "skylit" isn't even a god damned word, this band lost all credibility with their ridiculously poppy music that even Hawthorne Heights would go, "Dude, grow some balls."

My American Heart


The laziest band I've ever seen. One would think that if you're going to sacrifice your dignity to this whole pussy-punk fad that one would try and do something worthwhile. My American Heart break that mold by not doing anything interesting, or good, at all. I mean nothing. I mean, you cannot sit through an entire song of their's without expecting something to happen. I mean a band of twelve year olds writing songs about their allowance can write better stuff than this. Even my friends that like shitty music think that My American Heart is boring.
Funny story, we got guest passes to see Just Surrender, Quiet Drive, and My American Heart at Xtreme Wheelz in Buffalo. We figure, hey free show, and Just Surrender ain't bad. So after My American Heart plays and bores the crowd to tears, we were walking to interview Just Surrender. Keith points at this shirt that I'm convinced was a girl's shirt that MAH was selling and he's like, "Hey, how about one of those?", to which I respond, "Yeah, if I woke up one morning and said, 'Yeah, I'm a douchebag today, I think I'll wear this piece of shit t-shirt that is probably for girls.'" The second I finish talking, the guitarist of MAH walks past me, wearing that t-shirt. He shoots a look to me and Keith, and we just start laughing at the asshole.

All Time Low


Every road trip we listen to this band both ways because I really cannot explain how bad my friend Chris's music taste is. It's power pop, emphasis on pop. The N*Sync of power pop. This band will make millions and annoy me all the more.


Aiden

I defended Aiden once...they were getting destroyed by this crowd of assholes at an It Dies Today/Silverstein show (why did I go?) and I felt bad. It's over, and this is seriously one of the worst bands to come out of the last 20 years. Victory Records Pseudo-goth-core. Every single show they say the following, "Okay you guys, I want all of you motherfuckers to grab hold of the person next to you and put your arm around them. I just want you to know that through all of this darkness and despair that we go through every day, there is a light at the end of that dark tunnel. This song is called "The Last Sunrise'." Every, fucking, show. They also do a wall of death every show. This shit makes My Chemical Romance look like Slayer. This band is pure, unadulterated, bullshit.

Don't believe me?
http://youtube.com/watch?v=daED2S9TmGM

Paramore


Hailey's hot. There. That's only reason this band receives any airplay, because it sure as balls isn't for the music. It's simple, derivative, modern rock crap that only appears to be original because it's a young chick singing instead of that Evanescence girl. Just as bad, if not worse than Avirl Lavigne, but the funniest thing is that Paramore fans are afraid that they'll sell out with their next album, as if they're punk rock as shit now. I weep for modern music.

Still Remains


Bad singing, screaming, riffs, melodies, and breakdowns. Boring, uninteresting, and trite. The effort I put into this writing is equal to the effort they put into their music.

Four Year Strong


Pretend you're listening to Taking Back Sunday, and then there's a breakdown. A totally out of place, irrelevant, breakdown. That is FYS, a pop punk band that is grasping at straws to get the hardcore kids to like them by using absolutely horrible breakdowns with duel pop singing, synths, and power chords. Fuck this band and they're an insult to anyone who has ever liked hardcore.

And finally, the mack mother fucking daddy......

The Devil Wears Prada


Hey gents, I have an idea! Let's take metalcore, death metal, hardcore, and pop punk, and throw them all together, but only take the catchy aspects of every single one, so that there's not a trace of anything genuine or original in our music and we therefore rape the genres from which we steal and hurt them by association with our piece of shit that we call...well what do we call such an abomination? Hey! We're Christian right? How can we have such a terrible band but still have a philosophy of we're holier than thou that can be shown through our band name?

"It's the same concept as our lyrics "emeralds hold no hope" and many many others. What we believe it to mean is that possessions don't matter at all and someday everyone will realize that this is true. When standing before God, He won't care about your sweet Prada scarf or Gucci shoes or whatever. It's a Christian reasoning for the name, we didn't name it to attempt at being fashionable or whatever."

But God loves girl pants like fat kids love cake.

Hot Topic masturbates to the thought of a band like this, one that can attract the uneducated, ignorance of the fans of many genres. And who do they collaborate with on several tracks? Fucking Chiodos just so you know that they can bring in that hot 12 year old groupie audience.

I also know a girl that has sucked every member's dick, so we can add hypocrisy to that list.

I left a lot of bands out that deserve some hate (cute is what we aim for, silverstein, the used, three days grace, etc) primarily because while I don't like those bands, they really don't create the sense of disgust I feel whenever any of these bands are played or mentioned. I'd prefer if folks wouldn't leave comments trying to defend these bands because I really don't care about your opinion enough to defend my own.
Tags: devil wears prada, drop dead gorgeous, all time low, a skylit drive, four year strong
Tooth and Nail review and interviewing Anthony Green today!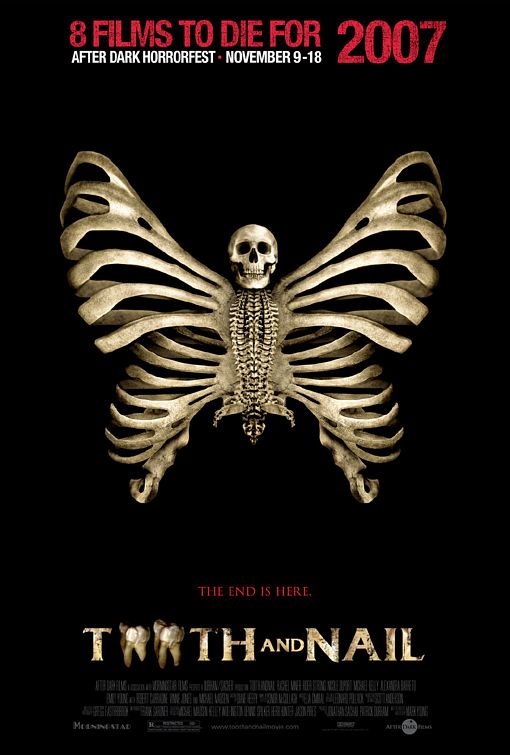 "In a post-apocalyptic world, a small group of survivors, who call themselves Foragers, plan to rebuild civilization from their headquarters in an empty hospital based in what is left of Philadelphia. But they're soon forced into a face-off war with the Rovers, another gang of survivors whom are a brutal gang of cannibals. As the Rovers take out the Foragers one by one, the Foragers must draw on all their resources to stay alive."

Shot well, admirable gore, but the misuse of the talents of Madsen and Vinnie Jones makes me want to cry. The main cast (especially the blonde) are just awful save for Rider Strong who is doing what he's always done (feigning emotion by adding a str...(read more)essful inflection to his voice). Why have the two biggest names in the film (Madsen and Jones) relegated to sidekicks of complete nobodies?! This, plus god awful writing and laughable plot, makes this yet another bad film in the tradition of shit that the 8 Films to Die For is famous for. 4/10 and goes on the Poop List, invented for movies such as this.

In other news we are interviewing Anthony Green today. You may know him from Saosin, Circa Survive, and Sounds of Animals Fighting. He's a busy individual. If anyone has any questions for him please feel free to leave them here.
Tags: circa survive, anthony gree, saosin, sounds of animals fighting, interview, radio