| | | | |
| --- | --- | --- | --- |
| 's Blog | | | | |
Rich Duncan's Blog

I Hate Finals Week
I had two finals today both for history classes and while I feel they went well, they were still awful and made me wish I was already at home for summer haha. Two more tomorrow for spanish and science, but then I will be home free and get to relax until I go home on Friday.

To take my mind off how much this week sucks, I would like to post three videos: two by older bands who I wish were still releasing music and one summer favorite

Failure's "Undone"



HUM's "Stars"



and Abandoned Pools' "Mercy Kiss"


Tags: finals, music videos
Check Out One Of My Favorite New Bands
I have just posted a review for the new album from the Cincinnati based band Pomegranates which you can read here. Without giving away to much of the review, lets just say I am in love with this band. They are outstanding and mark my words, this album will bring them a lot of success. Here is a live performance of "We Could've Escaped, But No One Was Interested" and the official video for their new song "Whom/Who"





Hope you enjoy the band as much as I do!
Tags: pomegranates, review, awesome, music video
The Impossible Has Happened!
Rival Schools has reunited and are planning to work on a new record for sometime next year. Color me excited, I love United By Fate and have been waiting for a new record for YEARS. In celebreation, I present to you the video for one of my favorite Rival Schools songs, "Used For Glue":



Enjoy!
Tags:
rival schools
Augustana - Can't Love, Can't Hurt
Posted my review! It will be on the front page tomorrow for release day, but if you would like to read it before then it is up. It is a truly outstanding pop record and will dominate my CD player this summer.

If you enjoy the review and still haven't added me as a friend, please do so and then you will be notified whenever I post a new review. I hope everyone is having a better Monday night/Tuesday morning than I am, procrastination is a very very bad habit of mine and would explain why I am still up working on homework haha.
Tags: augustana, review, no sleep
I Had A Dream Where I Almost Had A Fist Fight With Bill Murray
Don't know why I just did. It was pretty much set in the movie The Life Aquatic With Steve Zissou which is odd considering my familiarity with that film is limited to the times I have seen the trailer on TV or on iTunes when I considered renting it. Anyway, the dream mostly followed the plotline of that movie and at one point I was arguing with Bill Murray/Steve Zissou and challenged him to a fist fight. However, once I realized that he was probably crazy and would drill me in the face like he did to Owen Wilson's character, I told him I was just kidding. It was a very crazy dream.

In unrelated news, I posted my review of Tokyo Police Club's very impressive debut, Elephant Shell, today. I would appreciate it if everyone who clicked to read about my fist fighting adventures with one of Hollywood's elite would head on over and check out my review and leave a comment or two. Hope everyones week is off to a good start!
Tags: fist fights, bill murray, tokyo police club, review
I Love Les Savy Fav


Since youtube took down their performance of this song on Conan, I have to use the official video. This was easily one of my favorite songs of 2007 and after seeing that Conan performance, I am determined to see them live.
Tags:
les savy fav
Rich and Blake Recommend Vol. 9
Gileah And The Ghost Train

(May not be the most recent picture of the band)




Truth be told, Blake and I usually have a difficult time picking a band for these threads. Usually we send each other bands back and forth debating on which one would make for the best thread that week, and we usually don't settle on a choice until the end of the week (Thursday night!). That did not happen this week because as soon as we listened to some songs by Gileah and The Ghost Train and heard Gileah's beautiful voice at the beginning of the week, we knew this was a band we had to share with everyone. Led by Gileah Taylor, who released The Golden Planes as a solo artist in 2005, Gileah and The Ghost Train play a brand of hauntingly beautiful indie-pop that is sure to astonish from the very first listen. There is nothing better than stumbling across a little known artist by accident who creates outstandingly beautiful and heartfelt songs that make an immediate impression, and that is exactly how we discovered Gileah and The Ghost Train. For all you Eisley fans out there, meet one of your new favorite bands.






Tags:
rich and blake
Please Check Out....
I am so in love with the band Arbor Vitae. As you may or may not know, I run a record label called Look Again Media, and Arbor Vitae is one of the first bands that joined LAM. The production is a bit rough, but damn these songs are GOOD. I ask that all of my friends who may read this entry go to the link and listen to some of the bands songs. My favorite of their old material is "Circles", but they have two new songs up for their new record that sound outstanding called "Four Walls" and "Le Jemais Fin". I think these songs will bring great things for the band, let me know what you think. They are also some of the nicest, most down to earth people you will ever meet, so if you like the music please add them as a friend on myspace.

Here is a video of them playing "For The Queen" live in Baton Rouge


Tags:
arbor vitae
Everyone Please Read!
I just posted a review for Sleepercar's West Texas, the new side project of Jim Ward. It is a really surprising album and I think anyone who is a fan of his music should check it out.

Speaking of reviews, if everyone who is reading this could please add me as a friend that would be awesome! If you do, you will be notified every time I post a new review and you can read it and post your comments. I hope a few of you do this, I really enjoy hearing others thoughts and opinions not only on my reviews, but also on the albums I happen to have reviewed. Blake and I have also posted a new recommendation thread which you can check out here. Although I feel like crap and I think I am getting another cold after getting over one earlier this week, I am really excited that my Sinaloa CD and shirt were shipped today and I cannot wait to get it in the mail, it was one of my most highly anticipated records behind Death Cab For Cutie and The Jealous Sound.

I hope everyone's weekend is getting off to a great start!
Tags: sleepercar, review, sinaloa
Big Changes, A Musical Recommendation, And Other Stuff Noone Will Read
So I have decided to throw caution to the wind and make an enormous change that could either be the best decision I have ever made or one I will regret down the road. I have decided that I am going to drop the History major, Secondary Education minor and take up an English major with a journalism minor. I have just decided that I already love writing about music every chance I get whether it be an album review, a blog entry, or anywhere else I can voice my opinion that I might as well make an effort to turn it into something serious. Even if things don't work out the way I want, at least I can be happy knowing I chased my dream and did everything to make it happen.

Pomegranates is my only recommendation this entry. I just got the bands debut EP Two Eyes in the mail yesterday, which was part of a massive package I got from Chuck of Beartrap PR (probably my favorite PR person). They play a brand of slightly lo-fi yet charming indie pop that is insanely addictive (I listened the EP straight back to back just now, it's that good). Although all the tracks from the EP are great listens that will lodge themselves in your brain for weeks on end, "Osidius The Emphatic" is the standout track. Once you give it a listen, I am almost willing to bet you will be hooked on Pomegrantes from that point forward. Head on over to their myspace (the link provided above) and give it a spin, you will not be disappointed. They have a full-length scheduled for a May release on Lujo, so be on the lookout for that.

I have a ton of reviews coming up (Sleepercar and Boris Smile to name a few) so be sure to look out for those as well, I appreciate any and all comments I receive on my reviews and look forward to hearing your thoughts as well!
Tags: pomegranates, major, future
Rich and Blake Recommend Vol 7
Bear Hands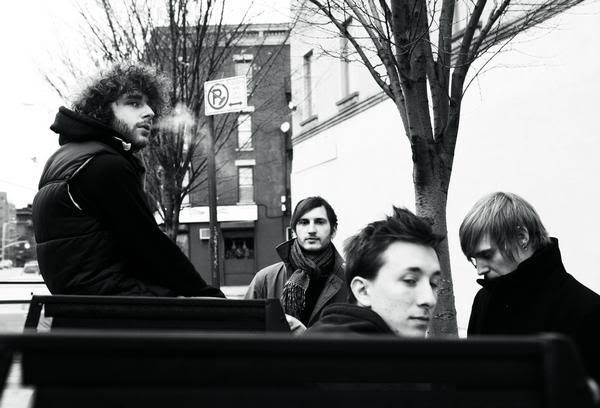 Back in December I did a short review for a little Brooklyn based band called Bear Hands. Around the time I wrote that review I had no idea what was in store for me before that first listen, but when it came time to write my review, I had decided that I was absolutely crazy about Bear Hands and that they were my favorite new band. I believe I even stated that, "seeing the progress they made in such a short amount of time, I have a feeling the buzz around this band is only beginning." Since that review, the band has garnered even more accolades and are scheduled for three SXSW performances. One thing that has not changed since December however, is the fact that the Golden EP is still firmly entrenched in my regular listening rotation. Do yourselves a favor and check out this band and their new demo "Vietnam" and check them out at SXSW if you are one of the lucky people in attendance.

RIYL: Cold War Kids, Detachment Kit, Modest Mouse

Bear Hands myspace
Tags:
rich and blake
Rich and Blake Recommend Vol 5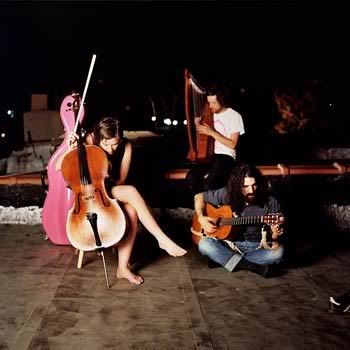 Lewis & Clarke hail from the most unlikely place to produce great albums: Delaware Water Gap, Pennsylvania. Comprised of Lou Rogai, Eve Miller of Rachels, Russell Higbee of Man Man, and Aaron Ross of Hella, Lewis & Clarke craft a brand of mellow, yet emotionally poignant folk songs that ebb and flow together to create stunningly beautiful and cohesive works of art. This album is a testament that great records and artists can be found not just in major cities and music markets, but also in small towns across the country that most people would never think twice of looking to for great music. If you are into mellow folk music and are patient enough to deal with long track times, this is one album you do not want to miss. There is too much to say about this artist and their newest release Blasts Of Holy Birth to fit into a blurb and do them justice, so check out my review of their latest review here.




Tags:
rich and blake
Rich and Blake Recommend Vol 4
The Bitter Life Typecast


Finding such an incredibly talented local band is one of the most thrilling experiences a listener can have, and that's what happened to me upon discovering Philadelphia's The Bitter Life Typecast. The lush instrumentation and barely-above-a-whisper vocals that dominate most of the bands catalogue create an exhilarating listening experience. It is a shame that these well orchestrated songs are going largely unheard by the masses, especially when so many people wax nostalgic about when this sort of sound dominated the underground. Those who still mourn the dissolution of bands like Mineral and Christie Front Drive, seek solace in The Bitter Life Typecast as they are currently working on a new record.


Recommended Tracks: "Faith Tests" and "Burning Hearts Have Been Burned Out Tonight"

Recommended If You Like: Christie Front Drive, Mineral, Antarctica
Tags:
rich and blake
Rich and Blake Recommend Vol 1
So we (Blake Solomon and Rich Duncan aka Richy D aka Dick Dunktank aka Tricky Dicky) were sitting around the other day and decided to give an idea a try. Not a revolutionary idea, mind you, but an idea nonetheless. We are going to start recommending one band a week. One band we think you need to make huge. One band we think you will love as much as we do. One simple band. We aren't going to get our hopes up and shove a bunch at you. Bands need time to be digested, but the second you've explored one band fully, we'll be back with another. If you think this is a good idea, read on and find a new artist who's doing things the right way. Thanks for your time.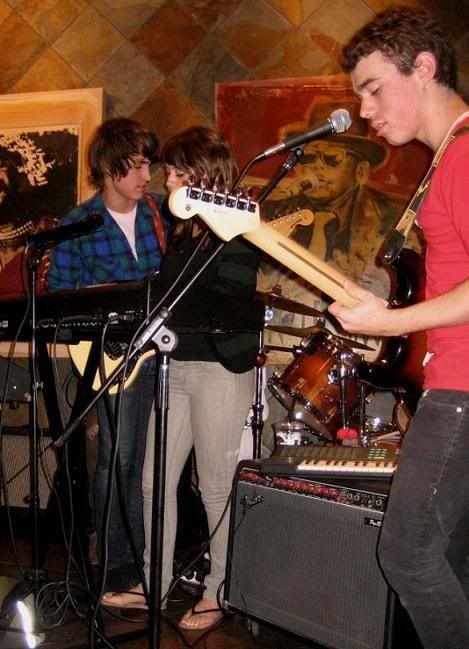 Avi Buffalo Music is a five piece folk rock outfit hailing from Long Beach, California. The band is led by young singer-songwriter Avi Buffalo, who's songwriting and lyrics display a maturity and talent well beyond his years. Although the songs are considerably lo-fi since they were recorded by the band themselves using modest equipment, the songs seem to benefit from this raw and intimate approach. For everyone who loved the cutesy yet serious folk that made up the Juno soundtrack, Avi Buffalo Music's songs will serve as the perfect addition to your listening rotation. Given just a little more time and a decent label backing for them to record in a studio, Avi Buffalo and his friends have the musical chops to make a significant impact on the current folk rock scene. They are currently thinking about putting out a release, so add them on myspace and beg them to release an album because I assure you, almost every song we have heard from this group has been gold.

RIYL: The Juno soundtrack, Cocoon, and The Weakerthans if they were robbed of all their earthly possessions

Notable Tracks: "Where's Your Dirty Mind" and "Distaste and Interest"
Tags:
rich and blake