A blog about art and shit.

hahahahaha
Hayley Williams' vocals on "The Few That Remain" are amazing. I laughed out loud the first time. So awesome.

I've been waiting a long time for this album and it's living up to my expectations...and more.

I can't wait for Saturday. I can't wait for Saturday. I can't wait for Saturday. I will be picking up this album.
Tags: set your goals, awesome
I won an award!
At my school. For art. It's really no big deal, but this is the first art-related thing I've ever won, so I'm pretty excited. They wouldn't tell me exactly what it was for, but I wasn't going to attend the annual Arts Night because I had work, but then I was informed that I had to be there to accept my award. So yeah, I'll find out later tonight.

(:

ps: 9000k+ views and 151 comments? Thank you guys!

edit: It was more of a recognition thing than an award thing. I have officially been recognized for my contributions to my school's art community, yay. Feels amazing to be congratulated by people whom I've never even talked to but know about my art. That's so cool.
Tags: woohoo, hurray, awesome
This city is afraid of me.
Ahhh going to see Watchmen tomorrow night. Stoked as hell. And since I've been practicing 1-2 minute speed sketching lately, I thought I'd sketch out some Watchmen characters.

...And this is the only one that turned out decently. So here ya go.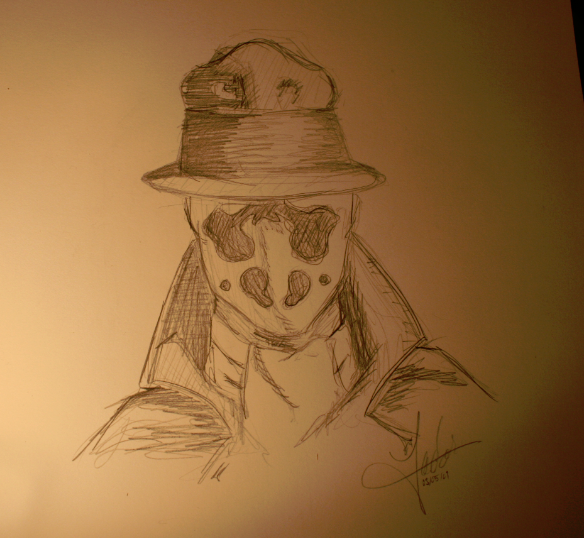 Tags: sketch, watchmen, awesome, excitement
Dustin Kensrue


Friggin' awesome. I'm pretty upset this tour isn't even stopping in NYC, let alone anywhere close enough to drive. Instead I get to have exams all of next week. Time to go study how to find lines of intersection of planes or something.
Tags: Dustin Kensrue, Counting Crows, awesome, youtube