| | | | |
| --- | --- | --- | --- |
| 's Blog | | | | |
The Pen, The Page, The Paper

Show Review: Brand New and Manchester Orchestra (Aragon Ballroom, Chicago)
What makes a band tick? Or click? Or what makes a band want to play on stage in front of thousands, hundreds or just three dudes every night with same pizazz. I dunno, it seems pretty simple. It's about energy, it's about vibe. It's about passion and inspiration, from the band and from the crowd. The anatomy of a band on stage, if you will.

Questions and thoughts ablaze, my mind was spinning after I caught the Brand New Daisy Tour. In Chicago with friends, I went to see Brand New, Manchester Orchestra and hometown openers Sybris. The venue - the gorgeous Aragon Ballroom - was designed like royalty. The place was huge and open and the ceilings looked as though they extended into the never-ending sky. More auditorium than small club, but more small club than stadium, Aragon was quite a location for the some 4500 of us that were in attendance.



The opening band, Sybris, wasn't a surprise, in a sense. Back in the day, when Brand New brought out bands like Manchester Orchestra, Anathallo and Colour Revolt, we got the sense that the band was trying tell us y
ou should like this band
. Sometimes it worked. And then, the hammer doesn't always hit the nail on the head. Take 2006 summer openers
Ultra High Frequency
. Sybris was comfortably in the middle of the spectrum. Appropriately bombastic, spatial but relatively unmemorable filler, the frontlady singer was calm and healthy in her role as a Feist and Karen O hodgepodge. Instrumentally, Sybris is familiar to a driving rock version of Sonic Youth, except more accessible to the young adult man crew of the Brand New fanbase. She was certainly more than a pair of tits, I'll tell you that.
Manchester Orchestra and Andy Hull, looking as beardly as ever, took the stage to an enthused crowd. While it was clear that many of the night's guests were still not on the Man Orch in, their set brought in a pulsation from the audience. Like the show had officially started. Whether it be the huge venue and that balconey seats can never translate as well as the frontlines, it felt as though the band hurried through their set, intensely concentrated and only glancing up once in awhile to soak in the Midwestern hospitality. Hull mentioned earlier in the evening that they had been touring non-stop previous to the
Daisy
tour; I imagine it was time for a rest. Their set consisted of songs only off
Mean Everything To Nothing
, begging the question: When will we get
Like A Virgin
again?
And then there was them, that one band. Brand New - for every penny they're worth - never fails to intrigue. Part of me can wrap my head around it; the transition from pop-punk to emo poster boys to progressive rock with the deepest of lyrical themes and straight up suspense. And then part of me is still wondering what Brand New is thinking. Why the fan disconnect? Why the obscurity? Even the most distant obscurity has some connection to its owner, and I want to know what that is.
And then there are the little things. Jesse Lacey
chucking his guitar
at Lollapalooza. The lyric books. The no U.S. press for
Daisy
. And even
smaller things
. Which leaves me wondering if I'm overthinking this (which is obvious, really), and if the band isn't battling an inner fan-band war.
Yet, that doesn't stop me from buying tickets to their tours in different time zones. I might have a problem. For all the chances I've caught Brand New perform live, I've either been heartachingly disappointed or mindfuckingly satisfied. This time, my experience was content in the middle. The setlist, seen below, was varied enough to quench. I've seen Brand New when they played setlists of my now-dreams; I have no room to complain. However, it's obvious in the band's onstage resolve that they're not thrilled to repeat the motions anymore, and they're greatest satisfaction from touring comes from playing new material. After "No Seatbelt Song", Jesse said to the audience, "We're gonna play new stuff because that's fun for us. And don't worry, we'll play old stuff." As soon as "Vices" kicked in, the band also re-kicked in their energy. The lights show became a production with mysterious black and white images reeling through on the backdrop screen, encapsulating the eerie, big beat ideals of
Daisy
and the rest of the set. Between the newfounded energy of Brand New and this aura, this section of show was excitable. Later on and during "Sowing Season", Lacey was engulfed in orange beams. This combined with the grand, archaic beauty of Aragon and a mortal tide of swaying figures ... it was one of those mental pictures that I'll keep stored away.
(Brand New photos courtesy of my friend
Shelby
. I gave her my photo pass for their set - she's better with my camera than I am, truth be told.)
See the thousands of screaming bodies? Does that inspire you? Dear Brand New, do you care about your fans? Sometimes I just don't know, and this show still left me firing out questions. But thank you for the awesome performance. You guys are fucking great.
Tags: brand new, show review, review, manchester orchestra, chicago
Summer of '09 Has Been A Summer.
Since it's nearly the middle of August, it's time to begin reflecting on my summer. Most notable moments for me? Painting the walls of my new apartment Disney underwater blue. Being out on Warped Tour for a few weeks. The simplicity of July 4th sparklers with friends. Killing a man in Reno and then those brief weeks spying on Russian intelligence. The usual. I've been thinking - it's been an AWESOME summer.

No, let me rephrase that. It's been a summer.



We know this season is historically a good time, but what is it about this summer that has been particularly top-notch? Our economy BLOWS and my 'check engine' light has been on for two months, but I'm still thinking that this summer should win an award for an exceptional amount of fun. Fun fit for my wallet, too. And I don't just mean for me - this is for all of us.

But don't let me read too much into this. It's obvious where this fun is originating: the tours. Blink 182 decided to give it another go, causing pandemonium and the most united musical front I've seen in this Internet culture in forever. Maybe even ever. And it wasn't just any line-up for their super summer tour with Fall Out Boy, Weezer, Taking Back Sunday, All American Rejects, and Panic at the Disco (Chester French and Asher Roth don't count in the 'super'). The band made sure that ticket prices were low because we're all broke now, and those low ticket prices even included fees and parking. Even if you didn't care to attend, it was the tour of the summer even before the dates were released.

Poison The Well, Bane, Terror and other hardcore mainstays teamed up for the 10 for $10 Hardcore Summer Tour, a br00tal event of genuine and cheap pits. Brand New graced us with their prized presence on a small club tour, a dream come true for anyone who still sleeps and breathes Lacey. Two of my personal favorite lesser known bands, All The Day Holiday and All Get Out, spent time on the road together. Even LFO decided that summer of '09 was the perfect time get out there again. Dredg and Rx Bandits took out Good Old War and As Tall As Lions for the most talented tour of the summer, ever boosting some sold out dates. Moving Mountains adventured to the Midwest for the first time. Audrye Sessions and Paper Route decided to help the financially-challenged on their New Deal tour, setting up an email account to send recession pleas for free tickets. Even the festivals knew that bank accounts were tight. Virgin Mobile Free Fest dropped their ticket prices from the two-day 200 dollars of 2008 to the wild and gracious charge of NOTHING.

And then there were my two personal favorites: the BBQ Across America Tour and the embodiment of a bro-down with Set Your Goals and Four Year Strong. I caught both shows, and both shows were - to put it as cool as possible - crucial.

At BBQ Across America, The Gay Blades (currently my favorite live band) played with The Dangerous Summer (currently my favorite pop-punk band). They were the main support for Person L and Ace Enders, which, as you probably know, is kind of a big deal for anyone who used to own a Drive-Thru t-shirt. Both Kenny Vasoli and Ace Enders have payed their dues, and now they get to play whatever the fuck they want on smaller but successful national tours. Good for them. And you can tell they're happy about that - both Kenny and Ace were hoppity and gleaming on that stage, content with fulfilling a new creative outlet. Person L, a genre-blending experimental outfit of old friends, showcased material from their upcoming full-length, The Positives. Ace Enders even played Early November material for the nostalgic folk. All in all, the vibe was cooperative and supportive, the signs of a tour going well and a line-up picked well.

And then there was the Giglife tour, which took the cake for 1) energy and 2) moisture content. Sold out and at a small venue (Ottobar in Baltimore, MD), my date of Giglife with co-headliners Set Your Goals and Four Year Strong was bustling with sweaty bodies, muscles and fist-pumping. Never have I seen a crowd go so wild, and that might just be because I decided to spend some time as close to the pit as I could get. Tour supporters Fireworks, The Swellers and Drive A were the right pick for the crowd and the whole night was constant roll of intensity, crowd surfers with no barrier and dudes jumping off the balcony. Moreover, because it was the summer and 450 perspiring boys were sardined into a small room, the humidity inside the venue was like cutting through jello, the floors slick with mini-puddles of human secretion. And I don't think any of us would want it any other way.

It's been a summer. What about you? What shows and festivals made your summer a kick and a punch?
Tags: tour, summer, summer of 2009, show review, set your goals, person l
Whoring, nbd.
Friend/Follow me?
Twitter | Facebook | Tumblr

Good news - we move into the new apartment on May 9th! So excited!

We had to cancel our bowling show this weekend because - once again - the bowling alley was overbooked at our expense. Grumble grumble. But hey, Manchester Orchestra tour is this weekend at Ottobar, and Shelby is back from NYC.

But we're moving! Washer & dryer + balcony. Walk-in closet. I'm so overly excited it's just silly.
Tags: new apartment, moving, show n bowl
MOVING?? MOVING?!
Man oh man. Yesterday, my roommate and I went to a rental community that we really love to apply for a new apartment. Because of the availability, the rent was way too high and I started to get intensely nervous. So then, we went to another place that we really liked, and once again, the rent was too high for our budget and our time frame (mid-July). The leasing office lady (who was amazing) mentioned an apartment available May 10th with amazingly-appropriate rent on the top floor, so now, instead of moving in July, we might be moving in three weeks.

I'm probably jumping the gun with this blog; we still don't know if we got approved for the apartment, but I'm already working myself up into an excited sweat. I don't HATE my apartment now, but I'm so fucking ready to move into a nicer place that's actually worth what I'm paying. And, it would definitely be great to move before I go on Warped Tour as opposed to the day I get back, exhausted and beat from the dirt and swarms of underagers.




Tags: apartment, jacqueline, moving, flyer, show n bowl
Start, stop. Pause, repeat.
I am currently treating myself to some All Get Out demos. This is stuff of gold and wine.

On Thursday night I was able to attend a marvelous show in Baltimore. I've talked about this tour a ton (see entry below), because it's such a phenomenal line-up, but I think my expectations were topped, to say the least. Got to officially introduce myself to people I had been waiting a long time to meet and make new friends too. Ran into old buds from my hometown, Paddy and Dan, and it was really heart-warming to see them. London was there too, of course, this being a Manchester Orchestra show.

All Get Out played a new song I hadn't heard before (I think it's called "Part Two", or at least that's what the demo is titled), which is refreshing considering their disco is a weak number of one and a half EPs. Manchester Orchestra did the same - most of their set was made up of new stuff from Mean Everything to Nothing (which will probably see a release date in April of 2009, not the original March 31st as planned). Of the tracks from I'm Like Virgin, they played "Wolves at Night", "Now That You're Home", "Golden Ticket" and I believe one more I am missing. Anyone else remember? The encore was a rendition of Kevin Devine's "Brooklyn Boy", which then sorted itself into the theme song of the Fresh Prince of Bel Air. I wasn't upset they didn't play more old stuff because I've decided to stop bitching about set lists and not getting what I want from set lists (seems trivial in retrospect). The most important thing is that the crowd was into it, and they were, except for the douche next to me. I believe when yelling over the speakers to provide commentary to his friends, he related new MO to Three Days Grace and then pretended to slit his throat. I wanted to spill my beer on him for 1) attempting to make witty, holier-than-thou musical judgments and 2) living, but instead I just took his spot when he went to the bathroom.

All around, a marvelous night. All Get Out came to the apartment for a place to sleep and drink more beer, and we had some chill hang outs. If you haven't listened to this band, then you should, because they're great and they deserve flowing amounts of success and good fortune.



I am a guarded person. This I know.
Always I tell myself it's for the better, but I know that's not always the case.
Tags: all get out, show review, manchester orchestra
The return of cupcakes.
Truth: we've stopped baking cupcakes. Until this weekend for our Sunday bowling show, when they made a resurgence. These were pumpkin-flavored w/ apple cider glaze and so delicious! Jac gets all the credit for the baking and finding the recipe. This is the first cupcake in months I've actually wanted to eat.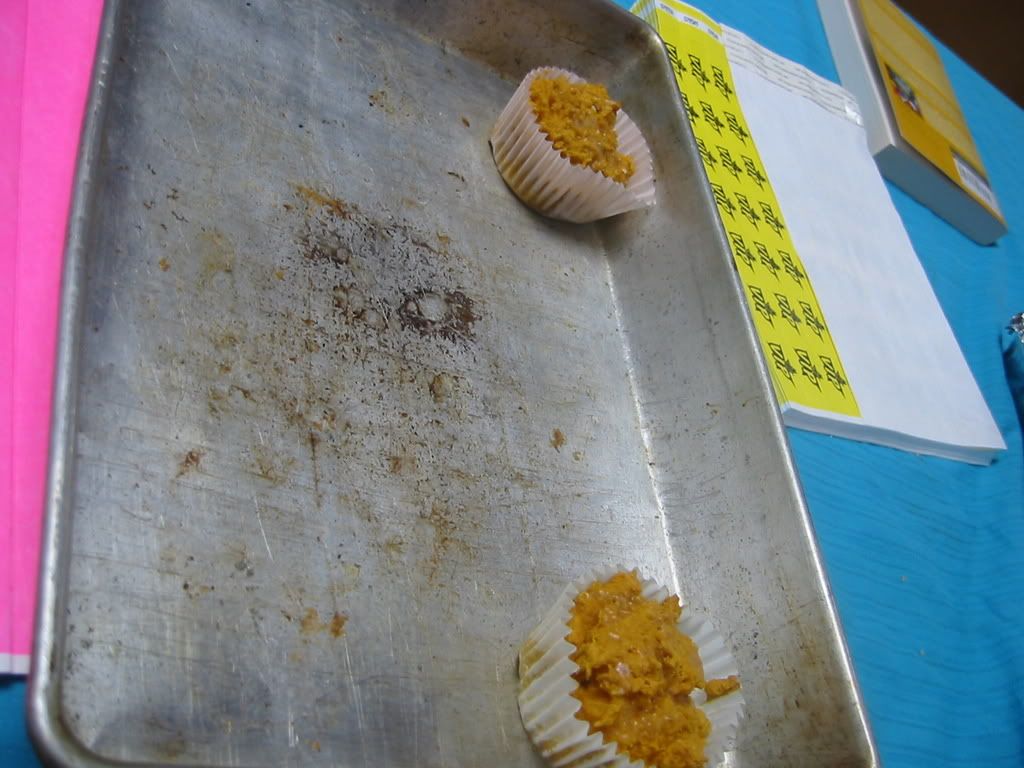 And who knew they made beer bottles in the shape of a bowling pin?




Hey, did I tell you guys that we booked Punchline and The Years Gone By at the bowling alley? I'm pumped because if I've learned anything about Punchline over the years, it's that they are a fun group of people. And it's impossible to not have fun when cosmic bowling. I'm gonna write "play the Xmas rap" on each of their VIP wristbands.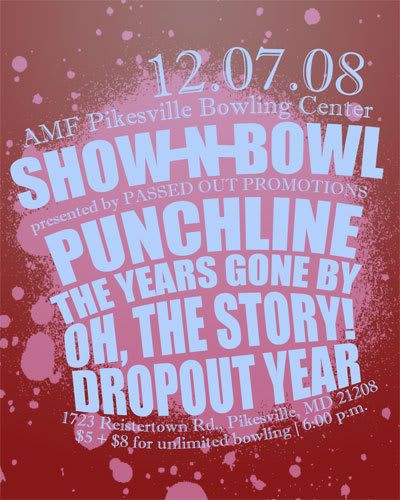 Tags: cupcakes, bowling alley, show n bowl, punchline
Show Review: Steel Train w/ DATH and Forgive Durden
SHOW REVIEW: Steel Train, Dear and the Headlights and Forgive Durden
October 19th, 2008 at The Ottobar - Baltimore, MD

Like nearly all my favorite shows in Baltimore, The Ottobar played host to the Maryland date of Steel Train's headlining tour on Sunday. I, of course, attended and for three reasons: 1) I think Steel Train is a remarkable live band, 2) I've never seen Dear and the Headlights and they became one of my favorite new-ish bands after the release of Small Steps, Heavy Hooves and 3) Razia's Shadow had me interested to see how Forgive Durden was going to take their musical to the stage.

While the idea of a rock musical is lofty, its actual completion is everything above and beyond impressive. Mad props to the kind of work, arrangement and dedication one must summon to output such creativity. The essence of a rock musical, on the other hand, is a slippery slope, just like any other concept album. My first impressions of Razia's Shadow before the show was simple and surprisingly less shocked than you'd figure: cool, I guess. Thomas Dutton created an epic storyline, made of mystical characters and mythical events - it appears Razia's Shadow was destined for major wowing, right? But, I suppose I'm jaded, because I'd be lying if I didn't already think the The Dear Hunter was doing what Razia's Shadow is doing and a little bit better, minus the name drops. I couldn't help but prepare myself for an underwhelming. I also never boned up to Wonderland, so I had no previous dedication to invoke.

But perhaps I am being too pessimistic, I think to myself. Which is exactly why I was interested to see Forgive Durden at Ottobar on Sunday night. Instrumentally, the band sounded tight and well-practiced. They seemed excited to play. The crowd's cheer re-energized their esteem. Yet, like a sore thumb, the girl (I don't even know her name, hired hand?) that sang back-up, stood behind a keyboard, and plucked cautiously at a guitar during one song was 1) one of the most awkward people I've ever seen perform in a band and 2) either not a good enough vocalist or totally off her game tracks. I'm thinking the latter, only because it was day two of the tour and with the combination of new material, touring members learning said material and adjusting to the road, no one expects the bunch to have this down perfect quite yet. But sweet lord was she awkward.

I'd also like to note that I haven't heard the album. Nor I am dying to just yet. But I have heard the samples, just like normal folks, and the guest vocals are exciting snippets. It's the album's biggest selling point, and the versatility is reminiscent of Say Anything's buzz for In Defense of the Genre. The disconnect between what you're most excited for and the actual musicianship of Thomas Dutton is what lost me during Forgive Durden's set. Not that he isn't talented, but a full half-hour of a musical on a Sunday night in which I don't know the full story? I like to connect with music, and the connection was far from there. Without the guest vocals - which he obviously can't do on the road - the music felt rather bland.

Also, as a side note, I'd like to point out that Anton and Dutton could be twins or brothers. Anyone else see this?

There isn't much to say about a band that released an album like Small Steps, Heavy Hooves, because well, they released an album like Small Steps, Heavy Hooves. I expected a solid set in which I could sing along and seep in some passion, but I didn't expect singer Ian to have a set of tubes that matched the album perfectly - a nice surprise. I didn't expect to enjoy the songs off the new album as much as I did, expecially because I considered it a dissapointment as a whole. And I certainly didn't expect so many people to explode with appreciation when the band grooved fervently to tracks like "Sweet Talk", where the entire room was just a-waitin' for the beginning chords. Note of disappointment: the set was too short. But I do believe I've gained a higher respect for both the band's lyricism and Drunk Like Bible Times, which I was forcing down like stale cough syrup. All in all, I was pumped to see a band that I had to come love very much in a live settings, and I my expectations were very much exceeded.

This band is always great live. Jack Antonoff is a quirky, immediately likeable frontman, and the whole band smooths along with the nerdy hippie allure of the Steel Train essence. In other words, it's hard not to like these dudes. Their acoustic gang vocals numbers (there were two!), their audience sing-alongs and refreshing banter - it's always something new when you see a Steel Train set. They also played two new songs, both sounding superb.

Conclusion: This is a must-see tour. Talent spills out the amps. The crowd is older and nearly all the attendees (except the sluts trying to get Dutton drunk and vulnerable) are music fans, appreciative and respectful.
Tags: show review, steel train, dear and the headlights, forgive durden
Fall TV Season - 2008
Of course I've been watching The Office and Project Runway this fall, but I've also been up on Gossip Girl (don't judge me), It's Always Sunny In Philadelphia (occasionally), Entourage, and one I'm really loving - Fringe - which is J.J. Abrams newest. I was excited for the new Heroes, but I was never into the show 100% to put the energy forth to follow the storyline, and now I'm about five episodes behind. Not sure if I care enough to figure out what's going on. I've also been watching tons of CSI, which is really random for me because I thought I didn't like CSI. Maybe I enjoy like serial killers?

I'm most excited for Lost in January ... duh. Other than that, I'd like to give How I Met Your Mother and Arrested Development both a try. What else is out there? What other TV shows do I have to watch this fall? Anything I can catch up with online? I'd love some suggestions.

PS - Anderson Cooper is hot. And Bloc Party's Intimacy may be mehh to Pitchfork, but it's an awesome driving record.
Tags: tv, shows, television
Tonight, This Weekend and Next
Tonight, Jac and I are going to see the Hush Sound/Steel Train/The Cab/The Morning Light show at The Ottobar. Pretty pumped - Steel Train is always and forever a great live band. I've never seen The Hush Sound, but I have faith that they'll be intriguing, and I should probably see The Cab too, for research reasons.

This Saturday night is the Mastadon Label photo and video shoot. I'm more frantic than anything else, but at the very least, interested in what the night will become. Saw a sample tee last night ... I'm getting pretty pumped on what we are doing. Now I gotta do some hardcore press and marketing.

And next weekend, we have our first bowling alley show. I make my life seem so exciting.


Tags: update, show n bowl, steel train, mastadon label
Show Review - The Stay Classy Tour
Hello world! I've missed you.

So, this is what's up. This previous week was spent on "vacation", except that I didn't go to Bermuda or the Bahamas or Disney World. For a few days, my roommate and I caught a ride up to Philly and NYC (after the Baltimore date) with The Graduate on their tour with Rookie of the Year, My American Heart, PlayRadioPlay!, and Secondhand Serenade. Of course it was a grand time, but it was interesting to see three nights of the tour as a kind of experiment. Bands have off nights - the sound sucks or the stars are not aligned, and you miss a beat or two. The benefit of seeing three shows in a row is that I got to deconstruct and pick apart the little details that I normally don't seek to notice. That said, this show(s) review is going to be a collection of thoughts from all three of these dates.

Rookie of the Year - Steve Henderson said it best. When The Goodnight Moon was released some two years ago, it was the right sound for the right time. It was almost like they got lucky. And while I liked the album, it didn't last. At the time of the Baltimore tour date, I hadn't heard any of the band's new material, so the first show threw me off. The choruses were bouncy, the melodies decidedly summer, and in comparison to The Goodnight Moon, the new songs I heard in their set were much more upbeat. "What is Love" immediately stood out, and for pop-rock, it seemed to hit all the appropriate points. Sing-alongs = a cinch. But between the more tender, slower tracks the band played from The Goodnight Moon and the new leaf from Sweet Attention, Rookie's set was inconsistent between the two opposites. Variety is great, but ending with "The Blue Roses"? Bad choice. Momentum was severely lost through the course of ROTY's set.

The Graduate - Not much to say about The Graduate. I'm incredibly biased, so take my to-the-high-heavens praise with a giant grain of salt. I think they are a wonderful live band. "Interlude" and their instrumental transitions are always a bit over-the-top for the younger crowds they've been touring to, but they always make up for it with the drum duo jam at the end of their last song, "The Formula". The Philly crowd was the best, so receptive and energetic. Cookies for Philly. They, however, should have played "Justified". It would have been a perfect match for the crowd.

PlayRadioPlay! - I think Dan Hunter makes interesting, sophisticated music, especially as musician who is so young. I think it shines of unique thoughts and well-crafted electronic pop, a genre that I normally skip through. I think there are tons of great ideas swimming around in that red head of his, but on stage, it doesn't translate well. Hunter's lyrics were jumbled and impossible to understand during his live set, and it became tiresome and slightly frustrating. All three of the venues from my mini-tour were upper hundreds to 1000 cap rooms, and I think a more intimate setting is a better fit for PRP.

My American Heart - Since I was a high schooler, cruising the PV forums, I've had a big soft spot for MAH, so it was great to be able to see them perform. Their set was entirely made up of songs from their new album, which was interesting, but not a bad choice. Hiding Inside The Horrible Weather was loaded with good hooks, and they fit well together in a set. Bassist Dustin was running around the stage like a wild animal, and as much as I appreciate his enthusiasm for being balls out, it was sort of funny and distracting next to the rest of his more relaxed band members. Not something to write home about, but they were solid all three nights.

Secondhand Serenade - Another token of proof that radio does not equal good. The first night, John guest vocaled during My American Heart's set on "Tired & Uninspired", and he sung the wrong words and the wrong melody. It wasn't the best introduction to Mr. Vesley.

My problem is not that Secondhand Serenade is making hits. My problem is that John Vesley, who essentially is Secondhand Serenade, comes off like a total douche on stage. Did I just say that? I was appalled to see the entire crowd crooning his every word when it was all so bland, generic and predictable ... like a Hallmark card with an acoustic guitar. He's not shy and awkward like Chris Carrabba or even slightly quirky. His banter was cocky and as far from intimate as you get, which is nearly the antithesis of acoustic rock. His backing band didn't help either, which looked like they were instructed not to move their feet, because, you know, they're not the star ... obviously.

If you asked me to hum a line from SS, I'd fail the test. But every single girl and drunk/sensitive manly-man knew each word down to a T, which was both laugh-out-loud funny and disheartening. Because, most of the time, the good bands are too good for radio, and this was just the case.
Tags: show review, the graduate, my american heart, secondhand serenade, tour