| | | | |
| --- | --- | --- | --- |
| 's Blog | | | | |
harveyn590's Blog

Live Review: Royal Family Ball ft Soulive @ Terminal 5 - New York - Sat, Oct 2
Live Review: Royal Family Ball ft Soulive, Lettuce, John Scofield, etc @ Terminal 5 - New York - Sat, Oct 2, 2010


Featuring Soulive, Lettuce and Nigel Hall along with a myriad of other guests, this night proved to be unbelievable. As I arrived a bit late, I only heard a bit of the last song by soul-revivalist Nigel Hall. While I was bummed I didn't get to see more of his solo set, I knew he'd be back for more in just a bit.

After a grabbing a beer i nestled into a cozy spot near the back of the floor and prepared my mind and feet for one of the world's best funk bands, Lettuce. The band didnt disappoint and got the crowd moving early with "Blast Off", the first cut off their most recent album "Rage!" They followed it up with a few more instrumental tracks before bringing up Talib Kweli. He performed two songs, including a great version of his hit "Get By" along with Nigel Hall. Soon after, out came guitar legend John Scofield. This is where the show really started to heat up. Scofield knocked it out of the park with some wild lines and effects during "The Flu" from Lettuce's 2002 album "Outta Here" (video below). Christian Scott, Big Sam, Maurice Brown, The Shady Horns, and Rashawn Ross all also shined heavy during the hour plus set each taking extended solos. As the set concluded, every one was freaking and I couldnt help but think "that was just the opener".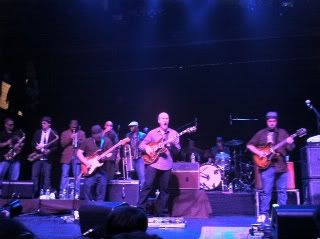 Lettuce w/ John Scofield

Soulive then played close to an hour and a half set featuring crowd favorites such as a horn charged version of "El Ron" and closer "Too Much". They opened the set however with a medley of Beatles songs found on their new record "Rubber Soulive". Sco came back out and was joined by all the horn players from before, and with the crowd's energy really brought it to the next level. As Big Sam was pumpin out a ferocious solo mid-set, you could see Christian Scott diggin just how amped the crowd was getting. Some were dancing, others nodding their heads and a few high-fiving after each song. Another special guest, guitarist Warren Haynes, came to the stage and killed the classic "Born Under A Bad Sign". Near the end of night Kraz and Sco squared off in the Scofield tune "Hottentot" and produced some of the nights most exciting solos. For an encore they played a James Brown song I believe, with Nigel Hall leading the band through a succession of horn hits and multiple bows, ending the night perfectly.

Really, this show was the most fun Ive had in recent memory. It was full of grooves no one could resist dancing to and incredible and sincere musicianship. A night thatll stay engraved in my mind for quite some time.


Tags: Live Review, Terminal 5, Scofield, Lettuce, Soulive, Talib Kweli, Royal Family Ball,