| | |
| --- | --- |
| Chris Collum | 03/17/11 03:13 PM |
---
Quote:
---
Originally Posted by atticus18244fss (Post 86695671)
In the end no competition equals no need for constant innovation. Business 101. And the Zune HD was probably the iPods only major competition.
---
Okay, I see what you're saying I believe. I think you're saying that Apple might continue to put out new versions of the iPod semi-frequently as they do now (which I am certain they will) but that they won't be as innovative, i.e. there won't be that much different about them because there is no competition?
That makes sense, but the only problem is that that argument is based upon the premise that the Zune was in fact a legitimate competitor, which quite frankly it wasn't.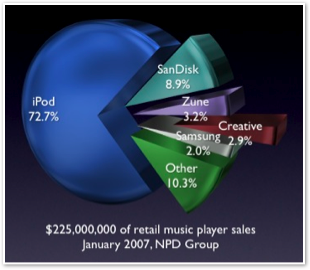 In that chart Zune isn't even the #1 competitor to the iPod. That chart is from 2007, but the article states that last year iPod had 77% of the digital media player market, so the Zune HD obviously didn't change Apple's foothold much.