Our third annual round of Absolute Classics is our most diverse yet. Before anyone gets up in arms about which albums "didn't make it," sit back, read up on some albums you may not know about and then give them a spin sometime this weekend. You may just find a close relationship between the below albums and your favorite bands. You might find a new cherished record that you never got around to listening to. What really makes the below albums classics is the challenging nature they exhibit, and how that challenge resonates in our best contemporaries years later. - Adam Pfleider
The Smiths
–
The Queen Is Dead
Record Label: Rough Trade Records
Release Date: June 16, 1986
"Take me back to dear old Blighty!
Put me on the train for London town!
Take me anywhere,
Drop me anywhere,
Liverpool, Leeds or Birmingham, well, I don't care!
"
From the old World War II song to the moment
those
drums kick in, you just know that this is going to be a truly special record. The Smiths could have never even released critically acclaimed album,
The Queen Is Dead
, and they would still be held in extremely high regard but obviously, they did and now they are considered to be one of the most important British bands ever, spoken about in the same breath as The Beatles, The Rolling Stones, and Sex Pistols in a way that very few others are.


The Queen Is Dead
finds Morrissey at his peak with the rest of the band following suit. The band is at its tightest and most groundbreaking whilst Morrissey's dark humour, puns and brutal honesty are set to maximum levels. Showcasing The Smiths' knack for writing hits ("Bigmouth Strikes Again"), melancholic confessions ("I Know It's Over"), witty stabs ("Cemetery Gates") and truly iconic, poignant anthems ("There Is A Light That Never Goes Out"), this album solidifies the adoration of many for Morrissey and the group. Few bands can sound so sure of themselves and be able to deliver a perfectly constructed album whilst switching effortlessly between self-assured views, comedy and raw self doubt and deprecation. This is a truly important, undeniably influential and special album that will never be forgotten.
Interpol
-
Turn On The Bright Lights
Record Label: Matador Records
Release Date: August 19, 2002
Stark and haunting yet inviting at the same time, Interpol managed to craft an album that sounds stunning in both its delivery and paranoid energy. The band made many sit up and take notice when they released
Turn On The Bright Lights
in 2002 by managing to absorb all of their influences, from the likes of 1980s Manchester to the American post-punk movement and aspects of late 80s shoegaze such as Slowdive and Ride, and present them in a seemingly fresh and exciting way. The glue that pulls everything together comes in the form of Paul Banks' vocals, which range from soothing and melodious with an air of nonchalance to raw and aggressive in a quick flick of a switch.
The vast sounding guitar riffs, hypnotic bass lines and relentless drums all compliment the tone of the vocals and intriguing lyrics. Lines such as "I'm sick of spending these lonely nights, training myself not to care" ("NYC") and "She feels that my sentimental side should be held with kid gloves" ("Leif Erikson") cry out to be sympathised with and it's this passion that seeps from every track combined with all of the other faultless elements on
Turn On The Bright Lights
, which make it a deserved "classic".
Engine Down
–
Demure
Record Label: Lovitt Records
Release Date: April 2, 2002
Sometimes classics don't have to be best-selling records or a record that drastically changed a certain sound of music forever. I like to think that the truest of classics aren't herald among the masses, but they're kept closest to a circle of "the know." Engine Down's
Demure
is easily one of those records. It's an album that you pull out of your collection and see how many people in the room recognize its impact. From the perfection of drum patterns that start the album with "Songbird" to Keeley Davis' somber and melodic tinge on "Detour" and "Second of February,"
Demure
is an earnest album from one of rock's most unfortunate short-lived acts. There are times when the band's intricacies take front seat to their ability to build a mood on "Far From Now" and "Taken In." Beyond Engine Down's technical prowess on the album, it more importantly showed bands the perfect blend of post-rock storytelling and biting punk edge. It's an album that's been channeled through bands like Thrice and Felix Culpa without you even realizing it, or the band behind the influences.
Refused
–
The Shape of Punk to Come
:
A Chimerical Bombination in 12 Bursts
Record Label: Burning Heart Records
Release Date: October 27, 1998
"They told me that the classics never go out of style, but they do. They do. Somehow baby, I never thought that we'd do too." It's a line of spoken word that will never be forgotten by many. It opens an album that was widely adored years later, after the internal demise of a great hardcore band from overseas. While widely praised, some still have their convictions against Refused, citing the band for ripping off the new school of hardcore in the U.S. from the likes of Born Against and their greatest comparison, Nation of Ulysses. While those bands have their place in history, it was the influential combination of house music, jazz tempo, three hardcore drummers switching off on guitars and one frontman with a lot to say about the system - who all loved American hardcore above anything else. In the end, four Swedish punk rockers tried something that still ignites musing across bands both of the mainstream in clubs and of the underground in the living rooms of houses everywhere. Kurt Cobain worshiped bands like the Pixies and R.E.M., and all of them are more than household names in the alternative and mainstream. In the end, Refused just cut the perfect pieces to make an extraordinary puzzle of mismatched genres that most of us didn't even experience first hand, but it still resonates with us years later.
Silver Jews
-
American Water
Record Label: Drag City
Release Date: October 20, 1998
Sometimes when listening to
American Water
, I wonder if David Berman and I would be friends. With the famous record-opening line, "In 1984, I was hospitalized for approaching perfection," it's easy to think that he might be some sort of artsy fartsy dickhead. But delving deep into the poetic, insightful lyrics will quickly make it clear that Berman is just as much an everyman as he is some sort of indie rock intellectual. There's uneasiness wrapped in metaphorical perfection, slow-moving dips perfect for late summer nights on the porch and bits of crazy that at times sound maniacal.
American Water
is one of those records where each listen can leave you with a different favorite thing - from lyric to whole song, there's a lot to get through on these 12 tracks. There are a lot of bands out here today trying to do the whole, "What's it all about for ME?" shtick, but very few will ever get it as right, as completely in-tune with the weirdness of this world, as Berman did back in 1998.
Pixies
-
Doolittle
Record Label: 4AD
Release Date: April 18, 1989
If a record's worth were determined by the quality of those it influenced,
Doolittle
would be a document of immeasurable value, counting rock luminaries like Nirvana, Pavement, and Modest Mouse as disciples. However, I often find that albums frequently praised as important or influential don't quite stack up on the strength of their own merits. This is hardly the case, though, for the Pixies' masterpiece of a sophomore effort, a brilliant rock album that's far less pretentious than the music critics by whom it's universally hailed. A genre-defining countercultural touchstone,
Doolittle
's iconic style is characterized by huge ringing chords, Kim Deal's instantly recognizable bass lines, and Black Francis's cryptic lyricism and sharp Tourette's vocalizations, but its enduring appeal lies with what the record is at its core: pure pop magic. References to obscure French movies from the '20s are fodder for stuffy art nerds, to be sure, but you don't need to be in on the allusion to join Francis in screaming "Debaser!" like a crazed madman. Is "Wave of Mutilation" really just about suicide ("drive my car into the ocean") or is it intended to imply the destruction of the self rather than self-destruction? All it takes is one listen to realize that those details are of little consequence. "Here Comes Your Man" features a bizarre juxtaposition of images (hobos waiting for a train, earthquakes), but nails the overarching feeling of giddy anticipation-- not to mention its playful send-up on classic surf rock results in one of the most memorable guitar riffs of all time. "Monkey Gone to Heaven" sounds like an environmentalist plea ("there's a hole in the sky... everything is going to burn"), but what's up with the weird numerology exercise? While many records earn our adoration by giving us something to connect with,
Doolittle
welcomes us with its easily accessible sound while daring us to make sense of it. I guess that's just part of its mystique. Regardless of what might have been on Francis's mind when he penned these skewed but super-catchy tunes,
Doolittle
remains a lasting statement because it plays like an indie rock hit parade, the rare classic that needs to be nothing more than the sum of its patently awesome parts.
Matthew Good Band
-
Underdogs
Record Label: Darktown
Release Date: October 7, 1997
Before this record, the Matthew Good Band was just a relatively unknown alternative rock band from British Columbia. And after this record, they were one of the biggest alternative rock groups in Canada.
Underdogs
starts off strong with "Deep Six," an upbeat rocker with a catchy chorus. "Indestructible" is one of the hit singles and it has an awesome opening instrumental. But the best Matthew Good Band tunes tend to be softer, slower and darker, just like the majority of Good's lyrics. That's probably why "Apparitions" is still one of the best songs the band has ever written. It starts off with Good's haunting vocals over a faintly strummed acoustic guitar before building up and getting louder and louder before dying off again. "Prime Time Deliverance" is another song that shows their softer side flawlessly. And as commercial radio keeps getting worse and worse, it's cool that rock stations across Canada still spin these singles constantly 14 years later. They've stood the test of time and prove that there's always some amazing music getting the mainstream acclaim it truly deserves.
mewithoutYou
-
Catch For Us the Foxes
Record Label: Tooth and Nail
Release Date: October 5, 2004
I was talking to a good friend today about the staying power of an album on a larger scale, crossing over in certain genres and then becoming this "staple" for generations to adore years later. I didn't really have an answer for him as to which albums today would stick
years
later, but I did say that my favorite records are those full of hope behind desperation and despair. It's like these two polar ends crossing each other and having a wave of uneasiness gently caress over your skin.
Catch For Us the Foxes
sits above all else when expressing that feeling for me - and I'm sure many others. The "faith" and "religion" aspect aisde, you can see the
struggle
in Aaron Weiss' lyrics. It's something less literal that we connect with, but a feeling some of us know more than others. The band's angled and mood shaping appeal only furthers the tattered blanket of music along. This may not have changed the game for some on a wide scale, but I've yet to hear anything like it to this day. I've certainly heard a borrowed formula, but this is as close to perfection in capturing the polarized mood of acceptance and despair as one can feel.
Nas
-
Illmatic
Record Label: Columbia Records
Release Date: April 19, 1994
When I started thinking of classic albums, timeless pieces of musical bliss that define their associated genre and expand music in general, it was hard to ignore
Illmatic
. With its release falling between similarly explosive debuts from the Wu-Tang Clan and Notorious B.I.G., (
Enter the Wu-Tang (36 Chambers)
and
Ready to Die
respectively), hindsight tells us that it could have very easily been lost in cracks of time. Fortunately, Nas infused each and every track with the bittersweet feelings he associated with growing up in the gritty New York borough Queens, more specifically the Queensbridge housing development. He bounces from rough passages on the drug trade and other illicit activities to nostalgic scenes of coming up in the world as a young artist with impressive fluidity and poise.
Illmatic
neither condones or condemns the violence and perversion prevalent in slum life, but presents these factors in a very basic, realistic way. They were and still are simple facts of life, everyday occurrences brought about by poor socio-economic conditions, and Nas' showcasing of these issues remains one of the most notable components of this album's legacy. Along with
Enter the Wu-Tang
and
Ready to Die
, it crafted the iconic East Coast sound in both production and lyricism, and remains one of the area's most influential pillars because of its revitalization of the scene.
Illmatic
is pure hunger and ambition built on the foundation of intense realism and truth, absolutely classic in every sense of the word.
Jackson Browne
-
Late For The Sky
Record Label: Asylum Records
Release Date: September 18, 1974
I believe I was merely four years of age the first time I ever held Jackson Browne's third full-length,
Late For The Sky
in what I'm sure were tiny hands before just staring in wide-eyed wonder at the cover and flicking through the album booklet in utter captivation. It didn't matter that I couldn't comprehend the lyrics, and it didn't matter that it would take years for this album to connect with me and blossom into something truly special, classic, remarkable and timeless.
The music has always been a distant afterthought when I describe this record. It's not that the instrumentation isn't memorable or original - it's due to the lyrics being written in an absorbing and spectacular fashion. A major theme throughout the duration of the album is of appearance versus reality. Memories, images and photographs, and the compelling illusions they all each represent, versus the difficulties in becoming an adult and taking responsibility for yourself and your actions. I'm captured by Browne's ability to incorporate sophisticated, inversive wordplay and intertwine that seamlessly with gorgeous melodies and rhymes. In the second track, "Fountain Of Sorrow", a song containing an abundance of melancholy and heartache, Jackson sings beautifully:
"You were turning 'round to see who was behind you
And I took your childish laughter by surprise
And at the moment that my camera happened to find you
There was just a trace of sorrow in your eyes"
Even at a young age I noticed how the first lines of couplets were lengthier than the second, and I've always related it back to the poet's sense of decline in the relationship and in himself. Somewhere in that juxtaposition of "childish laughter" and "just a trace of sorrow", Jackson Browne elegantly and thoughtfully crafted a record of his own movement into adult life. He poured every emotion he had into this record and subsequently, like all classics do,
Late For the Sky
is able to evoke vivid imagery and resonate with all of those who give it forty minutes of their time.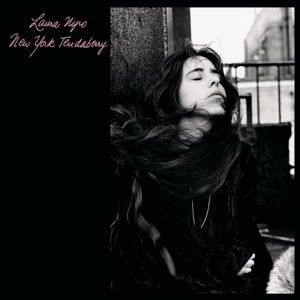 Laura Nyro
-
New York Tendaberry
Record Label: Columbia Records
Release Date: September 24, 1969
To categorize Laura Nyro's musical endeavors would be doing the artist and her breathtaking creations a terrible injustice. However, for the sake of a brief introduction into her extensive back catalog, the music Laura at times seemingly effortlessly created was fearlessly flamboyant, complex and compelling, and with the benefit of hindsight; perhaps she was the first of a passionate new breed of singer-songwriters in the mid-late 1960's and early 1970's. A singer-songwriter who infused elements of Broadway theatricality, haunting gospel, underground soul and jazz - music that rode on impulse, spontaneity and compulsive switches of time signatures.
1969's
New York Tendaberry
was arguably her finest musical achievement with its adventurous outlook on love, loss and life. The sheer bravura of her gorgeous vocals singing along to the title track, an ode to the city she once described as a religion, and on the moody, somber and broodingly explosive "Gibsom Street", a tale regarding abortion, was heartfelt, candid and sweeping. The recording process was simplistic yet striking and effective as producer Roy Halee recorded Nyro's vocals and piano in a live format before incorporating overdubs and layers of harmonies afterwards. The harmonic complexity of tracks such as "Captain For Dark Mornings" and "Captain St Lucifer" are beautiful and absorbing to say the very least.
Laura Nyro was one of those artists who was able to completely take you over and leave you temporarily incapable of diverting your attention away from the stunning music she left on record. She was one of the greatest poets that pop ever produced, and you'll be unable to dispute that should you give a listen to
New York Tendaberry
- a classic in its own right.
Soundgarden
-
Badmotorfinger
Record Label: A&M Records
Release Date: October 8, 1991
Anyone who actually knows their asshole from their mouth can tell you that "Grunge" is a really stupid name for a genre. I'd really like to think that those same savvy folks would tell you that "Emo" is equally as dumb but hey that's a whole different article. Anyway, Soundgarden may forever go down in history as a grunge band but in my mind they will always be just simply a great rock band. The first time I heard
Badmotorfinger
I was 13. It resonated with me immediately because my favorite band before Pearl Jam was Led Zeppelin. At the time this sounded like the love child of those two bands. Cornell could have the low bellow of Vedder one moment followed by the piercing shrieks of Plant the next. Only, he was just one dude! Wow. This record is as catchy as it is heavy and as precise as it is dirty. Every riff is ridiculously unique and the rhythm section is to this day my favorite ever. The starting riff of "Rusty Cage" is so memorable that it can work as a ringtone or doorbell if someone chose to make it one. ( i will do the latter one day ) The breakdown at 2:50 in the same song is one of the heaviest things I've heard to this day. Easily rivals anything going on in hardcore these days and in the past for that matter.
Badmotorfinger
gave birth to pretty much every stoner metal record to this day whether anyone knows it or not. Furthermore, there is pretty much nothing cooler than a platinum selling record with crazy guitar tunings and time signatures of 7/4, 9/4 and 4/4, 9/8, 10/8 and even the insane 19/8. The best thing about those qualities is that on this record it always sounds effortless and natural. They don't sounds difficult or deliberately strange, the entire album just rocks your brains out of your your skull from start to finish. It was received by critics quite well, while the only repetitive criticism of the lyrics. But seriously, fuck the critics this album is a classic. In the words of Chris Cornell, "Too cold to start a fire, I'm burning diesel, burning Dinosaur bones/ I'll take the river down to still water and ride a pack of dogs." WTF? Genius I tell you.
Nirvana
-
Nevermind
Record Label: Geffen
Release Date: September 24, 1991
In early fall of 1991 a new chapter in music was commercially begun, when Nirvana's
Nevermind
dropped on September 24th. For another rare instance in music history the pop-saturated music charts were interrupted with something fresh, yet unkempt. Suddenly three punks from the Pacific Northwest were setting the trend for years to come in rock music. Their weapon? Punk songs disguised in a elementary pop song's clothing. The songs were poppy, yet there was more there than met the eye. Behind the high budget music videos and major record label contract was five years of relentless touring and practice of punk ethics. But aside from being a chart topper and selling more than 30 million copies, the 12-song album served as a monument in many sentimental regards. It taught any young hopeful musician that he too could rise up from the backwoods of the US and live the dream in a touring band. It also showed the music industry that mindless pop would not dominate forever, that "people would read again" so to speak. It showed the world that anything is possible, that a fledgling band playing a unconventional form of rock music could become one of the most celebrated bands in history. From the top hits like "In Bloom" and "Come As You Are" to the deep cuts like "Drain You" and "Lounge Act," the album truly has something for everyone - the key recipe to a classic.
Hüsker Dü
-
Zen Arcade
Record Label: SST
Release Date: July 1984
While bands like Black Flag and Minor Threat were crisscrossing the country establishing the loud fast rules of hardcore, a trio from the unlikely locale of Minneapolis (also home to kindred spirits The Replacements) called Hüsker Dü was bent on broadening the horizons of what hardcore could be. While their debut album, 1981's
Land Speed Record
largely followed the underground's aggressive status quo,
Zen Arcade
found songwriters Bob Mould and Grant Hart upping the creative ante considerably. It's songs are still fraught with tension, anger and snarling vocals, and those amps are still cranked up to eleven, but it allowed the influence of pop song structure and melody to seep into the mix. It's also a 70-minute double album which flew straight in the face of the prevailing punk mindset of making a statement as loudly and as quickly as possible and getting the fuck out. This left plenty of room for some unconventional material, like the strummy mid-tempo tune "Never Talking to You Again"; the quirky "Hare Krsna", which borrowed its hook from Bow Wow Wow's (contemporary at the time) hit "I Want Candy"; and the album's most striking cut, the buzzing "Pink Turns to Blue", a haunting treatise on the tragedy of drug addiction. In today's landscape, bands that bridle cathartic rage with pop songwriting smarts are no longer that difficult to come by, and such sprawling projects aren't so unheard of, even in the punk scene. But in 1984, the underground couldn't have been sequestered further from the mainstream, and
Zen Arcade
was a major force in knocking those walls down.
Thrice
-
Vheissu
Record Label: Island Records
Release Date: October 18, 2005
This is the album our very own Jason Tate rated a 99% and called "perfect." Whether you think
Vheissu
is the crowning achievement of its scene or just another collection of useless drivel, there's no question about the impact it's had on the way people perceive Thrice, or the pages upon pages of discussion it's generated. From the standpoint of someone who appreciates the album to no end, it has all the symptoms of a classic. You can feel it in "Between the End and Where We Lie's" slithering beat, in "For Miles'" oh-so-unforgettable build-up, in "Hold Fast Hope's" bestial energy. And while it's probably unnecessary to go through and attach pious adjectives to every song, was there even a bad track on the album? Even the B-sides, which eventually showed up on
Red Sky EP
were amazing. But saying the album was merely consistent is too weak a tribute. It was more than just consistent - some of these songs are standouts in its decade. "Image of the Invisible?" "The Earth Will Shake?" "Red Sky?" Classic? Yeah, no doubt about it.
Nick Drake
-
Pink Moon
Record Label: Island Records
Release Date: February 25, 1972
Sitting here writing this at 5 am as it's pouring outside couldn't be more fitting, for Nick Drake's soft and caressing voice makes late nights like these seem anything but lonely. It almost feels wrong to admit that his sad and melancholic music is this comforting, but at the same time, that's why it is so remarkable.
Pink Moon
, his last album, is a work of beauty, and one of the few records that I would call flawless. It opens with the title-track, which is incredibly difficult to take in sometimes if you consider the lyrics as a foreshadowing of his future. But despite its bleak message, as is the overall theme of this album, Drake's soulful voice and beautiful, gentle strumming make it sound so pleasant and peaceful. While the album ends on a somewhat positive note, with him singing that "we all rise again," it's heartbreaking to think that he was personally not able to. However, to leave the world with such an ethereal piece of art is the only way that I would ever wish for him to be remembered. It's folk music at its finest. It's
perfect
.