---
Cloud Atlas (Book/Film)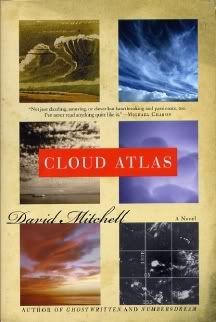 Cloud Atlas
by David Mitchell is my favorite book. Its a novel with a peculiar setup- its six different characters/stories who's lives affect each other's across centuries. The characters range from a Christian sailor in the 1800's, a happy, bi-sexual composer's assistant in 1930's Belgium, a spunky journalist in 1960's California trying to uncover a conspiracy, an aging publisher who finds himself imprisoned against his will in a British nursing home in the modern day, a clone being interviewed before her execution in the distant future, and an old man telling stories around a campfire in post apocalyptic Hawaii. Seriously, this book will blow you away.
Today came the news that Andy and Larry Wachowski are developing a film adaption, along with Tom Tykwer, director of the upcoming
The International.
Frankly, I'm torn about this idea. The story takes place over centuries, has six main characters, and requires absolutely impeccable production. Its an incredibly cinematic book and yet while reading it, thinking about the challengers of adapting it is overwhelming. Its a kind of thing that must be in the right hands but quite frankly, I think this could work. The Wachowski have had some slip-ups, but lets not forget the original Matrix and the far underrated sequels. Quite simply its my favorite book and as nervous as the possibility of a botched adaption makes me, I'm also excited to see it play out in what could be an amazing movie.
http://www.firstshowing.net/2009/01/...wski-brothers/