| | | | |
| --- | --- | --- | --- |
| 's Blog | | | | |
Despite All Maps and Borders

Primal Fear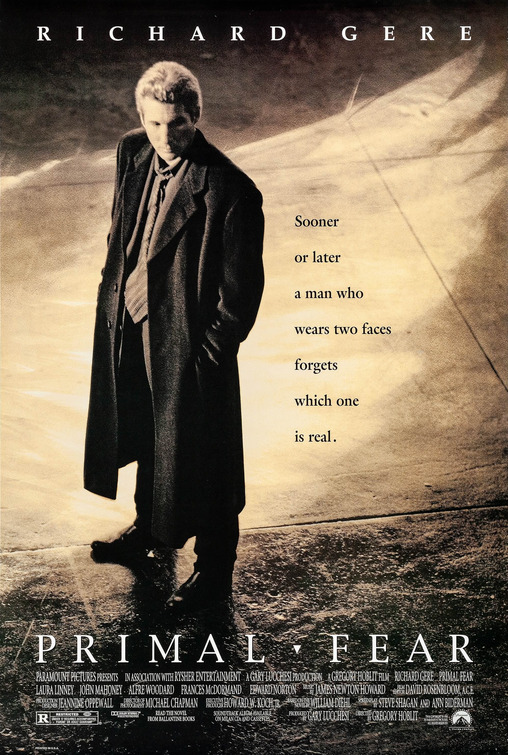 Primal Fear [April 3, 1996]


I don't know about the rest of you, but for me Edward Norton is one of those actors that I'm willing to watch anything as long as he's in it. He has had some spectacular performances and his performance in Primal Fear is no different. I was not let down by watching this movie.

Primal Fear is one of those mystery/courtroom drama movies that you either love or hate. There's no question which is was for me. I loved it. Richard Gere was a solid lawyer and did an excellent job in the movie. But what really made this even better was the storyline and Edward Norton. I can't get over how awesome it was to see Norton go from stuttering Aaron to rude Roy and back again.

If you're into courtroom dramas, mysteries, surprising plot twists or Edward Norton: go watch this movie.


Verdict: 8/10
Tags: Primal Fear, Richard Gere, Edward Norton, movie review
Smiley Face



Smiley Face [November 16, 2007]


So, obviously, this is a so-called "stoner movie". Right? Well, I, personally am not a stoner, don't do drugs. I guess this movie is made really only for "stoners", unlike a "stoner movie" like Pineapple Express. When I watched Pineapple Express, there was hardly any time where I wasn't laughing. And I wasn't high either. When I watched Smiley Face, there was hardly any time where I was laughing. And I wasn't high. I don't know whether one was meant to be watched while high, whereas the other wasn't, or if one is just incredibly lame, and the other wasn't.

I heard good things about this movie before watching it, which is the reason I watched it. Like "Anna Faris's best performance" and "extremely hilarious" and whatnot. Also I like Adam Brody and John Krasinski, which is another reason I wanted to watch this movie. Well, sure, Anna Faris did play a pretty good baked person, but it certainly was not hilarious. I found only a few parts funny. Maybe this is because a) I wasn't high at the time of watching this movie, or b) I have never been high and the things in this movie can only be funny to people that smoke. Who knows? And another thing: Adam Brody and John Krasinski had small, barely existing parts. That's sucky.

So all in all, for me, this was wasted time watching this movie. I suggest finding another movie. If you like stoner movies then watch Pineapple Express. A million times better in my opinion.


Verdict: 2/10
Tags: Smiley Face, Anna Faris, stoner
The Oh in Ohio



The Oh in Ohio [July 14, 2006]


Until a few weeks ago I never even heard of this movie. I don't think it's real well known since it was a limited release. So this is how I found this movie: My love towards Paul Rudd made me search IMDb for all his movies and then I started watching as many of them as I could. I found a few of them and have watched most of them.

Okay, so, this movie kinda caught me off guard. Obviously I didn't know what to expect because I never even heard of it before. But for one thing, with Paul Rudd in it, I expected it to be pretty hilarious. However, this isn't even a comedy really. Well it is, but not like a Paul Rudd is hilarious comedy. I'd consider it more of a romance/comedy.

It was pretty good, although that might be because of my bias towards Paul Rudd. It had some funny parts, but all in all it seemed kinda pointless. The movie is about a girl who has never had an orgasm and then finally she haves one! Who was the first guy to give it to her? Danny DeVito. Yeah. The end of the movie also came outta nowhere. I didn't even know it was the end of the movie until the end of the credits.

Anyway. Recommended if you like Paul Rudd and wanna watch all his movies like me. Or if you like romantic comedies, too.


Verdict: 5/10



Tags: The Oh in Ohio, Paul Rudd, Danny DeVito
Death Race



Death Race [August 22, 2008]

First things first. Jason Statham is a beast, and a great action actor. It seems to me in all movies, he's always a good driver. Death Race, good driver. The Italian Job, good driver. Transporter 1, 2, and 3, good driver. But anyway, to the movie: As some of you may know, Death Race is a sort of remake of Death Race 2000, only not exactly. In this version, the race is not cross-country, and the idea is not to run over pedestrians. The race is held in a prison, and the whole idea is to kill the other competitors. But still, either way, you get action and killing.

Statham plays his normal bad-ass character. Never much of a change of characters for him. The movie has some great effects and gore, an okay story line, and a lot of action. Basically the whole movie is one big action scene. I'm not complaining though. It was pretty exciting seeing people getting hit by speeding cars, or blowing up, or getting crushed inside a car.

Overall, I'd say this movie is a decent choice for anyone who: a) Likes Jason Statham like I do. b) Wants to see a lot of action, but not necessarily a great story. or c) Just doesn't have anything else to watch or do.


Verdict: 6/10
Tags: Death Race, Jason Statham
How to Lose Friends and Alienate People



How to Lose Friends and Alienate People [October 3, 2008]

This review is coming from a huge fan of Simon Pegg. I love all of his work, from Spaced to Shaun of the Dead to Big Nothing, etc. I'm also a fan of Kirsten Dunst, although not as big. Simon Pegg as the main character, Sidney, was not as funny as I thought he was going to be, or has the potential to be. There were many lame jokes and parts that weren't funny at all. I was expecting a hilarious comedy, and instead got a kind of funny romance comedy. Don't get me wrong, some parts in this movie had me laughing out loud, other parts had me laughing on the inside, but overall, not as funny as it should have been. But, seeing as I have not read the book/memoir this is based off of, I cannot tell you how funny it is actually supposed to be. There may have been no humor in the book at all and the movie is actually better than it might've been based strictly on the book. Who knows? Anyway...

As I was saying, some funny parts, some cutesy romance parts, and some Simon Pegg. All in all a good combination. From dead chiuauas to stripping transexuals, Kirsten Dunst to Megan Fox in a bra & panties, and a roaming destructive pig, it was a fairly good movie. Not award quality but enough for me to enjoy it. For other Simon Pegg fans out there, sure it might be worth it to give it a watch, but I would suggest seeing some of his other stuff (e.g. Hot Fuzz, Spaced, Shaun of the Dead, Big Nothing) first. They were better.


Verdict: 6/10
Tags: How to Lose Friends, Alienate People, Simon Pegg, Kirsten Dunst
Blood and Chocolate



Blood and Chocolate [January 26, 2007]

So basically I watched this movie because I'm a fan of werewolves. Blood and Chocolate, from the producer of Underworld and The Covenant, takes a different approach on the werewolf myth. This movie takes were"wolf" literally, and instead of making them monsters between human and wolf, they make them completely wolf. The transformation which can either make or bust a werewolf movie was kinda annoying, and it definitely didn't make this movie. It consists of a human jumping and a bright white/slightly colorful light shines completely around them and when they appear again, they're wolves. So obviously not very creative with the transformation.

As for the story, it involves a forbidden love, a repressive leader, and of course werewolves. An American girl moves to Romania to be with her aunt, and while she is there she meets an American boy who travels the world writing and drawing. Then drama starts with the werewolf leader because he was going to choose the girl, Vivian, as his wife. Overall I guess you could call it a good romance, but as it goes for werewolf movies, I was not impressed. There was hardly any actual werewolf action, only a few scenes, some of which weren't even visible because it was so dark.

If you like cute romance movie, then go for this one. Especially if you like werewolves as well. If you're just in for the werewolf part of the movie, I might suggest seeing another movie instead.


Verdict: 4.5/10
Tags: Blood and Chocolate, werewolf
Monty Python and the Holy Grail



Monty Python and the Holy Grail [May 10, 1975]

I'm sure almost everyone's seen this movie, heard of this movie, or has heard a famous quote that came from this movie. If not, that's a surprise to me. People at my school sport shirts saying, "It's just a flesh wound", "Your mother was a hamster and your father smelt of elderberries", or of course "I fart in your general direction." Although this movie is looked at by some as a boring, ridiculously stupid, not funny attempt at comedy, I thought it was good. Of course, speaking objectively, I would have to say it was rather stupid at some parts and can be boring to some. But I, myself, love this movie.

From the beginning of the movie with the starting credits containing much moose talk, and accrediting the directing to many different llamas to the end where King Arthur, Sir Lancelot, and Sir Bedevere are arrested for the murder of an old historian, there are plenty of bits of humor. Such as the coconuts and swallows, murderous massacre at the wedding, and the killer rabbit, etc.

If you like stupid comedies, or you like anything to do with "Monty Python" I recommend watching this movie. If you like good comedies, and you've never heard of "Monty Python" I recommend you give it a try anyway. If you like movies in general, then basically, it won't hurt you to watch this movie. So have fun.

Verdict: 7.5/10
Tags: Monty Python and the Holy Grail, Monty Python
Our Future's Left
Might add to this later since it's really short, but here's what I have so far.

Our Future's Left
Looking back at life so far,
I see all the things I should have done.
I never should have crashed that car,
But hey at least we had some fun.

Well this is it; all i've lived
But I still got a future left to live.
Hopes are shattered but dreams come true.
There's still time for me and you.

I need to think of a chorus, but oh well.

Just some random lyrics of mine.
Tags: Our Future's Left, random, lyrics
Nick and Norah's Infinite Playlist



Nick and Norah's Infinite Playlist [October 3, 2008]

Before starting this movie I was expecting the same old "teenage, comedy, love story". I didn't have high expectations for it. As I watched I decided that I was wrong to think that. As the story of Nick and Norah progressed I found myself liking it more and more. From the amazing soundtrack (which is now on my iPod) and the funny and amusing characters to the comedy and romance of the movie I was just pulled in and Infinite Playlist soon became a great movie in my eyes.

Michael Cera (Arrested Development, Superbad) returns to play yet another awkward character that you just can't help to laugh at, whether he tries to be funny or not. From carrying handy wipes in his pocket to doing the "hair dryer" dance, he's as goofy as can be. And of course there's Kat Dennings who, in my opinion, was excellent as Norah.

The soundtrack was so good I thought I'd include it, too.
Soundtrack:
Speed of Sound - Chris Bell
Lover - Devendra Banhart
Middle Management - Bishop Allen
Ottoman - Vampire Weekend
Riot Radio - The Dead 60s
Fever - Takka Takka
Xavia - The Submarines
After Hours - We Are Scientists
Our Swords - Band of Horses
Silvery Sleds - Army Navy
Baby You're My Light - Richard Hawley
Very Loud - Shout Out Louds
How to Say Goodbye - Paul Tiernan
Last Words - The Real Tuesday Weld
Nick and Norah's Theme - Mark Mothersbaugh
This movie is cute, funny and full of fun. Give it a try.

Verdict: 9/10
Tags: Nick and Norah's Infinite Playlist, Michael Cera, Kat Dennings