| | | | |
| --- | --- | --- | --- |
| 's Blog | | | | |
Getting Past the Industry to Love Music Again

Late Night Thoughts: Iceland
I contemplated starting a shitty tween wave power pop band today. I really rolled the idea around the back of my mind for a few minutes, played with the keyboards at Guitar Center, discussed the idea and such, etc. I'm two weeks unemployed and looking for work and wondering how I'm going to make the bills. I begin to wonder if this is how ideas of abortion like some of stench that is the combination of computerized pop and screamo came about. I'm bored. I have no other income. I'm going to dick around. Myspace upload. Shit smeared across the faces of dumbass teenagers everywhere!

On a serious note, two friends approached me with "industry" advice this week. Now, I'm probably not the first person to ask about these things because a) I have no faith and am a pessimistic prick when it comes to the business and b) see the other reason. But let me tackle both questions at once on this one, because they've been swirling in my mind for the past few days and I think I have something marinated enough to qualify as some reasonable response. One friend asked me about his design for his upcoming vinyl: What makes it worth the purchase? More importantly, what makes it worth owning? Another friend asked me about "how to get his band out there?" They have the music, but how do they show it to the world in the industry today?

To answer the first question, and only as a vinyl collector (and someone who sold some pieces today for some extra cash): No matter the medium of the product, its features certainly make it stand apart from the rest. Junkies and tangible medium fans alike crave the limited quality. I've bought CDs in the past because they were a special digipak or came with a bonus disc long before I even consumed the idea of "limited colors" or "tour only" pieces of wax. I think the one piece of vinyl that really caught my attention was my purchase of the Still Life/Evergreen 7" split. It just feels like someone put time and effort into it. From the cover to the insert, there's definitely thought stuffed into the sleeve. Then, beyond the external, there's the music that lines the grooves. Vinyl has certainly seen its rise in the past few years, but so has buy-back and trade. No matter the work put into the physical effort of a vinyl release, it really comes down to audible product itself. Why will I keep this piece of work and then pass it on to someone else?

This brings me to my other friend's question: So I have this music, now what do we do to promote it? We have no label release, so how do we get it out there in this day and age? Well, you can pan it out to all the blogs you want, but uploading to Mediafire and spreading the word is even better, quicker and super free. (side note: Another friend told me today that the new Algernon Cadwallader vinyl's download slip says to type "algernon cadwallader mediafire" into Google.) Now, before you all start mocking my friend - "What do you do? You don't know how to be in a band? Loser! n00b!" - his question lies more in the "this day and age" realm. Let's face it, from the smallest of bands to the hierarchy of industry people that still have no clue what's going on as they walk into work every day, no one knows the next Tetris piece in this whole thing. What I can say is that touring and constant discipline to your craft is a must, and will always be a staple of "getting heard." Sure, you can upload all you want to the Web, but most people at the age of 10 can do that. It's about having the drive to get in the van and, well, DRIVE! The old model of challenging yourself to make better music and then going across the country to show it off will never die - EVER!

I would draw conclusion that most people still want to experience music on some level, especially live. No matter the falter of phyiscal sales, or even - possibly - digital sales, people will still go see a show. If they go to the show, they're going to want to see something good and worth their money. If they think it's good enough, they're going to possibly spend any extra money on a tangible medium that feels as special as that moment every time they pick it up to put it on a turntable or in their CD player in the car.

Evan Weiss and Koji are right, there is no economy for bullshit anymore. When it comes down to the end of the day, whether you like shitty tween wave, alt country or a Lil Wayne mixtape, it at least has to feel like an effort was put into it. Really, that effort has to be beyond the packaging, and to keep any sort of longevity, it has to be felt in the internal, constant shaping of your piece of art.

I can sit here and say, "Are you kidding me? I can do that!" Can I? Can I really make a thousand underage kids care about some shitty lyrics over synth-beats? I think it's harder than I planned this money venture out to be. Fuck it, I'm just going to write some more terrible lyrics and do even more terrible vocals for my friend's band like I did last weekend and get drunk.

Sorry for the bad advice.

- love and respect
Tags: Late Night Thoughts, Music Industry, Mediums
Late Night Thoughts: 7" Packaging
Christmas was a success this year -- vinyl and books. One vinyl, I actually bought myself, is a split with Still Life and Evergreen, a very rare first release by Still Life and hard to find. Steve Snere and I once talked about it, I had my copy of Still Life's split with Jara on 12" confused, but dear Steve, I have it now!

Besides owning a piece of post-hardcore history, and realizing that production comes second to the heart that goes into a record, the packaging may come a close third.

In an age where vinyl is the new hip thing for some, and a nostalgic gold mine for others, newer pressings of 7" records seem processed as opposed to the feel and worth of 90's hand numbered and fold over packaging. I have the first two Kill Sadie 7" records, and having the first have an embossed cover and the second hand numbered on the inside --- there's more of a worth to it than a slick cover and no insert.

While singles are supposed to be simple blips of the bigger picture, the craftsmanship and D.I.Y. that went into older E.P.'s and splits cannot be beat.

The tangible medium will never die, and if it does, I'll be part of a group that will hold on to the past.
Tags: vinyl, splits, still life, mediums
Five and Alive: Album Artwork (w/ special guest)
Album artwork is just one reason to buy tangible mediums. It may encompass an album's feel, or give the music a visual life.

AP.net user Cue the Sun has graced us with a lot of great art in her blog. I've asked her to give me her top five favorite album artworks.

She also drew up something special for us. Scroll past to see.

1. Less Than Jake - "Hello Rockview": This album was one of the first I ever purchased and even to this day, it has my absolute favorite album art. Not only is the front cover bad ass, but the inside is laid out like a comic strip, the lyrics inside the speech bubbles.

2. The Format - "Interventions + Lullabies": The beauty of this album artwork is it somehow manages to be rough and sketchy while still maintaining such a clean look. It's all about balance in this one.

3. As Tall As Lions - "As Tall As Lions": I love how when you listen to this album it almost brings you to a different, sort of whimsical world. The cover art visually represents that. (And who else, upon first seeing the artwork, ran their fingers across it and was disappointed that it didn't feel like a paper towel?)

4. Saves the Day - "In Reverie": This artwork is just so, so cool. There's really no other way to describe it. I love how the figures sort of look like they're cut out of paper and I love the dripping effect in the background.

5. The Matches - "Decomposer": This is the kind of art that gets embedded into your memory forever. Whenever I think of The Matches, I think of this crow. Shawn Harris does phenomenal digital work and this piece is no exception.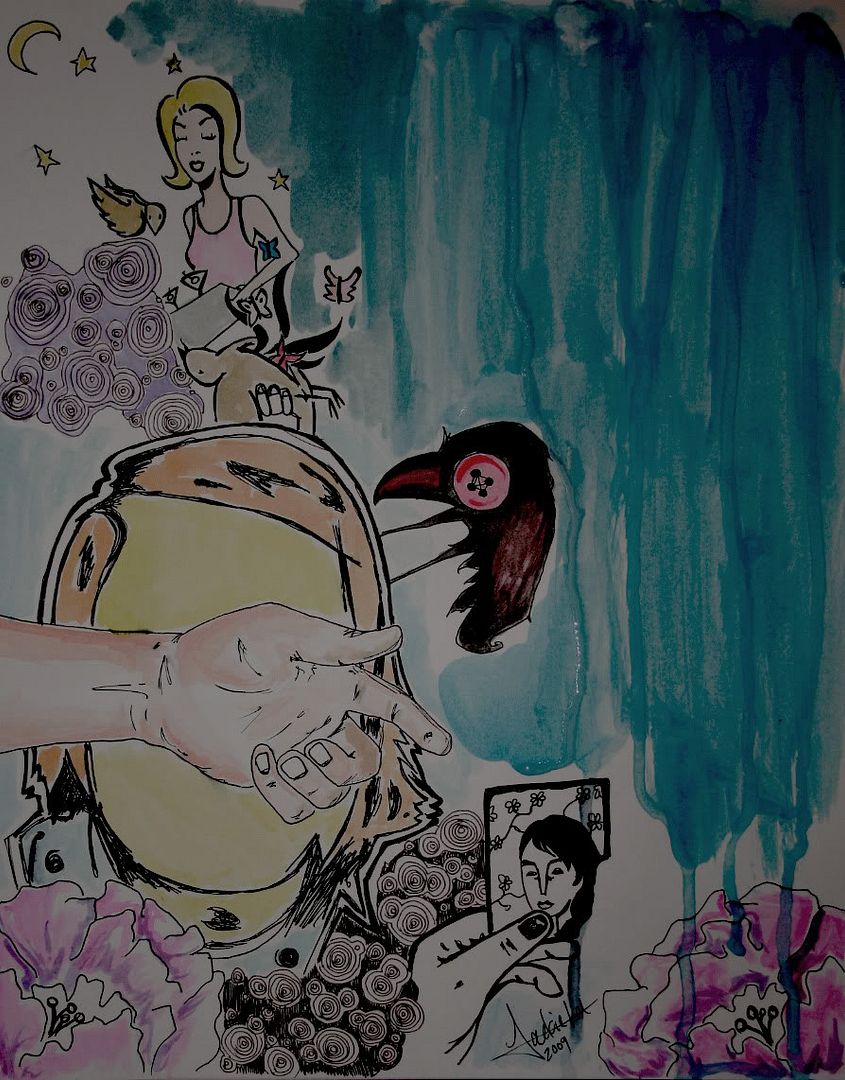 Tags: Five and Alive, Album Artwork, Tangible Mediums
Why Did I Wait, and Why Didin't You?
Today, along with the New Junk Aesthetic, I picked up Thrice's Beggars, with anticipation of a vinyl to come.

Weeks ago, I did not purchase the album digitally. Honestly, I didn't want to pay for it three times, when I knew I was going to pay for it twice.

This brings up the discussion of physical and digital releases, yet again. With the digital age, we are able to hear anticipation with the click of our index finger, or thumb depending. It also takes away from the album experience of waking up, heading to the store, and blasting it back to the house, where you will almost immediately transfer the CD, or vinyl, to a home format (probably to the computer+speakers) and continue to listen through while skimming the booklet, and awing at the album's artwork.

If you haven't already updated, this week was the release of iTunes 9. With that release, Apple announced iTunes LP, which is less a digital wax and 12 inches of artwork, and more a digital kit experience.

I hope this is not the next step in our music evolution. Virgil Dickerson had some great things to say about this as well.

Sure, if you are not a tangible nerd like me, I encourage you to continue to support great music through the new form of digital releases. I am happy that I waited to get Beggars on CD, even though I transferred it to my computer and iPod already. The artwork is stunning, and reminds me a lot of the The Artist and the Ambulance. Anyone who purchased the limited edition packaging of that record knows how awesome it was with the individual cards for each song -- stunning!

I'd really hate to get TV scanned into my brain, and I'd hate to have to go back to my computer for lyrics and great artwork. Nothing will beat a beautiful tangible medium, as well as some sort of physical back-up in case of a crash...who knows?

I also completely back, and can't stress enough to labels and vinyl distributors alike, to combine their wax with a digital download card. We can have our cake, and eat it too.

The jury is still out on how I feel about Beggars. I need a few more listens, but it definitely is one of the best records to come out this year, and keeps growing more beautiful with each listen.

Could anticipation be killing the tangible form, even if we support it in the end? Time will tell I guess, or make fools of us all.
Tags: Tangible Mediums, CD, Digital, Vinyl, Distribution, Thrice, Beggars
Pirates of the Internet IV: Consumers in Disguise
I think this is relatively accurate.

That's not to say that there isn't room to believe that the data is wrong in any way, but I'm going to try and look on this at both ends.

Why I believe it's accurate:

For the most part, I think a number of people who download music genuinely are looking for more music because they love music that much. Like a nervous twitch, they're constantly looking for something to add to either their hobby, or for some of us, their lives.

Like someone who enjoys any type of entertainment, they don't like waiting. Movie buffs will go to midnight showings, and be the first to buy the special edition DVD the day it comes out. Music buffs will be the first to grab a leak, a way to have a digital copy in anticipation for the street date. What is a street date anyway nowadays? A way to market a record over a few weeks with radio play and music videos-- two sources that are surely becoming out of date thanks to this Internet thingy.

I'm sure there are other "business" reasons (pressings, distribution, stocking, etc.) to have weeks between mastering and physically being on the shelf, but with physical copies on the decline (except for vinyl, but that's a whole other discussion), it shouldn't be surprising that leaks and downloads will give consumers a preview before the release date. I would bet anything that a majority of offenders who downloaded X-Men: Origins are going to go see it this weekend.

What about downloading after a record has been released? There's so many channels to consume an existing record. What about those who hoard music?

Why I think the data isn't accurate:

I think leaks are the primary spike in illegal downloading over the past two years, at least. The study doesn't separate this data though. There's no difference as to whether the downloaded material is pre- or post- release dated. I think that's something that needs to be accounted for.

Also, the story says, "Researchers found that those who downloaded "free" music – whether from lawful or seedy sources – were also 10 times more likely to pay for music. This would make music pirates the industry's largest audience for digital sales."

Digital sales! What about physical sales? What if those in questioned just assumed "yes" for any type of purchase, no matter the medium?

----

I believe the study is accurate, because I believe that a majority of those who download are the ones putting money back into the system through concert tickets, t-shirt sales, physical copies, etc.

The study doesn't look to be without its faults. I think the approach to marketing will drastically change in the next decade, and I believe a lot of bands will rely on labels less, press less and give even more incentives to their existing fans, and new fans alike.

This year looks to be a great year for music, and some artists are doing some pretty insane pre-orders, along with sales on Amazon MP3, it's good to say the future looks bright for what we love. There's a fine line, we as consumers are riding, and I think some are making it work, unfortunately there are a few bad seeds here and there taking new technologies for granted.

Illegal downloading is illegal. There's no question on that. But making bad music and saturating the market should be illegal too.
Tags: RIAA, Downloading, Consumer, Mediums, Marketing, Distribution
Another Music Medium, Another Lost Dollar, Another Day
I'm sitting on the computer, drinking a Budweiser and listening to our President answer questions from the media. I'm wandering my mind, wondering if it's in our economy right now to produce another medium for the market to consume their music through, seeing as they aren't a) spending money on music to begin with or b) short of money because of the current economy.

Wandering Wal-Mart, a place where I would think Americans are putting most of their finances through, I, against my will, decided to look at prices for a new monitor/flat screen television. My PC monitor is broken, and I've had the same tube television since I was nine-- I'm 22 now, and it keeps fizzing in and out.

Upon my journey through Wal-Mart's "low priced?" electronics, I happen to pass the music isle to see YET another medium for music: slotMusic.

A year or so ago, USB drives were introduced as a new collectible medium, supposedly laced with extra material inclusive with the music it's intended to hold. But slotMusic isn't just a USB drive for the hard drive, it's a click and go system that slides into phones and MP3 players as well. It's also DRM-Free! Like a USB drive, the Web site also claims the 1 gig cards "can hold a complete album plus lyrics, videos, album art and your personal content."

The Web site claims that the music is 320 kbps and includes a catalog from Universal Music Group, Warner Music Group, SONY-BMG and EMI Music.

Now the medium is a nice idea of carrying a USB drive that holds up to a gig, and there's no specifics, but with a gig, it seems that you would be able to load even MORE music to the device to take along with you.

But what is the appeal to the product besides the the "click and go" formula that the marketing has going for it. Sure, you don't have to use the computer as a middle man before moving music to another device, but slotMusic doesn't play in a car like a CD, and doesn't work for iPods. Not to be jaded, but I would think that a large majority of MP3 player users use iPods. By this mean, it would seem that you would still have to use the middle man of the computer in the end.

Again, the numbers don't lie. Vinyl is up, CD's are down and digital music is remaining pretty steady if not positive. slotMusic just seems like another medium the industry is trying to push instead of focusing finances on how to fix the current business models and create what Michael Scott calls a "win, win, win" situation.

I'm in debt. Many of you are in debt. The economy is in debt. Though pushing for "new technology" is always great, and I would one day like to see that mini-pizza trick from Back to the Future II happen, I believe that the industry should be playing it safe right now and need to figure out new ways of using existing technologies to further the industry in a positive direction for both artists first, and the labels second.

But seriously, someone figure out that mini-pizza thing. I'd love to see that before I kick the bucket.
Tags: slotMusic, Distribution, Mediums, Digital
Forced Into A Change of Mediums
Browsing through the latest issue of Alternative Press is always a shock and awe, and this month's issue was no different.

No seriously, how can your band of the year not be part of your 10 essential albums of the year? But that's a foray into selling magazines against having a valid opinion, because we all know, business is business, and insightful ideas and suggestions don't pay the bills.

In reading the feature on Kay Kay and his Weathered Underground, a quote from band co-creator Kirk Huffman (ex-Gatsbys American Dream if you were wondering...) caught my attention:

"So far, we've sold just as much of [our debut on our own] as Gatsbys did during the big first week of release on Fearless...That's incredible to me. At this point in time in music, labels don't do anything you can't do yourself sitting around with your laptops and wireless [Internet]."

The article does delve into the fact that KKWU only released both a digital and vinyl copy of their album (for those of you who didn't know).

What I wonder about this release is whether it was a choice or not a financial option to release the album on CD. Then I figured the release of the digital copy would be easier and cheaper to distribute (duh, lack of physical material), but it would mean that the band opted to spend their investment in the physical medium of vinyl.

If bands are doing everything on their own, they must invest wisely, with limited copies, which would lead to pressings on vinyl-- a limited medium for audiophiles until all this repressing started happening.

At this point I can only scratch my head believing that without the money to manufacture CD's because of the DIY mentality, the medium will either become as limited as wax, or simply phase out all together for underground bands' ideas of investing in a distribution model at a time of a falling industry.

This may not be the same for the big wigs, and it doesn't mean that many will continue the written path that many of taken before them-- they just may end that path the same way as well.

But seriously, was it necessary to press the Thursday/Envy cassettes!?
Tags: Distribution, Marketing, Mediums, CDs
MTV's New Online Medium To Go Full Circle
In the most interesting news all day, I can only laugh at this for a few reasons.

Number one (with a bullet that killed rock and roll): YouTube.com. I'll leave it at that.

Number two: This is an idea I had in my head when I was in high school...FIVE YEARS AGO!

Number three: This whole thing will end up full circle. It's nice MTV has utilized the online medium of viewership, and now will be the only MTV medium to view an abundance of videos in a simple place (besides the fact that you can do the same on MTV.com). ANYWAY, I see this idea moving South in six months to three years, where MTV begins to upload full episodes of their shows, until the server is overloaded, and MTV will have to make room for more show archives by getting rid of most of the 16,000+ videos, which would leave room for only about 10 or so videos that already air on the MTV station.

The point: MTVmusic will eventually become its predecessor, just in a more interactive online form.

HA! That's what ran through my head in the 30 seconds I stared at the post and Web site.
Tags: Distribution, Viewable Mediums, MTV